Daffodils in bloom, the warmest ever December: how worrying is the world's strange weather?
December temperatures in London have been warmer than July's. Scotland is balmier than Barcelona. Artificial snow covers European ski slopes. Africa faces its worst food crisis in a generation as floods and droughts strike vulnerable countries.
With unusual weather from Britain to Australia, scientists are blaming climate change – but also the natural phenomenon called El Niño, which is raising temperatures and disrupting weather patterns. A double whammy then, but how disturbed should we be as the records tumble?
According to the UK Met Office, the exceptional warmth in Britain and northern continental Europe is linked to the strongest El Niño ever recorded. "What we are experiencing is typical of an early winter El Niño effect," said Adam Scaife, head of Met Office long- range forecasting.
The cyclical event, named after the birth of Christ because it traditionally occurs in Latin America around Christmas, sees temperatures in the equatorial Pacific rise several degrees. The consequences in years like this are dramatic. Monsoons and trade winds are disrupted, leading to cyclones, droughts, floods and food shortages across the world.
Friday night was one of the warmest recorded in the UK in December. With the warm spell due to continue over Christmas, it is almost certain that more records will be broken. According to Scaife, "we cannot attribute the recent floods [in Britain] to the El Niño, but in early winter [during El Niño years] we tend to have a strong jet stream which brings us mild conditions. In late winter, January and February, we tend to get a weak jet stream which brings more wintry conditions."
Roger Brugge, a senior scientist at Reading University's atmospheric laboratory, said: "The first 17 days of December have been the mildest on record by a remarkable 1.1C. The average temperature during this period, of 10.6C, is similar to what can be expected around the beginning of May."
Worldwide, November was the warmest recorded by the US government's National Oceanic and Atmospheric Administration, and the seventh month in a row where temperatures have been well above the 100-year average; 2015 is on track to be the warmest year and last week the Met Office forecast that the global average temperature in 2016 would be a record 1.14C above pre-industrial temperatures.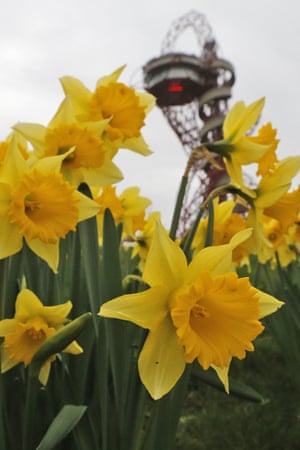 So is the current spell of exceptional heat around the world a foretaste of life in a warmer climate, or just a temporary blip? Atmospheric scientists believe we are seeing climate change with an El Niño effect on top. The two combined are raising temperatures dramatically.
"We expect 2016 to be the warmest year ever, primarily because of climate change but around 25% because of El Niño," said Scaife, who added that El Niño was not linked directly to climate change but exacerbates its effects.
The effects are already being seen worldwide, and nowhere more dramatically than in east and southern Africa, which is most vulnerable to climate change and extreme droughts. The El Niño effect has shifted rainfall patterns and led to severe drought. After years of good harvests and relative food security, Africa faces one of its biggest food emergencies in a generation with Ethiopia, Malawi, Eritrea, Somalia, Zimbabwe and other southern and east African countries all needing emergency food aid within weeks.
"The projections across Africa are shocking; 39 million people are expected to be affected," said a spokeswoman for the UK Department for International Development. "Around 3.5 million people in Africa could also be affected by floods and subsequent disease epidemics. The situation in Ethiopia is particularly worrying, with 18 million people projected to require food assistance in the coming months."
This month the UN World Food Programme said 2.8 million people in Malawi needed urgent food aid as shortages had more than doubled food prices from 2014 levels. This year, it said, southern Africa's cereal harvest fell by almost a quarter, down to 34 million tonnes.
"Serious concerns are mounting that southern Africa will this coming season face another poor harvest, possibly a disastrous one," warned the UN's Office for the Coordination of Humanitarian Affairs. The UN has appealed for £5.7bn for humanitarian aid for Africa. A further £67m has been requested for Central America, the Pacific region and northern South America, where a combination of intense rains and droughts has devastated crops.
The widespread El Niño effects are being felt in Latin America as well as Indonesia and Papua New Guinea, where it has led to some of the worst forest fires in decades. In Central America, one of the most severe droughts on record has led to 3.5 million people in Guatemala, Honduras and El Salvador needing food aid. The UN says that more than two million people have been affected in Peru and Ecuador.
Each El Niño is different, but this year is being compared with 1997 and 1998, when 21,000 people died and $36bn of damage was caused. Scientists say that El Niños can add significantly to climate change. Because the phenomenon causes less rain to fall in many areas of the tropics, forests become especially vulnerable to man-made fires, which accelerate carbon dioxide buildup in the atmosphere and reduce air quality.
The tens of thousands of fires that engulfed much of Indonesia this year and led to serious air pollution across the region have been calculated to have emitted more greenhouse gases in one day than is generated from all US economic activity, according to the Washington-based World Resources Institute. The 1997 fires in Indonesia also produced huge carbon emissions, estimated to be the equivalent of 13%-40% of the world's annual fossil fuel emissions.
Posted by Guest Author on Tuesday, 9 February, 2016
---