Explaining climate change science & rebutting global warming misinformation
Scientific skepticism is healthy. Scientists should always challenge themselves to improve their understanding. Yet this isn't what happens with climate change denial. Skeptics vigorously criticise any evidence that supports man-made global warming and yet embrace any argument, op-ed, blog or study that purports to refute global warming. This website gets skeptical about global warming skepticism. Do their arguments have any scientific basis? What does the peer reviewed scientific literature say?
---
Posted on 20 May 2013 by Matt Birdoff
Over the last few days, there has been intense interest in our consensus paper and The Consensus Project website. The fact that the paper has been reported widely in mainstream media across the world is an important step towards reducing the gaping chasm between public perception of scientific consensus and the 97% reality. Having President Obama tweet about our paper to over 31 million followers (with 2,400+ retweets!) will certainly help close the consensus gap.
However, as the above Consensus Gap graph shows, it will take a broad, persistent effort to reduce this misperception. To contribute to this effort, our team at SJI Associates (who put together the amazing Consensus Project website) will continue to work on eye-grabbing, compelling graphics. These graphics are designed to be shared through social media - on Facebook, Twitter, etc.
---
Posted on 19 May 2013 by John Hartz
SkS Highlights
On May 15, the peer-reviewed paper, Quantifying the consensus on anthropogenic global warming in the scientific literature was published in the scientific journal, Environmental Research Letters. The paper presents The Consensus Project (TCP) – a survey of over 12,000 peer-reviewed climate science papers by our volunteer, citizen science team at Skeptical Science. The analysis found a 97% consensus among papers taking a position on the cause of global warming in the peer-reviewed literature that humans are responsible.
Skeptical Science Study Finds 97% Consensus on Human-Caused Global Warming in the Peer-Reviewed Literature by Dana & John Cook generated a much discussion with some readers challenging the validity of the results of the newly published TCP. John Cook's Measure the climate consensus yourself with our Interactive Rating System and John Hartz's 2013 SkS News Bulletin #12: The Consensus Project rounded out the posts devoted to the TCP.
As discussed below, the paper generated an immense amount of media coverage. There is also a website, Facebook page, and Twitter account associated with TCP, to make it easy for people to spread the word about these important results. More details on this to come next week.
Toon of the Week
---
Posted on 19 May 2013 by John Hartz
Burning tar sands = 'unsolvable' climate crisis: Hansen
Climate change has shifted the North and South Poles
Climate change is happening… So what?
Fiji's villagers move uphill to escape rising seas
Global warming has not stalled
Go fish (somewhere else): Warming oceans are altering catches
Ignoring the cost of climate change is bad business
Mount Everest's ice is melting
Profits vs. disaster in Arctic meltdown
Warmer springs linked to dwindling snow in Rocky Mountains
Why we know about the greenhouse gas effect
Zombie climate sceptic theories survive
Burning tar sands = 'unsolvable' climate crisis: Hansen
Fresh off his resignation from NASA, leading climate scientist James Hansen is making the rounds this week, warning media and lawmakers that not only are we heading for a "tremendously chaotic" climate, but if we dig up and burn Canadian tar sands, the climate crisis will be rendered "unsolvable."
Burning Tar Sands = 'Unsolvable' Climate Crisis: Hansen by Jacob Chamberlain, Common Dreams, May 17, 2013
---
Posted on 18 May 2013 by John Hartz
---
Obama tweets analysis that 97% of peer-reviewed science confirms human-caused global warming by Lauremce Lewis, Daily Kos, May 16, 2013
---
Climate denial's death knell
Climate research nearly unanimous
Consensus study
Is the science settled?
It's official! Humans caused global warming.
Global warming consensus: We can haz it!
'Overwhelming' consensus for manmade warming
Scientists agree (again)
Scientists agree global warming is man-made
Scientific 'consensus' that humans to blame
Scientists say united on global warming
Survey finds 97% of climate science papers agree
Climate Denial's Death Knell
A new survey conducted by a team of volunteers at Skeptical Science has definitively confirmed the scientific consensus in climate science literature -97 percent of peer-reviewed papers agree that global warming is happening and human activities are responsible.
Climate Denial's Death Knell: 97 Percent of Peer-Reviewed Science Confirms Manmade Global Warming, Consensus Overwhelming by Brendan DeMelle, DeSmog Blog, MAy 15, 2011
---
Posted on 17 May 2013 by John Cook
The Consensus Project was a long, ambitious effort by many volunteers, lasting 12 months from beginning to submission of our paper to peer-reviewed journal Environmental Research Letters. The project involved citizen science from start to finish - from the rating of the abstracts to the collection of scientists' emails to crowd-funding the journal fee to make the paper free to the public. It was an enormous collaborative effort that the entire Skeptical Science community contributed to. The effort has resulted in strong media interest including a tweet from President Obama.
We want our results to be transparent and replicable, so that anybody can quantify the scientific consensus on human-caused global warming for themselves. Thus we've created an interactive rating system that lets Skeptical Science readers rate the abstracts from The Consensus Project. You can then compare your ratings to the results from Quantifying The Consensus. Note that your ratings are private - no specific ratings will be publicly attributed to individuals.
All papers receive two types of ratings - the category of research and the level of endorsement of anthropogenic global warming (AGW). Here are general definitions of each category and endorsement level, although we've also provided a more detailed set of guidelines.
---
Posted on 16 May 2013 by dana1981, John Cook
A new survey of over 12,000 peer-reviewed climate science papers by our citizen science team at Skeptical Science has found a 97% consensus among papers taking a position on the cause of global warming in the peer-reviewed literature that humans are responsible.
Lead author John Cook created a short video abstract summarizing the study:
The Abstracts Survey
The first step of our approach involved expanding the original survey of the peer-reviewed scientific literature in Oreskes (2004). We performed a keyword search of peer-reviewed scientific journal publications (in the ISI Web of Science) for the terms 'global warming' and 'global climate change' between the years 1991 and 2011, which returned over 12,000 papers.
---
Posted on 15 May 2013 by John Hartz
A change in temperature

Arctic waters growing alarmingly acidic

'Best estimate' for impact of melting ice on sea level rise

Canada sells out science

Climate change 'will make hundreds of millions homeless'

Fewer Rain Forests mean less energy

Obama administration outlines new policy the Arctic

Ralph Keeling ponders a sobering milestone

Sea levels are rising - but how quickly?

Swift political action can avert a carbon dioxide crisis

UK government faces an exodus of energy experts

Warmer climate threatens Africa's vital cassava crop
A change in temperature
Since 1896, scientists have been trying to answer a deceptively simple question: What will happen to the temperature of the earth if the amount of carbon dioxide in the atmosphere doubles?
A Change in Temperature by Justin Gillis, New York Times, May 13, 2013
---
Posted on 15 May 2013 by Dumb Scientist
Dr. Harrison Schmitt and Dr. William Happer, who have scientific backgrounds but are not climate scientists, just wrote an opinion piece in The Wall Street Journal. Despite their claims, global warming continues. This continued warming is confirmed by GRACE, ICESat, InSAR, GPS, and camera observations of ice sheet mass loss, which absorb heat without warming as they melt. The continued warming is also confirmed by global sea ice loss, which absorbs heat without warming as it melts. The continued warming is also confirmed by increasing global ocean heat content, which absorbs heat without warming the surface... until it's released in an El Niño.
---
Posted on 14 May 2013 by John Mason
Synopsis
During the late Pliocene and early Pleistocene Series of the Cenozoic Era, 3.6 to 2.2 Ma (million years ago), the Arctic was much warmer than it is at the present day (with summer temperatures from 3.6-3.4 Ma some 8oC warmer than today). That is a key finding of research into a lake-sediment core obtained in Eastern Siberia, which is of exceptional importance because it has provided the longest continuous late Cenozoic land-based sedimentary record thus far. The sedimentary sequence dates from recent times back to 3.6 Ma when the lake was formed by a large extraterrestrial impact. During the warm period, atmospheric carbon dioxide concentrations were close to those of today, at around 400 parts per million, indicative of a strong climate sensitivity signal in the Arctic, which has again warmed very rapidly in recent decades. The lake sediment record has thus provided us with a snapshot of how the Arctic may look in the near future.
Introduction
Geologists divide geological time into Eons (the longest divisions), Eras, Systems and Series. The Pliocene (5.333-2.588 Ma) is the final Series of the Neogene System and the Pleistocene (2.588 Ma-11,700 years ago) is the first Series of the Quaternary System, both being part of the Cenozoic Era, the latest Era of the Phanerozoic Eon.
Just to get that into context, here is all of geological time plotted against the human 12-month calendar year, so that geological time starts on the first second of New Years' Day and the present is the last second of New Years' Eve. On such a scale, the whole Cenozoic Era equates to a tiny bit of late December!
---
Posted on 13 May 2013 by John Hartz
Al Gore tells Obama to cancel Keystone XL
Alberta oil sands production likely to double by 2022
Can carbon capture clean up Canada's oil sands?
Canada says it may take EU to WTO over oil sands dispute
Carbon dioxide approaching a new high
Foes suggest a tradeoff if pipeline is approved
House GOP prepares fast-track for Keystone XL
Indigenous resistance grows strong
Keeping the faith in carbon capture and storage
Keystone XL could cost society over $100 billion per year
Norway, Canada, the United States and the Tar Sands
'This Is Our Last Chance'
U.S. decision on Keystone XL pipeline seen dragging past summer
Al Gore tells Obama to cancel Keystone XL
Love him or loath him, you can say one thing Al Gore at the moment. He is certainly winding the Canadians up into a right old rage.
Al Gore Tells Obama to Cancel KXL by Andy Rowell, Oil Change International, May 7, 2013
---
Posted on 13 May 2013 by dana1981
Although it is still within the range of model simulations, the rate of global surface air warming over the past decade has slowed. Climate scientists, being scientists, would like to explain exactly why that has happened.
There are several possible explanations. Perhaps it's due to the natural internal variability (short-term noise) in the climate system, with more heat being shifted to the deeper oceans as a result of more recent La Niña events. Perhaps it's due to a smaller global energy imbalance due to more aerosol cooling and lower solar activity offsetting more of the greenhouse gas-caused warming. Perhaps it's a combination of several factors, but which is the main cause of the slowed surface warming over the past decade?
Meehl et al. (2011) found that in their model simulations, there were 'hiatus decades' with little surface warming, but increased deep ocean warming (Figure 1). Similarly, Guemas et al. (2013) concluded that most of the recent slowed surface warming can be attributed to the increased accumulation of heat in the oceans.
Figure 1: Composite global linear trends for hiatus decades (red bars) and other decades (green bars). Positive values for top of the atmosphere (TOA) net radiation (left-hand side) indicate energy accumulating in the system (i.e. global warming). Right-hand side shows ocean heat content decadal trends, for the various ocean layers. From Meehl et al. (2011).

These results are also consistent with several studies showing a recent increase in ocean warming (e.g. Levitus et al. 2012, Nuccitelli et al. 2012, and Balmaseda et al. 2013).
---
Posted on 12 May 2013 by John Hartz
SkS Highlights
KK Tung posted part 2 of his article, The anthropogenic global warming rate: Is it steady for the last 100 years?. It generated an ongoing discussion with Dr. Tung on the role of the Atlantic Multidecadal Oscillation (AMO) in global climate change.
Who is Paying for Global Warming? by Agnostic suammarizes the findings of Yang and Cui (2012) which details the funding and increased use of coal likely over the next decade.
Toon of the Week
H/T to Joe Romm's Climate Progress blog.
---
Posted on 11 May 2013 by dana1981
This is Peter Hadfield's (potholer's) latest climate video, summarizing the evidence for human-caused climate change, excluding climate models and the IPCC.
---
Posted on 11 May 2013 by John Hartz
Are we doomed to food insecurity?

Big Oil may destroy world's largest rain forest

Chile looks to volcanoes and geysers for energy

Climate milestone is a moment of symbolic significance

Does God hate climate change?

Fresh analysis of the pace of warming and sea-level rise

Greenland's ice loss may slow, but coasts still At risk

If the Oceans die - we die

New study tells three million-year old story of the Arctic

No need to worry about global warming, folks

The coming GOP civil war over climate change

Thoreau's radicalism and the fight against the fossil-fuel industry

What you need to know about climate sensitivity

What's causing the surface warming slowdown?
Are we doomed to food insecurity?
Half the world's population—5.2 billion people—could be doomed to an insecure and greenhouse gas-causing reliance on food imports by 2050, according to a new study.
Are We Doomed to Food Insecurity? by Andrea Germanos, Common Dreams, May 8, 2013
---
Posted on 10 May 2013 by dana1981
This is a partial re-post of my latest in the Guardian's Climate Consensus – the 97%. It's intended as a basic primer to reference the next time somebody tells you global warming is nothing to worry about because climate sensitivity is low.
What you need to know about climate sensitivity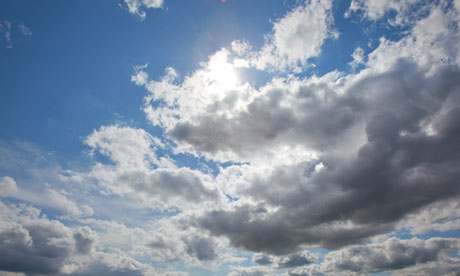 Climate sensitivity is a subject sometimes explored in mainstream media articles. For example, The Economist tried to summarize some recent research on the subject, although as climate scientist Michael Mann and I noted in an article for ABC, they made some key mistakes.
---
Posted on 8 May 2013 by John Hartz
Carbon tax backers quietly forge ahead

Cherry-picking one survey to discredit a survey

Climate change denial, economics and conspiracy theories

Climate change scientist discusses life at center of storm

Drive to make energy cleaner has stalled

Hawaii in climate change bullseye

How the oil and gas boom will change America

Inaction on global warming 'not an option': Angela Merkel

Is climate change is a problem for governments and oil firms?

Rich countries drag feet at climate talks

Scrap fuel subsidies and price CO2, urges World Bank

Whither global warming? Has it slowed down?
Carbon tax backers quietly forge ahead
Activists are quietly forging ahead with their campaign for carbon taxes despite long odds on Capitol Hill.

Carbon tax backers quietly forge ahead by Ben Geman, E2Wire/The Hill, May 5, 2013
---
Posted on 8 May 2013 by Agnostic
Yang and Cui (2012) have written a carefully researched Paper detailing the funding and increased use of coal likely over the next decade. They show that growing demand for and use of coal seems assured by availability of funding, much of it on concessional terms, to build 1,199 new coal burning power plants. None of these new plants includes carbon capture and sequestration in their design because present technology is prohibitively expensive to use. Consequently all will emit carbon dioxide (CO2) to the atmosphere, accelerating growth in its concentration and global warming.
It is not known how many of these power plants (some may) include flue scrubbers able to effectively prevent aerosol emissions but it seems likely that their operation could significantly increase aerosol pollution. Of concern is that aerosol emissions could result in soot deposits on ice and frozen land surfaces, increasing absorption of solar energy and speeding up melting. This would result in speedier loss of albedo and carbon emissions from degrading permafrost and rise in average global sea level.
Public Funding
Table 1. New coal fired power stations proposed for construction in 59 countries. Details available at Source.
---
Posted on 7 May 2013 by KK Tung
This is part 2 of a guest post by KK Tung, who requested the opportunity to respond to the SkS post Tung and Zhou circularly blame ~40% of global warming on regional warming by Dumb Scientist (DS).
In this second post I will review the ideas on the Atlantic Multidecadal Oscillation (AMO). I will peripherally address some criticisms by Dumb Scientist (DS) on a recent paper (Tung and Zhou [2013] ). In my first post, I discussed the uncertainty regarding the net anthropogenic forcing due to anthropogenic aerosols, and why there is no obvious reason to expect the anthropogenic warming response to follow the rapidly increasing greenhouse gas concentration or heating, as DS seemed to suggest.
---
Posted on 7 May 2013 by John Hartz
Al Gore isn't overly pleased with Canada

Canadian official proposes yet another Tar Sands pipeline

House to vote on Keystone XL bill in May

Obama's former Communications Director's firm does PR

Oil sands growth will depend on Keystone

Oliver to defend oil sands during visit to Europe

Ottawa strikes back at Al Gore's remarks

Science committee jumps into Keystone pipeline fray

Tar Sands will be piped to the Gulf Coast

The many ways Joe Nocera is wrong on Keystone XL

TransCanada plans new Alberta pipeline and terminal

What people close to Obama think about the Keystone XL
Al Gore isn't overly pleased with Canada
In this conversation, Mr. Gore offers a preview of his latest thinking, which he will discuss in detail on May 7 with Globe and Mail editor-in-chief John Stackhouse at Ryerson Theatre in Toronto.
Al Gore isn't overly pleased with Canada, Doug Saunders, The Globe & Mail, May 4, 2013
---
Posted on 6 May 2013 by dana1981
We previously examined a paper published by McLean, de Freitas, and Carter (2009) which showed that most of the short-term variability in lower atmosphere temperatures is due to changes in the El Niño Southern Oscilliation (ENSO). This was not a new finding at the time, but the authors also subsequently claimed that changes in ENSO could explain a substantial amount of the long-term global warming trend. This claim was not supported by the analysis in their paper.
Nevertheless, lead author John McLean predicted a record-shattering cooling for the year 2011, based on the methodology in their paper. As we subsequently documented, that prediction was quite far off (Figure 1).
Figure 1: NCDC global average surface temperature from 1880 through 2010 (blue), McLean's 2011 prediction (orange), and the actual 2011 NCDC temperature (purple).
Average global surface temperatures were cooler in 2011 than 2010 mainly as a result of changes in ENSO. We know that La Niña years tend to be colder at the Earth's surface while El Niño years tend to be hotter (Figure 2).