Explaining climate change science & rebutting global warming misinformation
Scientific skepticism is healthy. Scientists should always challenge themselves to improve their understanding. Yet this isn't what happens with climate change denial. Skeptics vigorously criticise any evidence that supports man-made global warming and yet embrace any argument, op-ed, blog or study that purports to refute global warming. This website gets skeptical about global warming skepticism. Do their arguments have any scientific basis? What does the peer reviewed scientific literature say?
---
Posted on 4 September 2015 by Guest Author
This is a re-post from The Conversation by

Kerry Emanuel, Massachusetts Institute of Technology
Three weeks and three days before Hurricane Katrina devastated New Orleans 10 years ago, a paper of mine appeared in the scientific journal Nature showing that North Atlantic hurricane power was strongly correlated with the temperature of the tropical Atlantic during hurricane season, and that both had been increasing rapidly over the previous 30 years or so. It attributed these increases to a combination of natural climate oscillations and to global warming.
Had Katrina not occurred, this paper and another by an independent team would merely have contributed to the slowly accumulating literature on the relationship between climate and hurricanes.
Instead, the two papers inspired a media firestorm, polarizing popular opinion and, to some extent, scientists themselves, on whether global warming was in some way responsible for Katrina. While the firestorm was mostly destructive, benefiting only the media, it had a silver lining in inspiring a much more concerted effort by atmospheric and climate scientists to understand how hurricanes influence and are influenced by climate.
We have learned much in the intervening years.
Sea level and storm surges
An obvious point is that slowly rising sea levels increase the probability of storm-induced surges even when the statistics of the storms, such as top wind speed, themselves remain stable. Storm surges are physically the same thing as tsunamis but driven by wind and atmospheric pressure rather than the shaking seafloor, and they typically arrive near the peak of the storm's fury.
As with Katrina and Sandy, they are often the most destructive aspects of hurricanes. Had Sandy struck New York a century ago, there would have been substantially less flooding, as sea level was then roughly a foot lower. As sea level increases at an accelerating pace, we can expect more devastating coastal flooding from storms.
---
Posted on 3 September 2015 by LarryM, BaerbelW
The "Denial101x - Making Sense of Climate Science Denial" MOOC (Massive Open Online Course) is now available as a self-paced course that anyone can take at any time. The course was produced by the all-volunteer Skeptical Science team and the University of Queensland, and hosted on the edX-platform. The lectures and expert interviews provide a unique resource for countering climate myths, learning effective myth-debunking techniques, and learning the basics of climate science in easily digestible bites. These resources are now available in an organized and easily searched format. Use them often!
MOOC videos. The collection of Denial101x videos listed below is organized by week and by topic. There are 81 lectures on focused topics, each about 5-7 minutes in length, plus 40 full interviews with experts in climate science and climate communication. The video playlist is also available on the Denial101x YouTube channel.
MOOC references. Each Denial101x lecture is supported by peer-reviewed research. A comprehensive list of references is available, with links to the corresponding papers.
MOOC-related blog posts:
Other SkS resources:
---
Index of videos by week
---
Posted on 2 September 2015 by dana1981
We know that as humans emit greenhouse gases into the atmosphere, it causes the Earth to warm. But it also causes other climate changes that are less obvious. In some instances, it makes areas wetter (because there is more moisture in the air as temperature increases). This can lead to increased flooding. In other instances, it speeds evaporation so that droughts can set in more quickly and deeply. While it would appear these affects would offset each other, in reality more droughts or floods occur depending on where you are located.
In some instances, areas are experiencing more severe droughts and more flooding as the weather systems swing from dry to wet quickly. Added to this is the fact that ocean temperatures have an enormous influence on weather.
As an example, an El Niño, which is the appearance of a warm water pool in the Pacific Ocean, can influence weather across the globe. Human-caused warming of the oceans adds to the El Niño cycles, which in turn affect the atmosphere. The real scientific question is, do human greenhouse gases influence a specific flood or drought event? A growing body of science is finding that the answer to this question is yes.
A paper just published in Geophysical Research Letters looked at the May 2015 floods in Texas and Oklahoma in the USA, which resulted from the wettest single month on record in both states. The lead author, Dr. Wang from Utah State and his colleagues examined the role of strengthened El Niño teleconnections on the flood event. Before getting into their conclusions, a little background is important.
In the Pacific Ocean, there is a water temperature oscillation that occurs every few years. This oscillation happens near the equator and stretches from South America almost all the way to Australia. During one part of the oscillation, there is colder than normal waters (called the La Niña phase) while in the other part of the oscillation, the waters are warm (called El Niño). Many times, the water temperatures are near normal, and we call that a neutral phase.
This process has large global consequences. First, when the ocean is in the warm El Niño phase, global surface temperatures rise temporarily. When in the La Niña phase, the temperatures temporarily drop. These short-term rises and falls last just a year or so and are superimposed on a long-term temperature increase from greenhouse gases. The cycle also has big implications for rainfall patterns around the globe.
---
Posted on 1 September 2015 by John Hartz
SkS Highlights... Toon of the Week... Quote of the Week... Poster of the Week... Coming Soon on SkS... SkS Week in Review... and 97 Hours of Consensus
SkS Highlights
Tracking the 2C Limit - July 2015, the first of a monthly series, by Rob Honeycutt garnered the most comments of the articles posted on SkS during the past week. Here's what happens when you try to replicate climate contrarian papers by Dana drew the second highest number of comments.
Toon of the Week
---
Posted on 31 August 2015 by dana1981
Citi Global Perspectives & Solutions (GPS), a division within Citibank (America's third-largest bank), recently published a report looking at the economic costs and benefits of a low-carbon future. The report considered two scenarios: "Inaction," which involves continuing on a business-as-usual path, and Action scenario which involves transitioning to a low-carbon energy mix.
One of the most interesting findings in the report is that the investment costs for the two scenarios are almost identical. In fact, because of savings due to reduced fuel costs and increased energy efficiency, the Action scenario is actually a bit cheaper than the Inaction scenario.
What is perhaps most surprising is that looking at the potential total spend on energy over the next quarter century, on an undiscounted basis the cost of following a low carbon route at $190.2 trillion is actually cheaper than our 'Inaction' scenario at $192 trillion. This, as we examine in this chapter, is due to the rapidly falling costs of renewables, which combined with lower fuel usage from energy efficiency investments actually result in significantly lower long term fuel bill. Yes, we have to invest more in the early years, but we potentially save later, not to mention the liabilities of climate change that we potentially avoid.
The following figure from the Citi report breaks down the investment costs in the Action ($190.2 trillion) and Inaction ($192 trillion) scenarios.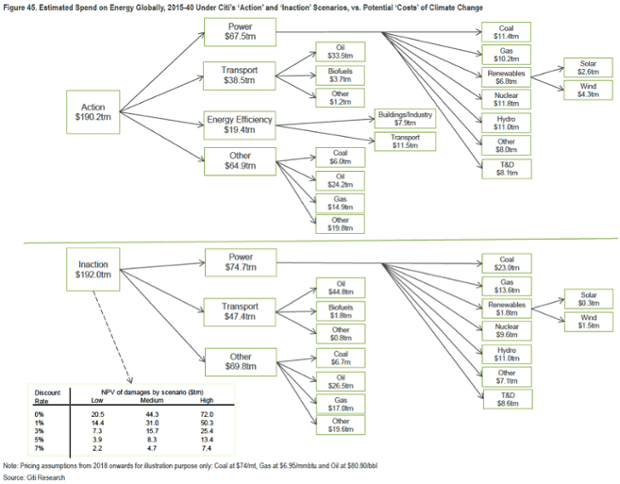 ---
Posted on 29 August 2015 by John Hartz
Sun, Aug 23
Mon, Aug 24
---
Posted on 28 August 2015 by Guest Author
This is a re-post from The Conversation by Andrew Glikson, Australian National University
You may have read recent reports about huge changes in sea level, inspired by new research from James Hansen, NASA's former Chief Climate Scientist, at Columbia University. Sea level rise represents one of the most worrying aspects of global warming, potentially displacing millions of people along coasts, low river valleys, deltas and islands.
The Intergovernmental Panel on Climate Change, the UN's scientific climate body, forecasts rises of approximately 40 to 60 cm by 2100. But other studies have found much greater rises are likely.
Hansen and 16 co-authors found that with warming of 2C sea levels could rise by several metres. Hansen's study was published in the open-access journal Atmospheric Chemistry and Physics Discussion, and has not as yet been peer-reviewed. It received much media coverage for its "alarmist" findings.
So how should we make sense of these dire forecasts?
What we're pretty sure about
According the to the IPCC sea level rise has accelerated from 0.05 cm each year during 1700-1900 to 0.32 cm each year during 1993-2010. Over the next century the IPCC expects an average rise of 0.2 to 0.8 cm each year.
---
Posted on 27 August 2015 by howardlee
Four of the "big five" mass extinctions, and several more minor environmental crises in Earth's past, were associated with abrupt global warming and ocean acidification triggered by Large Igneous Province (LIP) eruptions. The most recent of the "big five" - the end-Cretaceous - was complicated by a large asteroid impact, but at least the marine extinction was triggered by the Deccan Traps LIP, as explained in this post. Yet not all LIPs were associated with environmental catastrophes. Some, like the early Cretaceous Paraná-Etendeka LIP, seem to have had very little effect on global climate.
So what made some LIPs destructive and others not? And, you may be asking, what possible relevance do these ancient events have for us today?
The answer is that they confirm what scientists have modeled from ocean chemistry: CO2 emission rates mattered back then just as they do now. In fact they are key.
Why are the oceans so important in climate change?
I am focusing on the oceans because the oceans are a far, far larger reservoir of carbon than either the terrestrial biosphere or the atmosphere. The atmosphere today contains about 830 billion tonnes of carbon (GtC) (up from about 600 GtC before the industrial revolution), the terrestrial biosphere contains about 560 Gt, the surface layer of the ocean about 900 Gt and the deep ocean about 37,100 Gt. Humans have emitted about 600 Gt since the industrial revolution, and if we continue business-as-usual we might end up emitting as much as 1700 Gt by the end of the century, more than the terrestrial biosphere and surface ocean inventories combined. The oceans currently absorb about 30% of human CO2 emissions and 90% of the excess heat generated by modern climate change, but as terrestrial "sinks" for our CO2 emissions dwindle and even switch to becoming sources of CO2 this century (see this post), the oceans are fast becoming the main sink for absorbing our CO2 emissions.
Oceans are dynamic, allowing them to change in response to alterations in climate, but there are limits to that dynamism.
You can't rush the oceans
To understand why CO2 emission rates matter, you have to wet your feet in some basic ocean chemistry.
In a time of rising CO2 levels in the atmosphere, the surface layer of the ocean absorbs most (but not all) of that excess CO2 to regain balance with the atmospheric levels (Henry's Law). Once dissolved in seawater, that CO2 reacts with water to make carbonic acid, a process that takes about a minute to achieve equilibrium, and then the fun starts.
---
Posted on 26 August 2015 by Rob Honeycutt
Following my last post on The 1C Milestone I've decided to build my own chart to track our progress relative to the 2C Limit. This will be a monthly post that I make here on Skeptical Science once the GISS monthly data come out.
In conjunction with these updates I'll try to throw in additional information that might relate to the 2C limit as it becomes available (or as I happen upon it). With this first post there are a few things that I'd like to point out.
Data Source
I'm choosing to use NASA - GISTemp LOTI v3 data mostly because the data are published in a manner that makes it easy for me to manage. I've played around with the GISS data before and am more familiar with it than the other data sets. As new versions of GISTemp come out I will switch over to those, hopefully without too much pain.
If anyone is interested in checking out the data, you can find it here:
http://data.giss.nasa.gov/gistemp/tabledata_v3/GLB.Ts+dSST.txt
Baselining
This is an issue that can trip up some folks who might be new to the climate change issue. It can be confusing as to why the surface temperature data sets use "anomalies" off of a baseline instead of actual relative temperature. NOAA has a very good short explanation about why.
What I'm doing with this data is, essentially, re-baselining it. The original data are baselined to a 1951-1980 average, making the average of those data points the zero axis. But, we want to know what the temperature anomalies are relative to a "preindustrial" baseline, in essence, so we can see how much warming has taken place since humans started pumping CO2 into the atmosphere.
---
Posted on 25 August 2015 by dana1981
Those who reject the 97% expert consensus on human-caused global warming often invoke Galileo as an example of when the scientific minority overturned the majority view. In reality, climate contrarians have almost nothing in common with Galileo, whose conclusions were based on empirical scientific evidence, supported by many scientific contemporaries, and persecuted by the religious-political establishment. Nevertheless, there's a slim chance that the 2–3% minority is correct and the 97% climate consensus is wrong.
To evaluate that possibility, a new paper published in the journal of Theoretical and Applied Climatology examines a selection of contrarian climate science research and attempts to replicate their results. The idea is that accurate scientific research should be replicable, and through replication we can also identify any methodological flaws in that research. The study also seeks to answer the question, why do these contrarian papers come to a different conclusion than 97% of the climate science literature?
This new study was authored by Rasmus Benestad, myself (Dana Nuccitelli), Stephan Lewandowsky, Katharine Hayhoe, Hans Olav Hygen, Rob van Dorland, and John Cook. Benestad (who did the lion's share of the work for this paper) created a tool using the R programming language to replicate the results and methods used in a number of frequently-referenced research papers that reject the expert consensus on human-caused global warming. In using this tool, we discovered some common themes among the contrarian research papers.
---
Posted on 24 August 2015 by John Abraham
To adapt or to mitigate? That is the question that faces governments and industries across the globe as the impacts of climate change and pollution become ever clearer. It turns out, we will need to do both. The longer we allow pollution to be freely emitted, the fewer and more expensive will be the choices remaining to us.
Pollution adaptation can take many forms, but it generally means dealing with a pollutant after it has been emitted, or it can mean changing infrastructure to make it more resilient to heavy rains, floods, or more intense storms.
One great example of adaptation is being developed in Hong Kong and elsewhere in Asia by a major engineering company (Arup Engineering) and the CSR arm of a Hong Kong property developer (Sino Green). Arup and Sino Green are dealing with the environmental problem of localized airborne pollution.
In many parts of the world, airborne pollution levels are very high and can be elevated for long periods of time. These high levels of pollution can pose health problems to people and animals, particularly people with other health problems or those who are young or the elderly. In some cases, the airborne pollution levels can be at high levels for 8,000 hours (90%+) in a single year.
There are many sources of pollution; for Arup Engineering, whose East Asia headquarters is in Hong Kong, much of the pollution is from nearby heavy industries across the border in mainland China and from vehicle emissions. At other locations, high levels of airborne pollution may be caused by burning of wood or dung for fire, slash-and-burn agricultural practices (particularly for countries near Indonesia), or from other causes. But, regardless of the cause, companies such as Arup are trying to find ways to reduce human exposure even when the airborne pollution levels are high.
Arup is embarking on an effort to provide filtered air zones for people who are street side, perhaps waiting for public transportation. Much like a bus stop, the proposed structure (called City Air Purification System) provides clean air flow to create a cocoon around bystanders, shown in the following photograph.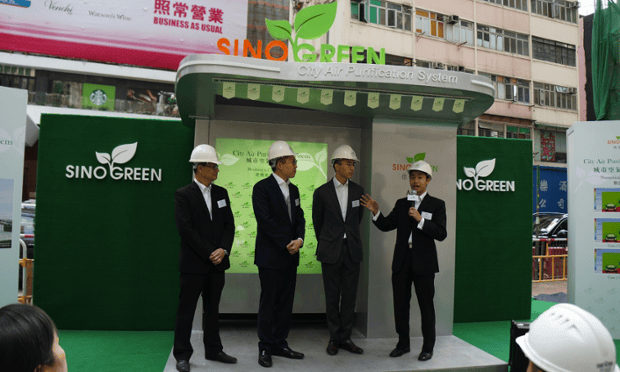 ---
Posted on 23 August 2015 by John Hartz
SkS Highlights... El Niño Watch... Toon of the Week... Quote of the Week... He Said What?... SkS in the News... SkS Spotlights... Poster of the Week... Coming Soon on SkS... SkS Week in Review... and 97 Hours of Consensus
SkS Highlights
Michael Sweet's post, New paper shows that renewables can supply 100% of all energy (not just electricity) garnered, by a wide margin, the most comments of the articles posted on SkS during the past week — demonstrating once again that our readers feel more comfortable expressing their opinions about energy matters than they do about the science of climate change.
El Niño Watch
IT IS a long way from the western Pacific Ocean to the flooded streets of Buenos Aires where, this month, the city's Good Samaritans have been distributing food and candles by kayak after some unseasonably heavy rain. But there is a link. Its name is El Niño.
Bringing up baby, The Economist, Aug 22, 2015
Toon of the Week
Hat tip to I Heart Climate Scientists
---
Posted on 22 August 2015 by John Hartz
Sun, Aug 16
Alaska's quest to power remote villages — and how it could spread clean energy worldwide by Chris Mooney, Energy & Environment, Washington Post, Aug 14, 2015
Egypt Heat Wave Kills More As Global Warming Strikes, Inquistr, Aug 16, 2015
Millions To Be Spent To Protect Sewage Plants From Effects Of Climate Change by Gregory B. Hladky, Hartford Courant, Aug 16, 2015
Mon, Aug 17
---
Posted on 21 August 2015 by Guest Author
The World Bank said coal was no cure for global poverty on Wednesday, rejecting a main industry argument for building new fossil fuel projects in developing countries.
In a rebuff to coal, oil and gas companies, Rachel Kyte, the World Bank climate change envoy, said continued use of coal was exacting a heavy cost on some of the world's poorest countries, in local health impacts as well as climate change, which is imposing even graver consequences on the developing world.
"In general globally we need to wean ourselves off coal," Kyte told an event in Washington hosted by the New Republic and the Center for American Progress. "There is a huge social cost to coal and a huge social cost to fossil fuels … if you want to be able to breathe clean air."
Coal, oil and gas companies have pushed back against efforts to fight climate change by arguing fossil fuels are a cure to "energy poverty", which is holding back developing countries.
Peabody Energy, the world's biggest privately held coal company, went so far as to claim that coal would have prevented the spread of the Ebola virus.
However, Kyte said that when it came to lifting countries out of poverty, coal was part of the problem – and not part of a broader solution.
"Do I think coal is the solution to poverty? There are more than 1 billion people today who have no access to energy," Kyte said. Hooking them up to a coal-fired grid would not on its own wreck the planet, she went on.
---
Posted on 20 August 2015 by michael sweet
A new paper: 100% clean and renewable wind, water, and sunlight (WWS) all-sector energy roadmaps for the 50 United States by Jacobson et al 2015 describes the wind, solar and other renewable technologies needed to supply all the energy used in the USA That is all the energy, not just the electricity. They find that using wind to generate 50% of energy, solar photovoltaic (PV) for 38%, concentrated solar power (CSP) for 13% and a combination of hydro, geothermal, tide and wave power for the remainder (5%) allows all energy in the USA to be supplied at a lower cost than using fossil fuels. (The total is over 100% as extra power is required to stabilize the power grid because the wind does not always blow and the sun does not always shine).
---
Posted on 19 August 2015 by Guest Author
This is a re-post from Astronomy Now
The Sunspot Number, the longest scientific experiment still ongoing, is a crucial tool used to study the solar dynamo, space weather and climate change. It has now been recalibrated and shows a consistent history of solar activity over the past few centuries.
The new record has no significant long-term upward trend in solar activity since 1700, as was previously indicated. This suggests that rising global temperatures since the industrial revolution cannot be attributed to increased solar activity.
The analysis, its results and its implications for climate research were made public on 7 August at a press briefing at the International Astronomical Union (IAU) XXIX General Assembly, currently taking place in Honolulu, Hawai`i, USA.
The Maunder Minimum, between 1645 and 1715, when sunspots were scarce and the winters harsh, strongly suggests a link between solar activity and climate change. Until now there was a general consensus that solar activity has been trending upwards over the past 300 years (since the end of the Maunder Minimum), peaking in the late 20th century — called the Modern Grand Maximum by some.