Climate urgency: we've locked in more global warming than people realize
Posted on 15 August 2016 by dana1981
While most people accept the reality of human-caused global warming, we tend not to view it as an urgent issue or high priority. That lack of immediate concern may in part stem from a lack of understanding that today's pollution will heat the planet for centuries to come, as explained in this Denial101x lecture:
So far humans have caused about 1°C warming of global surface temperatures, but if we were to freeze the level of atmospheric carbon dioxide at today's levels, the planet would continue warming. Over the coming decades, we'd see about another 0.5°C warming, largely due to what's called the "thermal inertia" of the oceans (think of the long amount of time it takes to boil a kettle of water). The Earth's surface would keep warming about another 1.5°C over the ensuing centuries as ice continued to melt, decreasing the planet's reflectivity.
To put this in context, the international community agreed in last year's Paris climate accords that we should limit climate change risks by keeping global warming below 2°C, and preferably closer to 1.5°C. Yet from the carbon pollution we've already put into the atmosphere, we're committed to 1.5–3°C warming over the coming decades and centuries, and we continue to pump out over 30 billion tons of carbon dioxide every year.
The importance of reaching zero or negative emissions
We can solve this problem if, rather than holding the amount of atmospheric carbon dioxide steady, it falls over time. As discussed in the above video, Earth naturally absorbs more carbon than it releases, so if we reduce human emissions to zero, the level of atmospheric carbon dioxide will slowly decline. Humans can also help the process by finding ways to pull carbon out of the atmosphere and sequester it.
Scientists are researching various technologies to accomplish this, but we've already put over 500 billion tons of carbon dioxide into the atmosphere. Pulling a significant amount of that carbon out of the atmosphere and storing it safely will be a tremendous challenge, and we won't be able to reduce the amount in the atmosphere until we first get our emissions close to zero.
There are an infinite number of potential carbon emissions pathways, but the 2014 IPCC report considered four possible paths that they called RCPs. In one of these (called RCP 2.6 or RCP3-PD), we take immediate, aggressive, global action to cut carbon pollution, atmospheric carbon dioxide levels peak at 443 ppm in 2050, and by 2100 they've fallen back down to today's level of 400 ppm. In two others (RCPs 4.5 and 6.0) we act more slowly, and atmospheric levels don't peak until the year 2150, then they remain steady, and in the last (RCP8.5) carbon dioxide levels keep rising until 2250.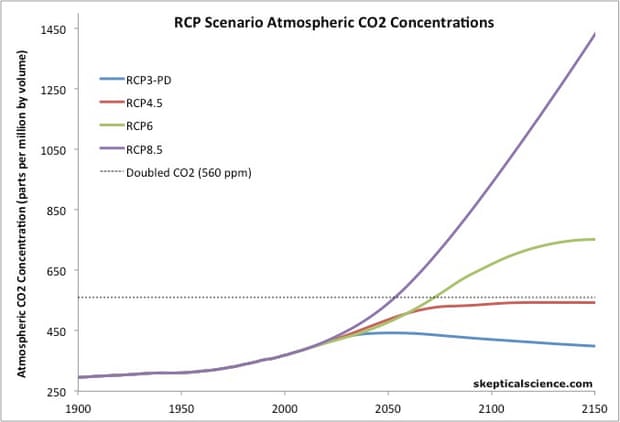 As the figure below shows, in the first scenario, global warming peaks at 2°C and then temperatures start to fall toward the 1.5°C level, meeting our Paris climate targets. In the other scenarios, temperatures keep rising centuries into the future.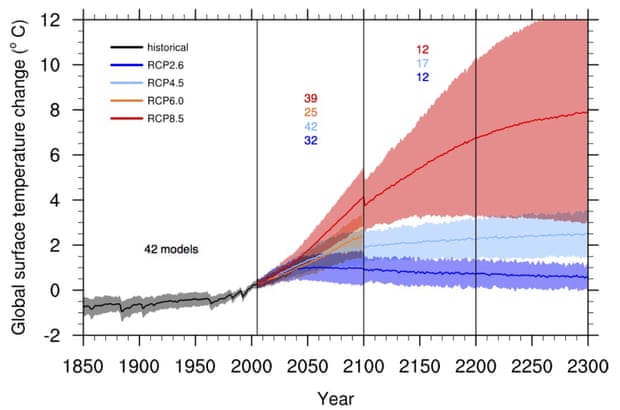 This is the critical decade

We don't know what technologies will be available in the future, but we do know that the more carbon pollution we pump into the atmosphere today, the longer it will take and more difficult it will be to reach zero emissions and stabilize the climate. We'll also have to pull that much more carbon out of the atmosphere.
It's possible that as in three of the IPCC scenarios, we'll never get all the way down to zero or negative carbon emissions, in which case today's pollution will keep heating the planet for centuries to come. Today's carbon pollution will leave a legacy of climate change consequences that future generations may struggle with for the next thousand years.
Five years ago, the Australian government established a Climate Commission, which published a report discussing why we're in the midst of the 'critical decade' on climate change: