Globally averaged concentrations of CO2 reached 403.3 parts per million in 2016, up from 400.00 ppm in 2015 because of a combination of human activities and a strong El Niño event. Concentrations of CO2 are now 145% of pre-industrial (before 1750) levels, according to the Greenhouse Gas Bulletin.
Rapidly increasing atmospheric levels of CO2 and other greenhouse gases have the potential to initiate unprecedented changes in climate systems, leading to "severe ecological and economic disruptions," said the report.
---
Posted on 31 October 2017 by Ari Jokimäki
Elsevier's journal Renewable and Sustainable Energy Reviews published a paper in 2013 (Florides et al. 2013, "F13" from now on) which we found problematic. We analyzed the paper and communicated our findings to Elsevier. Our main findings were that much of F13 text was copy/pasted from other sources without proper attribution and that F13 contained many false claims. In this series of posts, I'll go through the problems in F13 and in Elsevier actions. There are four posts:
Part 4 - dealing with Elsevier - first contacts
In parts 1-3 we discussed the possible plagiarism and the problems in the content of F13. In this fourth part we will go through what happened when we communicated our findings to Elsevier. Here is a brief chronology of events, which I explain in more detail below:
March 14, 2014: we become aware of F13 and start our analysis.
June 27, 2014: our first contact attempt to Elsevier.
September 10, 2014: first response from Elsevier - basically just receiving the information from us.
July 5, 2015: After us asking for the status of the issue a couple of times, and after much waiting, the Editor-in-Chief finally contacts us for the first time - the issue has been communicated to interested parties. We are asked to write and submit a comment paper.
March 31, 2016: after much work, we submit our comment paper.
March 21, 2017: after several contact attempts trying to ask about the status of our submission, we get a response from Elsevier saying that they had sent us F13's reply already in May, 2016, which we didn't receive.
May 14, 2017: The F13 reply is re-sent to us. The Editor-in-Chief rejects our comment paper because F13 didn't like it, and asks us to write another paper where the F13 issue would be reduced to just one example issue among other similar issues. We decline the offer.
---
Posted on 30 October 2017 by dana1981
Over the past half-century, growth in the global economy and carbon pollution have been tied together. When the global economy has been strong, we've consumed more energy, which has translated into burning more fossil fuels and releasing more carbon pollution. But over the past four years, economic growth and carbon dioxide emissions have been decoupled. The global economy has continued to grow, while data from the EU Joint Research Centre shows carbon pollution has held fairly steady.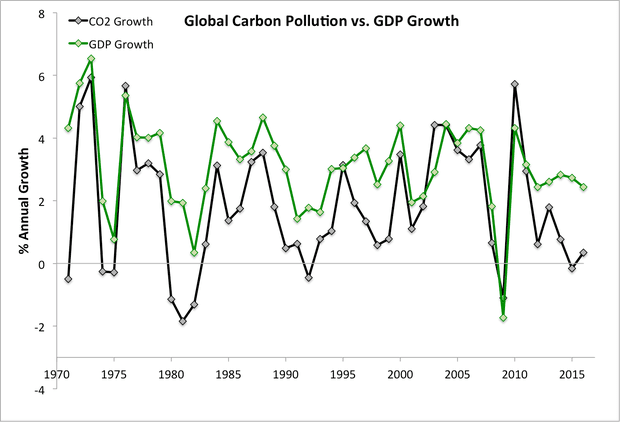 China is becoming a global climate leader
China's shift away from coal to clean energy has been largely responsible for this decoupling. Due to its large population (1.4 billion) – more than four times that of the USA (323 million) and nearly triple the EU (510 million) – and rapid growth in its economy and coal power supply, China has become the world's largest net carbon polluter (though still less than half America's per-person carbon emissions, and on par with those of Europeans). But as with the global total, China's carbon pollution has flattened out since 2013.