Explaining climate change science & rebutting global warming misinformation
Scientific skepticism is healthy. Scientists should always challenge themselves to improve their understanding. Yet this isn't what happens with climate change denial. Skeptics vigorously criticise any evidence that supports man-made global warming and yet embrace any argument, op-ed, blog or study that purports to refute global warming. This website gets skeptical about global warming skepticism. Do their arguments have any scientific basis? What does the peer reviewed scientific literature say?
---
Posted on 26 September 2017 by Guest Author
Potholer: I had to make this video in a matter of days because of all the nonsense flying round the internet. Very fast for me!
---
Posted on 25 September 2017 by dana1981
Back in February, the conservative UK tabloid Mail on Sunday ran an error-riddled piece by David Rose attacking Noaa climate scientists, who had published data and a paper showing that there was never a global warming pause. The attack was based on an interview with former Noaa scientist John Bates, who subsequently admitted about his comments:
I knew people would misuse this. But you can't control other people.
The UK press regulator, the Independent Press Standards Organization (Ipso) has now upheld a complaint submitted by Bob Ward of the London School of Economics. Ipso ruled that the Mail piece "failed to take care over the accuracy of the article" and "had then failed to correct these significantly misleading statements," and the Mail on Sunday was required to publish the Ipso adjudication.
---
Posted on 24 September 2017 by John Hartz
Story of the Week... Toon of the Week... SkS in the News... SkS Spotlights... Video of the Week... Coming Soon on SkS... Poster of the Week... Climate Feedback Reviews... SkS Week in Review... 97 Hours of Consensus...
Story of the Week...
Also see:
Arctic sea ice summer minimum in 2017 is eighth lowest on record by Daisy Dunne & Robert McSweeney, Carbon Brief, Sep 20, 2017
We Charted Arctic Sea Ice for Nearly Every Day Since 1979. You'll See a Trend. by Nadja Popovich, Henry Fountain & Adam Pearce, New York Times, Sep 22, 2017
---
Posted on 23 September 2017 by John Hartz
Editor's Pick
August 2017 was second warmest on record
From NASA's Goddard Institute for Space Studies
A global map of the August 2017 LOTI (land-ocean temperature index) anomaly, relative to the 1951-1980 August average. Part of Antarctica is gray because data from some stations there were not yet available at the time of this posting.
View larger image
.
August 2017 was the second warmest August in 137 years of modern record-keeping, according to a monthly analysis of global temperatures by scientists at NASA's Goddard Institute for Space Studies (GISS) in New York.
The measured value is consistent with the trend in global average surface temperatures that has been observed during the past few decades. Last month was +0.85 degrees Celsius warmer than the mean August temperature from 1951-1980.
---
Posted on 22 September 2017 by Ari Jokimäki
A selection of new climate related research articles is shown below.
---
Posted on 21 September 2017 by dana1981
Long-time Skeptical Science contributor and our dear friend Andy Skuce passed away last Thursday, September 14th. Andy was diagnosed with prostate cancer in 2002, with a median life expectancy of six years, but lived another 15. During that time he made invaluable contributions to Skeptical Science and to educating the public about climate change. His final post Exit, Pursued by a Crab, published just three weeks ago is an insightful personal reflection on his life, cancer, and climate change.
Andy first and foremost was a wonderful person. Those of us who only knew him via the internet valued his wit, kindness, and insightful comments. Those of us fortunate enough to meet Andy in person always enjoyed his company and his warm personality. When any of us traveled to his neck of the woods, Andy and his wife Annick always opened their home as generous hosts.
---
Posted on 20 September 2017 by John Abraham
We've known for decades that the Earth is warming, but a key question is, how fast? Another key question is whether the warming is primarily caused by human activities. If we can more precisely measure the rate of warming and the natural component, it would be useful for decision makers, legislators, and others to help us adapt and cope. Indeed, added ocean heat content underlies the potential for dangerous intense hurricanes.
An answer to the "how fast?" question was partly answered in an Opinion piece just published on Eos.org, the daily online Earth and space science news site, by scientists from China, Europe and the United States. I was fortunate enough to be part of the research team.
To measure how fast the globe is warming, we focused on the extra heat that is being trapped in the climate. The key to measuring the extra heat is by comparing the incoming and outgoing energy – just like you watch your bank account, keeping track of income and expenses to tell whether your bank balance will increase or not.
Okay so how do we measure these incoming and outgoing flows? In our view, the best way is in the oceans. We know that the oceans absorb almost all of the excess heat – so, perhaps we can detect energy increases in ocean waters?
Measuring the oceans is challenging. They are vast and they are deep – measurements can be noisy. Detecting a long-term trend (a signal) within the noise can be a challenge. But this challenge is exactly what we focused on. We wanted to know how large the signal-to-noise ratio is for ocean heat measurements because this would tell us how many years of data are needed to detect warming. Can we detect global warming with one year of measurements? With a decade? Or do we need multiple decades of measurements to be sure the climate is changing?
---
Posted on 19 September 2017 by Riduna
Australia's Prime Minister, Malcolm Turnbull rightly points to the need for reliable, affordable electricity supply. He knows that 75% of Australia's existing coal-fired power stations have passed their design date, increasingly pollute the atmosphere and operate inefficiently. In early 2017 he argued that since Australia is the worlds largest coal exporter, they should be replaced with ultra-supercritical coal fired generators. Recognising that ultra-supercritical generators are very expensive to build, he hinted that the cost of their construction might be subsidised by the Clean Energy Finance Corporation, a government agency funded to promote clean energy rather than coal use.
The Energy Minister, Josh Frydenburg went further, claiming that ultra-supercritical generators would reduce greenhouse gas emissions by as much as 40% and with carbon capture and storage (CCS) technology, carbon emissions could be reduced by about 90%. He went on to repeat his assertion that uncertainty of supply and high cost of electricity in South Australia, was the product of a too rapid transition to renewable power generation.
More recently, AEMO warned that S.A. and Victoria could experience black-outs over the next 2 years and that closure of Liddell Power Station in 2022 could result in a potential shortfall of electricity supply in NSW. The response from Turnbull was to repeat criticism of Labor State Governments for over-rapid transition to renewable energy, their failure to provide adequate storage back-up and to call for Liddell to be refurbished and kept open for 5 years beyond its intended closure date.
Critique
The first comment to make on these observations is to deplore that the imperative of reducing greenhouse gas emissions should made a political football. It is high time that Australia's major political parties got together to formulate an effective science-based national policy on curbing greenhouse gas emissions and the inevitable transition from fossil fuels to renewable energy. The need for this transition, worldwide, needs to be both rapid and orderly since it is very likely to mediate our ability to survive on this planet.
Fig 1. One of 22 electricity pylons in the North Midlands of S.A., destroyed by an extreme wind event in September, 2016, causing a state-wide blackout. Photo: ABC News: Tom Fedorowytsch.
---
Posted on 18 September 2017 by dana1981
The impacts of hurricanes Harvey and Irma were blunted because we saw them coming. Weather models accurately predicted the hurricane paths and anticipated their extreme intensities days in advance. This allowed millions of Floridians to evacuate the state, sparing countless lives.
Some contrarians have tried to downplay the rising costs of landfalling hurricanesby claiming they're only more expensive because there are now more people living along the coasts with more expensive stuff vulnerable to hurricane damages. However, those arguments fail to account for our ability to predict hurricane tracks earlier and more accurately by using better and better scientific models. We're able to prepare for hurricanes much better today than in the past because we have more warning.
Time to start listening to climate models
Although they focus on much different timescales and resolutions, climate and weather models are based on the same core physics. Scientists have a solid understanding of the Earth's oceans and atmosphere, and that understanding is improving all the time.
Millions of people watched the evolution of the model forecasts for hurricanes Harvey and Irma, and made important decisions based on those forecasts. People trusted the models, and their trust proved to be well placed, as the model predictions were accurate.
And climate models have an even better track record.
40 years of remarkably accurate climate models
As I documented in my book Climatology versus Pseudoscience, since their inception in the 1970s, climate models have been remarkably accurate at predicting global warming. In a 1975 paper in Science, renowned climate scientist Wallace Broecker was one of the first to use early simple climate models to predict future global warming. Based on scientists' understanding of the climate at the time, Broecker was only able to include the effects of human carbon emissions and 'natural cycles' (whose effects he overestimated) in his model, but the prediction was nevertheless remarkably accurate: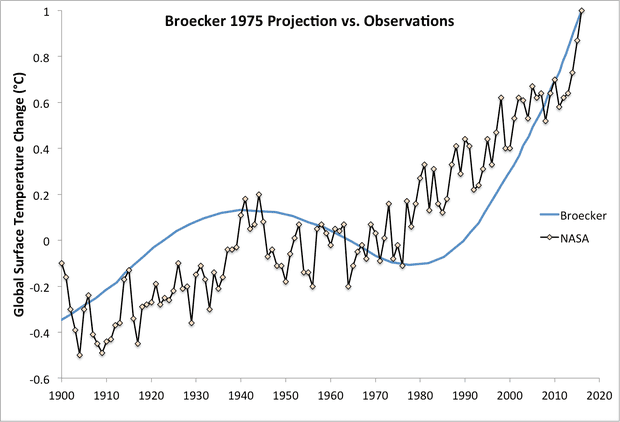 ---
Posted on 17 September 2017 by John Hartz
Story of the Week... El Niño/La Niña Update... Toon of the Week... Quote of the Week... SkS in the News... Coming Soon on SkS... Poster of the Week... Climate Feedback Reviews... SkS Week in Review... 97 Hours of Consensus...
Story of the Week...
The Window Is Closing to Avoid Dangerous Global Warming
Credit: David McNew Getty Images
Deadly climate change could threaten most of the world's human population by the end of this century without efforts well beyond those captured in the Paris Agreement.
That's the finding of a pair of related reports released yesterday by an international group of climate science and policy luminaries who warned that the window is closing to avert dangerous warming. They say carbon dioxide might have to be removed from the atmosphere.
Scientists Yangyang Xu and Veerabhadran Ramanathan found in a paper published in the Proceedings of the National Academy of Sciences (PNAS) that there already exists a 1 in 20 chance that the 2.2 trillion tons of carbon dioxide in the Earth's atmosphere could cause an existential warming threat. This "fat tail" scenario would mean the world experiences "existential/unknown" warming by 2100 — defined in the report as more than 5 degrees Celsius above preindustrial levels.
The Window Is Closing to Avoid Dangerous Global Warming by Jean Chemnick, ClimateWire/Scientific American, Sep 15, 2017
---
Posted on 16 September 2017 by John Hartz
Editor's Pick
Asia's glaciers to shrink by a third by 2100, threatening water supply of millions
High mountains of Asia hold biggest store of frozen water outside the poles and feed many of the world's great rivers, including the Ganges

The Asian high mountains are already warming more rapidly than the global average. Photograph: Alamy Stock Photo
Asia's mountain glaciers will lose at least a third of their mass through global warming by the century's end, with dire consequences for millions of people who rely on them for fresh water, researchers have said.
This is a best-case scenario, based on the assumption that the world manages to limit average global warming to 1.5C (2.7F) over pre-industrial levels, a team wrote in the journal Nature.
"To meet the 1.5C target will be a task of unprecedented difficulty," the researchers said, "and even then, 36% (give or take 7%) of the ice mass in the high mountains of Asia is projected to be lost" by 2100.
With warming of 3.5C, 4C and 6C respectively, Asian glacier losses could amount to 49%, 51% or 65% by the end of the century, according to the team's modelling study.
Asia's glaciers to shrink by a third by 2100, threatening water supply of millions, Agence France-Presse/Guardian, Sep 13, 2017
---
Posted on 15 September 2017 by Ari Jokimäki
A selection of new climate related research articles is shown below.
Climate change
1. State of the Climate in 2016 See also: A Look at 2016: Takeaway Points from the State of the Climate Supplement
2. The rise in global atmospheric CO2, surface temperature, and sea level from emissions traced to major carbon producers
"Emissions traced to these 90 carbon producers contributed ∼57% of the observed rise in atmospheric CO2, ∼42–50% of the rise in global mean surface temperature (GMST), and ∼26–32% of global sea level (GSL) rise over the historical period and ∼43% (atmospheric CO2), ∼29–35% (GMST), and ∼11–14% (GSL) since 1980 (based on best-estimate parameters and accounting for uncertainty arising from the lack of data on aerosol forcings traced to producers)."
3. Optimal management of the flooding risk caused by the joint occurrence of extreme rainfall and high tide level in a coastal city

"Heavy rain is the main disaster-causing factor in inland areas, while high tide level is the main disaster-causing factor in island areas. For the area whose main disaster-causing factor is heavy rain, water storage projects could effectively reduce flooding. Meanwhile, pumps are economical choices for the area where tide level is the main disaster-causing factor."
---
Posted on 14 September 2017 by Guest Author
All this worry about warming when it's just a natural cycle. The climate is always changing and today's no different — right? Global Weirding is produced by KTTZ Texas Tech Public Media and distributed by PBS Digital Studios. New episodes every other Wednesday at 10 am central. Brought to you in part by: Bob and Linda Herscher, Freese and Nichols, Inc, and the Texas Tech Climate Science Center.
---
Posted on 13 September 2017 by greenman3610
This is a re-post from Climate Denial Crock of the Week
Experts outline the increasing momentum that the renewable economy is gaining, despite Republican efforts to deny climate science and keep the US from leading the greatest industrial revolution of the new century.
I spoke to veteran journalist Keith Schneider, one of the sharpest and most perceptive observers of the renewable scene globally, as well as Dan Kammen of the University of California, Berkeley, and Andy Hoffman at the Ross School of Business, University of Michigan.
---
Posted on 13 September 2017 by dana1981
According to 2016 election exit polls, only 38% of voters considered Donald Trump qualified to be president. 17% of those who thought him unqualified voted for Trump anyway, perhaps because he promised that as a wealthy businessman, he would be able to hire the best people to advise him. That was a claim his daughter Ivanka explicitly made in her speech at the Republican National Convention:
Unfortunately, Trump has not lived up to this promise. In many cases he's hired some of the worst people imaginable.
Who worse to lead the EPA than a man whose primary qualification is having sued the agency 14 times on behalf of polluting industries? Who worse to lead the Midwestern states EPA than a woman who the EPA cited for failure to control air pollution in Wisconsin and who deleted all mention of human-caused climate change from her department website? Who worse to lead the Department of Energy than a man who wanted to eliminate the department (until he forgot - oops)? Who worse to be the Department of Agriculture's chief scientist than a right-wing birther radio host with no scientific background? And these are only the administration officials in positions related to energy and the environment.
There are of course exceptions where Trump nominated people who are at least qualified for the job, but in many cases it's hard to imagine worse choices.
And now we can add Trump's selection to lead Nasa to the list - Rep. Jim Bridenstine of Oklahoma.
---
Posted on 11 September 2017 by Ari Jokimäki
A selection of new climate related research articles is shown below.
Climate change

1. Continuously Amplified Warming in the Alaskan Arctic: Implications for Estimating Global Warming Hiatus

"Focusing on the "hiatus" period 1998-2012 as identified by the Intergovernmental Panel on Climate Change (IPCC) report, the SAT has increased at 0.45 °C/decade, which captures more than 90% of the regional trend for 1951-2012. We suggest that sparse in-situ measurements are responsible for underestimation of the SAT change in the gridded datasets."
2. Extreme warming in the Kara Sea and Barents Sea during the winter period 2000 to 2016
"The maximum warming occurs north of Novaya Zemlya in the Kara Sea and Barents Sea between March 2003-2012 and is responsible for up to 20°C increase. Land-based observations confirm the increase but do not cover the maximum regions that are located over the ocean and sea-ice."
3. Tropical semi-arid regions expanding over temperate latitudes under climate change
"We show that a global expansion of this climatic domain has already started according to climate observations in the twentieth century (about + 13% of surface increase, i.e. from 6 to 7% of the global land surface). Models project that this expansion will continue throughout the twenty-first century, whatever the scenario..."
4. Representation of mid-latitude North American coastal storm activity by six global reanalyses
"All reanalyses are found to successfully represent most aspects of mid-latitude North American coastal strong storm activity, annually and seasonally, along both coasts. Nevertheless, ERA-Interim, MERRA, and CFSR provide the better representations of mid-latitude North American coastal strong storm activity, with ERA-Interim performing best overall."
---
Posted on 10 September 2017 by John Hartz
Article of the Week... Editorial of the Week... Toon of the Week... Graphics of the Week... SkS in the News... Video of the Week... Coming Soon on SkS... Poster of the Week... SkS Week in Review... 97 Hours of Consensus...
Article of the Week...
Irma and Harvey lay the costs of climate change denial at Trump's door
The president's dismissal of scientific research is doing nothing to protect the livelihoods of ordinary Americans
Hurricanes Irma (left) and Jose move across the Atlantic Ocean. Photograph: NOAA/Reuters
As the US comes to terms with its second major weather disaster within a month, an important question is whether the devastation caused by hurricanes Harveyand Irma will convince Donald Trump and his administration of the reality of climate change.
The president's luxurious Mar-a-Lago estate in Florida may escape Irma's wrath, but with the deaths of so many Americans, and billions of dollars in damage to homes and businesses, the costs of climate change denial are beginning to pile up at the door of the White House.
Just days before Harvey formed in the Atlantic last month, Trump signed an executive order to overturn a policy, introduced by his predecessor Barack Obama, to help American communities and businesses become more resilient against the risks of flooding, which are rising because of climate change.
But the merciless assault on the US mainland by Harvey and Irma should be forcing the president to recognise the consequences of his arrogance and complacency in dismissing the research and analysis carried out by scientists.
The flooded streets of Houston and the wind-ravaged homes of south Florida bear the unmistakable fingerprint of extreme weather made worse by manmade greenhouse gas emissions.
Irma and Harvey lay the costs of climate change denial at Trump's door by Bob Ward, The Observer/Guardian, Sep 9, 2017
---
Posted on 9 September 2017 by John Hartz
Editor's Pick
6 Questions on Hurricane Irma, Harvey and Climate Change
Hurricane Irma, a Category 5 storm, barrels toward the Florida coast on Sept. 7, 2017. Credit: NOAA GOES Project via Getty Images
A third of the way into the 2017 Atlantic hurricane season, NOAA looked at the ocean and air temperatures and issued an ominous new forecast: the region would likely experience "an above normal hurricane season" that "could be extremely active," with more named storms than previously expected—14 to 19 this season—and two to five major hurricanes.
Now, halfway through the season, Hurricane Harvey's destruction stretches along the Texas coast, and Hurricane Irma looks likely to make landfall in Florida after causing mass destruction in the Caribbean. Just a few days behind Irma, Hurricane Jose appears to be following the same deadly path, while Hurricane Katia churns off Mexico's eastern coast.
As global temperatures continue to rise, climate scientists have said this is what we should expect—more huge storms, with drastic impacts.
Though scientists are still wrestling with some of the specifics of how climate change is impacting hurricanes, a lot is known, including the fact that hurricane seasons like this one could be the new norm.
6 Questions About Hurricane Irma, Harvey and Climate Change by Sabrina Shankman, InsideClimate News, Sep 6, 2017
---
Posted on 8 September 2017 by John Abraham
It is well known that humans are causing the Earth to warm. We also know that a warmer atmosphere has more water vapor. Just like the air is more humid when it is warm, and less humid when cold. The more humid air leads to more intense precipitation and potentially more flooding. But how much change we will see is an open scientific question.
This question is made complex by the fact that flooding isn't just about rain. It reflects a dependence on evaporation, rain, the ability of land and water management to handle water surges, and other factors. Fortunately, a very recent study out of Science Advances has helped advance our understanding of the confluence of global warming, intense rain and flooding.
The authors, Conrad Wasko and Ashish Sharma, from the University of New South Wales investigated various non-urban catchments. These are regions where precipitation drains to a common site. We know that in many places the rainfall is increasing. What these authors wanted to know was whether there was a coincident increase in floods found in these various catchments.
This study isn't as simple as it might sound. The authors had to make choices about which rainfall event and which temperature peak corresponded to each other and to a potential water flow peak. According to the paper, "precipitation events were identified where the precipitation was separated by five days of zero rainfall." That is, it had to be dry ahead of time. Streamflow and flooding events were selected as peaks separated by more than seven days. The authors then picked the largest peak from the precipitation and the streamflow observations and matched them to a coincident temperature measurement.
The tough part is that there can be a delay in temperatures and precipitation. Furthermore, there can be a physical distance between the source of the storm and the location of precipitation. Finally, many times we see flooding without the required five-day dry period. So admittedly this study has real limitations. On the other hand, the authors had to make some choices of selection and these are as good as any others. And, they compensated for these limitations by using extensive rainfall, temperature and streamflow data, data that represented the entire world and allows confident conclusions to be drawn.
What they found was that in most cases there is no direct link. That is, higher temperatures does not generally cause an increase in water flow or flood risk.
So this begs the question, why not?
---
Posted on 7 September 2017 by Guest Author
Katharine Hayhoe, Professor and Director, Climate Science Center, Texas Tech University. This article was originally published on The Conversation. Read the original article.
ExxonMobil's deliberate attempts to sow doubt on the reality and urgency of climate change and their donations to front groups to disseminate false information about climate change have been public knowledge for a long time, now.
Investigative reports in 2015 revealed that Exxon had its own scientists doing its own climate modeling as far back as the 1970s: science and modeling that was not only accurate, but that was being used to plan for the company's future.
Now, a peer-reviewed study published August 23 has confirmed that what Exxon was saying internally about climate change was quantitatively very different from their public statements. Specifically, researchers Geoffrey Supran and Naomi Oreskes found that at least 80 percent of the internal documents and peer-reviewed publications they studied from between 1977 and 2014 were consistent with the state of the science – acknowledging that climate change is real and caused by humans, and identifying "reasonable uncertainties" that any climate scientist would agree with at the time. Yet over 80 percent of Exxon's editorial-style paid advertisements over the same period specifically focused on uncertainty and doubt, the study found.
The stark contrast between internally discussing cutting-edge climate research while externally conducting a climate disinformation campaign is enough to blow many minds. What was going on at Exxon?
I have a unique perspective – because I was there.
From 1995 to 1997, Exxon provided partial financial support for my master's thesis, which focused on methane chemistry and emissions. I spent several weeks in 1996 as an intern at their Annandale research lab in New Jersey and years working on the collaborative research that resulted in three of the published studies referenced in Supran and Oreskes' new analysis.