Explaining climate change science & rebutting global warming misinformation
Scientific skepticism is healthy. Scientists should always challenge themselves to improve their understanding. Yet this isn't what happens with climate change denial. Skeptics vigorously criticise any evidence that supports man-made global warming and yet embrace any argument, op-ed, blog or study that purports to refute global warming. This website gets skeptical about global warming skepticism. Do their arguments have any scientific basis? What does the peer reviewed scientific literature say?
---
Posted on 24 July 2017 by dana1981
In the Paris climate treaty, nearly every world country agreed to try and limit global warming to no more than 2°C above pre-industrial temperatures, and preferably closer to 1.5°C. But a new study published in Nature Climate Change notes that the agreement didn't define when "pre-industrial" begins.
Our instrumental measurements of the Earth's average surface temperature begin in the late-1800s, but the Industrial Revolution began in the mid-1700s. There's also a theory that human agriculture has been influencing the global climate for thousands of years, but the mass burning of fossil fuels kicked the human influence into high gear.
We may be at 1°C or 1.2°C warming since "pre-industrial"
We know that since the late-1800s, humans have caused global surface temperatures to rise by about 1°C. But what about the human influence in the centuries before that, which are technically still "pre-industrial"? The new study used climate model simulations from 1401 to 1800, during which time we know the climate influences of natural effects like solar and volcanic activity fairly well. They found that depending on the starting point, global surface temperatures during that period were 0 to 0.2°C cooler than the late-1800s.
According to the last IPCC report, to have a 50% chance of staying below the 2°C target, when accounting for non-carbon greenhouse gases, we have a remaining budget of about 300bn tons of carbon dioxide. But that was for 2°C warming above late-1800 temperatures. If we add another 0.1°C of pre-industrial warming, the study authors estimated that the budget shrinks by 60bn tons (20%), and if there was an additional 0.2°C pre-industrial warming, the 2°C carbon budget shrinks by 40%. As one of the study authors Michael Mann put it:
Either the Paris targets have to be revised, or alternatively, we decide that the existing targets really were meant to describe only the warming since the late 19th century.
It's an important point if we want to measure whether we've succeeded or failed in meeting the Paris climate targets. And it's important to know if our budget should be set at no more than 300bn tons, or more like 200bn tons of carbon dioxide pollution.
We're moving in the wrong direction
However, we're not yet on track to meet the Paris climate target budget. Based on current national pledges, humans will cause around 3 to 3.5°C warming above late-1800 temperatures by 2100. However, the Paris treaty included a ratcheting mechanism through which countries can gradually make their carbon pollution targets more aggressive. If successful, that ratcheting could limit global warming to 1.8°C above late-1800 temperatures, which is likely less than 2°C above pre-industrial temperatures.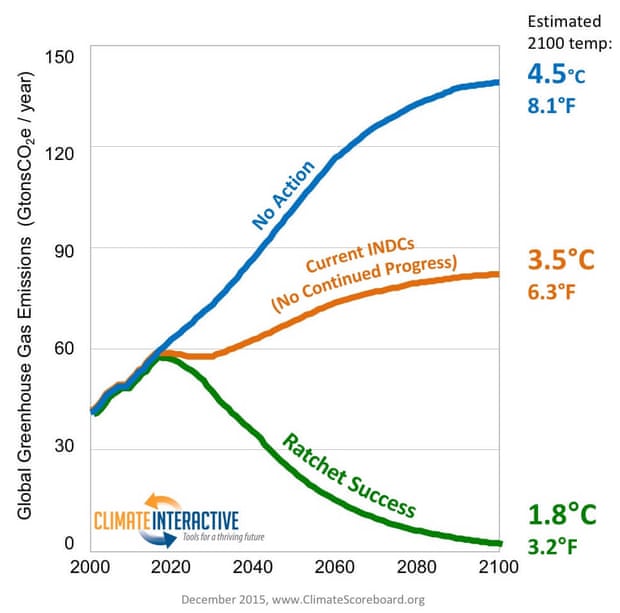 ---
Posted on 23 July 2017 by John Hartz
Story of the Week... Toon of the Week... Video of the Week... Coming Soon on SkS... Poster of the Week... Climate Feedback Reviews... SkS Week in Review... 97 Hours of Consensus...
Story of the Week...
2017 is so unexpectedly warm it is freaking out climate scientists
"Extremely remarkable" 2017 heads toward record for hottest year without an El Niño episode.
January–June 2017 global surface temperatures (compared to the 20th century average) in Degrees Celsius. CREDIT: NOAA
Normally, the hottest years on record occur when the underlying human-caused global warming trend gets a temporary boost from an El Niño's enhanced warming in the tropical Pacific.
So it's been a surprise to climate scientists that 2017 has been so remarkably warm — because the last El Niño ended a year ago. The National Oceanic and Atmospheric Administration (NOAA) reported Tuesday that the first half of 2017 was the second-warmest January-June on record for Earth, topped only by 2016, which was boosted by one of the biggest El Niños on record.
"As if it wasn't shocking enough to see three consecutive record-breaking years, in 2014, 2015, and 2016, for the first time on record," leading climatologist Michael Mann wrote in an email to ThinkProgress, "we're now seeing near-record temperatures even in the absence of the El Nino 'assist' that the previous record year benefited from."
---
Posted on 22 July 2017 by John Hartz
Editor's Pick
The Planet Is Warming. And It's Okay to Be Afraid
Why being fearful can be part of a healthy, heroic response to the climate crisis
Climate warriors from around the world, like those facing rising seas in the Pacific islands, have turned the fear of lost homes and future devastation into the courage to confront the most powerful industries on the planet. (Image: via
350.org/Medium
)
Last Week, David Wallace-Wells wrote a cover story for of New York Magazine, "The Uninhabitable Earth," on some of the worst-case scenarios that the climate crisis could cause by the end of this century. It describes killer heat waves, crippling agricultural failures, devastated economies, plagues, resource wars, and more. It has been read more than two million times.
The article has caused a major controversy in the climate community, in part because of some factual errors in the piece—though by and large the piece is an accurate portrayal of worst-case climate catastrophe scenarios. But by far the most significant criticism the piece received was that it was too frightening.
"Importantly, fear does not motivate, and appealing to it is often counter-productive as it tends to distance people from the problem, leading them to disengage, doubt and even dismiss it," wrote Michael Mann, Susan Joy Hassol and Tom Toles at the Washington Post.
Erich Holthaus tweeted about the consequences of the piece:
"A widely-read piece like this that is not suitably grounded in fact may provoke unnecessary panic and anxiety among readers."
"And that has real-world consequences. My twitter feed has been filled w people who, after reading DWW's piece, have felt deep anxiety."

"There are people who say they are now considering not having kids, partly because of this. People are losing sleep, reevaluating their lives."
While I think both Mann and Holthaus are brilliant scientists who identified some factual problems in the article, I strongly disagree with their statements about the role of emotions—namely, fear—in climate communications and politics. I am also skeptical of whether climate scientists should be treated as national arbiters of psychological or political questions, in general. I would like to offer my thoughts as a clinical psychologist, and as the founder and director of The Climate Mobilization.
---
Posted on 20 July 2017 by Guest Author
Control climate change by controlling your consumerism! In the final episode of Planet Hacks, Climate Adam investigates how the stuff we buy feeds into the warming on your globe.
---
Posted on 19 July 2017 by dana1981
Trump's EPA administrator Scott Pruitt wants to hold televised 'Red Team/Blue Team' climate science 'debates.' The idea is that a 'Red Team' of scientists will challenge the mainstream findings of 'Blue Team' scientists. That may sound familiar, because it's exactly how the peer-review process works. But climate deniers have lost the debate in the peer-reviewed literature, with over 97% of peer-reviewed studies endorsing the consensus on human-caused global warming, and the few contrarian papers being flawed and failing to withstand scientific scrutiny.
So Scott Pruitt is trying to put his thumb on the scale, giving the less than 3% of contrarian scientists equal footing on a 'Red Team.' John Oliver showed how to do a statistically representative televised climate debate (so brilliantly that it's been viewed 7.4m times), but it's probably not what Pruitt had in mind:
Climate 'Red Teams' are a concept that the fossil fuel-funded Heritage Foundation tried four years ago, calling its 2013 'NIPCC report' part of the group's "Red Team mission." But much like climate contrarian research papers, the NIPCC report was riddled with errors and long-debunked myths.
The name also evokes images of the red and blue pills in The Matrix, in which characters could choose to remain in the Matrix (denial) by taking the blue pill, or accept reality with the red pill. In this case the colors are reversed, but the concept is the same – by choosing the red team, Pruitt and company are choosing the soothing comfort of denial over the harsh reality of human-caused climate change and the threats it poses.
Fortunately, it seems like a growing number of Republican leaders are choosing the red pill.
---
Posted on 18 July 2017 by Guest Author
Daniel Raimi, Senior research associate (Resources for the Future), Lecturer (University of Michigan Ford School of Public Policy), University of Michigan
This article was originally published on The Conversation. Read the original article.
In recent weeks, a new energy buzzword has taken flight from Washington, D.C., making stops in Alaska, North Dakota, Texas, Utah and more: "American energy dominance." Taking a cue from a 2016 speech by then-candidate Donald Trump, top federal officials including Energy Secretary Rick Perry and Interior Secretary Ryan Zinke have begun to trumpet the notion of energy "dominance."
Although no Cabinet official has offered a precise definition, it's a recurring theme in a set of administration events organized around energy policy, including a planned speech by Trump emphasizing exports of coal, natural gas and oil.
So what does this new energy catchphrase mean, and how should we think about it?
Domestic boom
For decades, U.S. politicians have trumpeted the notion of energy "independence," focused primarily on the need to eliminate oil imports from OPEC nations and other countries that may not share U.S. interests. But as other energy policy experts have observed, "independence" was never a smart energy goal. Isolating the U.S. from global energy markets is neither in the interest of domestic consumers nor newly resurgent oil and gas producers in the U.S.
For consumers, access to international markets ensures energy supplies at more stable prices. For instance, consider what would happen if a hurricane shut down production and refining along the Gulf Coast, the hub of the U.S. oil and gas industry. Without access to global markets, prices for motor fuels, home heating fuels and other products would be far more volatile.
As for producers, they have argued strongly for opening up, rather than sealing off, access to international energy markets. They've lobbied to lift restrictions on crude oil exports and encouraged exports of natural gas via new pipelines and liquefied natural gas (LNG) terminals.
Spurred by increased oil and gas production as a result of the shale revolution, these policy changes have resulted in dramatic growth in U.S. energy exports. In fact, net energy exports (energy exports minus energy imports) have risen to their highest level in decades. The United States could even be a net energy exporter by 2020 under one optimistic scenario.
---
Posted on 17 July 2017 by John Abraham
This story picks up where an earlier post left off a few weeks ago. Then, I discussed some of the political realities associated with inaction on climate change. In that post, I said I would revisit the question of why so many people deny the evidence of a changing climate. Now is the time for that discussion.
What continually befuddles people who work on climate change is the vehement and indefensible denial of evidence by a small segment of the population. I give many public talks on climate change, including radio and television interviews and public lectures. Nearly every event has a few people who, no matter what the evidence, stay in a state of denial. By listening to denialist arguments, I find they fall into a few broad categories. Some of them are just plain false. Examples in this category are ones like:
There was a halt to global warming starting 1998.


Humans are only responsible for a tiny fraction of the greenhouse gases in the atmosphere.


Scientists are colluding to create this fraud.
Others are not false but are completely irrelevant. For example:
Climate is always changing.

We didn't have thermometers a million years ago to measure global temperatures.

Cities are hotter than their surroundings.
Why would people think things or repeat statements that are known to be false or irrelevant? I am convinced that for the vast majority of people, they are not intentionally being incorrect. Something must be forcing them to be wrong. What could that be? Why are people so willing to believe and repeat lies?
---
Posted on 16 July 2017 by John Hartz
Story of the Week... El Niño/La Niña Update... Toon of the Week... SkS in the News... Coming Soon on SkS... Poster of the Week... Climate Feedback Reviews... SkS Week in Review... 97 Hours of Consensus...
Story of the Week...
Seven charts show why the IEA thinks coal investment has already peaked
Global investment in coal-fired power plants is set to decline "dramatically" after passing an all-time high during the past several years, says the International Energy Agency (IEA).
That's one of the most striking messages from World Energy Investment 2017, published today. The report, now in its second year, offers a comprehensive picture of energy investment from fossil-fuel extraction through to transport, energy efficiency and power networks.
The IEA report is not only backwards looking, reporting money already invested. It also offers a glimpse of forthcoming trends, by reporting the value of decisions taken to invest in future.
Overall, investment fell again last year, as the oil-and-gas sector continued to cut back in response to low prices. Steady investment in renewables, along with falling costs, saw 50% more capacity being added in 2016 than in 2011. But gains for low-carbon wind and solar are being offset by declines in hydro and nuclear.
Carbon Brief has seven charts with the key messages from this year's energy investment report.
Seven charts show why the IEA thinks coal investment has already peaked by Robert McSweeney, Carbon Brief, July 11, 2017
---
El Niño/La Niña Update
The latest ENSO forecast by CPC/IRI is holding steady since last month and favoring ENSO-neutral conditions (50-55% chance) into the winter of 2017-18. Although not favored, El Niño development has an elevated chance of occurring (~35-45%) relative to the long-term average (~25-35%), so we still need to keep our eyes on this possibility.
July 2017 ENSO update: Holding steady by Nat Johnson, ENSO Blog, NOAA's Climate.gov, July 13, 2017
---
Posted on 15 July 2017 by John Hartz
Editor's Pick
Today's Extreme Heat May Become Norm Within a Decade
When 2015 blew the record for hottest year out of the water, it made headlines around the world. But a heat record that was so remarkable only two years ago will be just another year by 2040 at the latest, and possibly as early as 2020, regardless of whether the greenhouse gas emissions warming the planet are curtailed.
That is the conclusion of a new study that uses climate models to project when today's climate extremes will become commonplace — or the "new normal" as they are often called in both media reports and scientific analyses.
Weather stations in the U.S. that are having a warmer than normal, colder than normal and record hot year.
Just how soon that record heat will become the norm surprised even its researchers, but the information could be useful to officials around the world trying to plan for the changes global warming will bring to their cities and countries. It will help show when notable heat waves, downpours, or other extremes may become run-of-the-mill, and would allow planners to develop the infrastructure and policies to withstand those extremes.
"At the moment, it doesn't seem like such a big deal when we have record-hot summers or years," study leader Sophie Lewis, a climate researcher at Australian National University, said in an email. "But this study really shows the nasty side of our current records becoming more frequent in the near future."
While the phrase new normal has been used in different ways, it was rarely explicitly defined, so Lewis and her colleagues wanted to come up with a definition that could be used on all kinds of climate extremes.
The team used the climate models developed for the most recent report of the Intergovernmental Panel on Climate Change to see when a global temperature like that of 2015, or higher, becomes normal. When such temperatures happened at least half the time in a 20-year period, they defined that normal as having been reached in the first year of the period.
Today's Extreme Heat May Become Norm Within a Decade by Andrea Thompson, Climate Central, July 14, 2017
---
Posted on 14 July 2017 by dana1981
Academics have identified a skew in American politics, in which policies that are implemented are much more conservative than average Americans prefer. A new paper by David Broockman at Stanford University and Christopher Skovron from the University of Michigan suggests a cause for this disparity: American politicians perceive their constituents' positions as more conservative than they are in actuality on a wide range of issues; for example, Republican politicians tend to overestimate support for their conservative health care views by a whopping 20 percentage points. As Broockman and his colleague Christopher Warshaw of MIT put it in an article for the New York Times: "Research shows that politicians are surprisingly poor at estimating public opinion in their districts and state, Republicans in particular." This in turn appears to be caused by greater political engagement among conservative constituents, who contact their members of Congress more frequently than liberal voters.
The study's authors looked at data surveying thousands of American politicians' perceptions of their constituents' opinions, and compared those results to actual public opinion. They found that both Democratic and Republican politicians perceive that public opinion is more conservative than it is in actuality, but it's especially true among Republican legislators. That matches patterns in grassroots mobilization—Republican voters are about 40 percent more likely to contact their member of Congress' office than Democratic voters, especially when their member of Congress is a fellow Republican.
The conservative bias in Republican politicians' perceptions of constituent opinion extended to every question in the survey, on issues such as firearms background checks, where GOP politicians perceive 36 percent more support for their conservative positions than there actually is among the general public—something that statisticians call "skew." Similar overestimates occur regarding the depth of support for conservative positions on the banning of assault rifles (overestimated by about 18 percent), granting amnesty to illegal immigrants (9 percent), banning abortion (9 percent), and gay marriage (7 percent). This again matches statistics on grassroots mobilization—conservative constituents are especially well-organized and vocal on the issue of gun control.
The survey didn't include any questions about climate change, but that's another issue on which Republican politicians' perceptions of constituent opinion appear extremely skewed.
---
Posted on 12 July 2017 by Guest Author
Get global warming under control on your planet by changing the food you put on it! In the second episode of Planet Hacks, I take a look at the ways your diet could be causing your planet to overheat.
---
Posted on 11 July 2017 by Ari Jokimäki
Recent attack on the so-called hockey stick graph is a compilation of 80 graphs from 2017 which consists of 76 graphs that describe local or regional situations, one graph that describes Northern Hemisphere situation, one graph that describes NH extratropics situation, and two graphs that describe global situation. As the hockey stick graph describes the situation in Northern Hemisphere, 80 graphs become 4 graphs, because local/regional graphs are meaningless in comparison to hemispheric/global situation.
Furthermore, two of the four remaining graphs have originally been published before 2017. We are left with two graphs from 2017. Both of them have been published in the same study, Steiger et al. 2017. The two graphs are indeed interesting as they don't show any sign of recent global warming. But see the figure below. Apparently, the graphs in Steiger et al. weren't good enough for the author of the 80 graphs article, but the graphs needed some editing (both graphs were edited in the same manner). There are also some other problems with these 80 graphs as shown below.
---
Posted on 10 July 2017 by dana1981
As we well know, climate myths are like zombies that never seem to die. It's only a matter of time before they rise from the dead and threaten to eat our brains. And so here we go again – American conservatives are denying the very existence of global warming.
Working backwards from a politically-motivated conclusion
The claim is based on what can charitably be described as a white paper, written by fossil fuel-funded contrarians Joseph D'Aleo and Craig Idso along with James Wallace III. Two months ago, D'Aleo and Wallace published another error-riddled white paper on the same website with fellow contrarian John Christy; both papers aimed to undermine the EPA's Endangerment Finding.

The Endangerment Finding concluded that the scientific research clearly shows that carbon pollution endangers public health and welfare via climate change impacts, and therefore according to the US Supreme Court, the EPA must regulate carbon pollution under the Clean Air Act. Conservatives who benefit from the fossil fuel status quo and oppose all climate policies have urged the Trump administration to go after the Endangerment Finding.

Both papers are rife with flaws because they start from a desired conclusion – that the science underpinning Endangerment Finding is somehow wrong – and work backwards trying to support it. In this paper, the contrarians try to undermine the accuracy of the global surface temperature record, which has been validated time and time again. They don't bother trying to hide their bias – the paper refers to "Climate Alarmists" and speaks of invalidating the Endangerment Finding.
The errors in the white paper
The paper itself has little scientific content. Using charts taken from climate denier blogs, the authors claim that every temperature record adjustment since the 1980s has been in the warming direction, which is simply false. As Zeke Hausfather pointed out, referencing work by Nick Stokes, roughly half of the adjustments have resulted in cooling and half in warming. Moreover, the net adjustment to the raw data actually reduces the long-term global warming trend:
---
Posted on 9 July 2017 by John Hartz
Story of the Week... Toon of the Week... SkS Spotlights... Coming Soon on SkS... Poster of the Week... Climate Feedback Reviews... SkS Week in Review... 97 Hours of Consensus...
Story of the Week...
The World Is on the Brink of an Electric Car Revolution

The internal combustion engine had a good run. It has helped propel cars — and thus humanity — forward for more than 100 years.

But a sea change is afoot that is forecast to kick gas-powered vehicles to the curb, replacing them with cars that run on batteries. A flurry of news this week underscores just how rapidly that change could happen.
Robots at the Tesla factory in Fremont, Calif. put together electric cars. Credit: Tesla Motors

A quick recap: On Monday, Tesla announced that the Model 3, its mass-market electric car, would start rolling off production lines this week with the first handful delivered to customers later this month. Then on Wednesday, Volvo announced that every car it produces will have a battery in it by 2019, putting it at the forefront of major car manufacturers. Then came France's announcement on Thursday that it would ban the sale of gas-powered cars by 2040.
---
Posted on 8 July 2017 by John Hartz
Editor's Pick
G20 closes with rebuke to Trump's climate change stance
German Chancellor Angela Merkel closed the G20 summit in Hamburg with a rebuke to President Donald Trump's stance on climate change, but the group of the world's economic leaders appeared to make a concession on his protectionist trade policies.

Officials had been at an impasse over an increasingly isolationist United States and Trump's climate change and trade policies for most of the summit, and Merkel made it clear the United States had made talks difficult.

"Unfortunately — and I deplore this — the United States of America left the climate agreement, or rather announced their intention of doing this," Merkel said as she closed the summit and presented a G20 declaration.

G20 closes with rebuke to Trump's climate change stance by Angela Dewan & Stephanie Halasz, CNN, July 8, 2017
---
Posted on 7 July 2017 by Guest Author
This is a re-post from Carbon Brief by Roz Pidcock

In the early 2000s, a new field of climate science research emerged that began to explore the human fingerprint on extreme weather, such as floods, heatwaves, droughts and storms.

Known as "extreme event attribution", the field has gained momentum, not only in the science world, but also in the media and public imagination because of the power it has to link the seemingly abstract concept of climate change with our own tangible experiences of the weather.

Scientists have published more than 140 studies looking at weather events around the world, from Typhoon Haiyan to the California drought. The result is mounting evidence that human activity is raising the risk of some types of extreme weather, especially those linked to heat.

Carbon Brief's analysis suggests 63% of all extreme weather events studied to date were made more likely or more severe by human-caused climate change. Heatwaves account for nearly half of such events (46%), droughts make up 21% and heavy rainfall or floods account for 14%.

To track how the evidence on this fast-moving topic is stacking up, Carbon Brief has mapped – to the best of our knowledge – every extreme event attribution study published in a peer-reviewed journal. Our aim is to update the map periodically, as new studies are published, so that it serves as a real-time tracker for the evolving field of "extreme event attribution".
Using the map
The map shows 143 extreme weather events across the globe for which scientists have carried out attribution studies. The different symbols show the type of extreme weather; for example, a heatwave, flood or drought. The colours tell you whether or not the attribution study found climate change had played a role in that event (see the key on the right-hand side).
---
Posted on 5 July 2017 by dana1981
Two weeks ago, Senator Al Franken (D-MN) had an exchange with Trump's Department of Energy Secretary Rick Perry about climate change.

Perry's responses perfectly summarized the Republican Party's current position on the subject. The problem is that it's an indefensible position.
Wrong on the science
The Republican position is based upon a rejection of established climate science. When confronted with the conclusion that global warming is 100% due to human activities, Perry responded, "I don't believe that ... don't buy it." But of course it's not a matter of belief – that's what the scientific evidence indicates. There have been dozens of studies quantifying the various contributions to recent global warming. I summarized ten of them in the chart below (details here), and the answer is clear: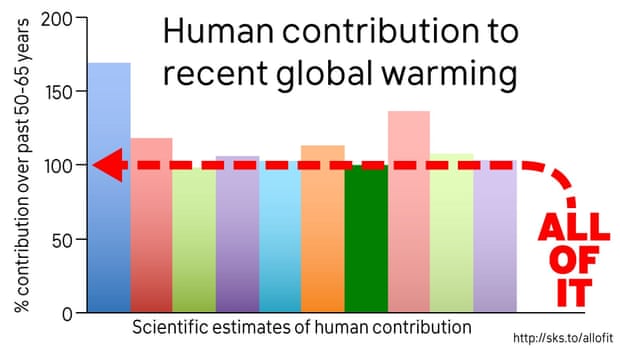 ---
Posted on 4 July 2017 by Guest Author
If your globe is overheating, a common culprit is planes! But what can you do to fix the problem? In the first episode of Planet Hacks, I explain how to hack your planet, and get global warming under control.
---
Posted on 3 July 2017 by John Abraham
A new paper just published in the Journal of Climate is a stunning setback for the darling of cherry-picking for contrarian scientists and elected officials. Let's walk though this so we appreciate the impact.

The vast majority of scientists know that the climate is changing, humans are the main reason, and there are going to be severe consequences. We have decades of measurements that prove our understanding of this process. There is simply no debate or dispute.

Despite this, there are a shrinking number of contrarian scientists, elected officials, and industry representatives that have spent endless time trying to downplay the impact. They have variously argued that the climate isn't changing, that the changes won't be very much, or that there are no viable solutions to the problem. Much of their position relies upon finding evidence that the current observations of warming are not great. That is, the Earth is not warming as fast as predictions.

To support this incorrect (and intellectually dishonest) position, contrarians have scoured the data for any evidence at all that suggests the Earth is not warming. They have skipped oceans (which account for 93% of the warming). They skip the Earth's surface temperature, ignore ice loss, ignore sea level rise, and in fact ignore everything except some select regions of the atmosphere. Their fallback position is that since a part of the atmosphere seems not to be warming very fast, this means the Earth isn't warming or that climate models cannot be trusted. I know I know, this sounds dumb, and it is. But it is their current argument.

But let's pretend we are contrarians and let's ignore the entirety of the Earth system except for this very small part. Do they have a point? There has been a lot of dispute about exactly how fast these atmospheric temperatures have been rising. Measurements are best made by weather balloons or by satellites. The satellites are convenient because they orbit the Earth quickly and can gather lots of information that is quite uniform across the globe. But satellites have their problems.
---
Posted on 2 July 2017 by John Hartz
Story of the Week... Toon of the Week... Quote of the Week... Coming Soon on SkS... Poster of the Week... Climate Feedback Reviews... SkS Week in Review... 97 Hours of Consensus...
Story of the Week...
Carbon in Atmosphere Is Rising, Even as Emissions Stabilize
The Cape Grim Baseline Air Pollution Station in Tasmania. Credit: Commonwealth Scientific and Industrial Research Organization (CSIRO)

CAPE GRIM, Tasmania — On the best days, the wind howling across this rugged promontory has not touched land for thousands of miles, and the arriving air seems as if it should be the cleanest in the world.

But on a cliff above the sea, inside a low-slung government building, a bank of sophisticated machines sniffs that air day and night, revealing telltale indicators of the way human activity is altering the planet on a major scale.

For more than two years, the monitoring station here, along with its counterparts across the world, has been flashing a warning: The excess carbon dioxide scorching the planet rose at the highest rate on record in 2015 and 2016. A slightly slower but still unusual rate of increase has continued into 2017.

Scientists are concerned about the cause of the rapid rises because, in one of the most hopeful signs since the global climate crisis became widely understood in the 1980s, the amount of carbon dioxide that people are pumping into the air seems to have stabilized in recent years, at least judging from the data that countries compile on their own emissions.

That raises a conundrum: If the amount of the gas that people are putting out has stopped rising, how can the amount that stays in the air be going up faster than ever? Does it mean the natural sponges that have been absorbing carbon dioxide are now changing?

Carbon in Atmosphere Is Rising, Even as Emissions Stabilize by Justin Gillis, New York Times, June 26, 2017