Explaining climate change science & rebutting global warming misinformation
Scientific skepticism is healthy. Scientists should always challenge themselves to improve their understanding. Yet this isn't what happens with climate change denial. Skeptics vigorously criticise any evidence that supports man-made global warming and yet embrace any argument, op-ed, blog or study that purports to refute global warming. This website gets skeptical about global warming skepticism. Do their arguments have any scientific basis? What does the peer reviewed scientific literature say?
---
Posted on 22 June 2018 by Ari Jokimäki
A selection of new climate related research articles is shown below.
Climate change mitigation
Climate change communication
Climate Hypocrisies: A Comparative Study of News Discourse
What makes them believe in the low-carbon energy transition? Exploring corporate perceptions of the credibility of climate policy mixes (open access)
Analyzing the factors that influence U.S. public support for exporting natural gas
Turkish public preferences for energy
Nature Articulations in Norwegian Advertising Discourse: A Depoliticized Discourse of Climate Change
Weather, Climate, and Narrative: A Relational Model for Democratizing Risk Communication
Cold winters warming? Perceptions of climate change in the North Country
---
Posted on 21 June 2018 by greenman3610
This is a re-post from Climate Denial Crock of the Week
June 23, 1988.
Easy to remember, because it's my birthday.
And the day I thought that, at last, humans were serious about the 800 pound gorilla of environmental issues.
Senior NASA scientist James Hansen, whose work I had been following for some time, came before the Senate, on a brutally hot summer day – and laid out his findings. He was pushing the envelope of what the data could tell, but his instincts were telling him that what he was seeing was real.
How did he do?
I made a point to ask a number of senior scientists this question at last December's American Geophysical Union Fall Meeting.
Hint:
---
Posted on 20 June 2018 by Guest Author
This is a re-post from ClimateSight
To continue my tradition of trying out all the Commonwealth countries, since my last post I have moved to the UK and begun a postdoc at the British Antarctic Survey in Cambridge. The UK is far nicer than Australians will lead you to believe – there are indeed sunny days, and gorgeous coastline, and great wildlife. None of these things are quite at Australian levels, but there are other things that at least partially make up for it. Like central heating, and the absence of huntsman spiders.
My PhD is now completely wrapped up, and I can officially use the title Dr., so I get very excited about filling in forms. For my postdoc I'm continuing to study interactions between Antarctic ice shelves and the ocean, but using a different ocean model (MITgcm), and focusing on a specific region (the Filchner-Ronne Ice Shelf in the Weddell Sea). This project includes some ice-sheet/ocean coupling, which I'm enormously, ridiculously excited about.
A postdoc is far more relaxing than a PhD, and far less existential. I know I'm only a few months in, but many of my colleagues hold a similar opinion. At last, there is no monolithic Thesis that everything is building up to, no pressure for all your research threads to converge into a coherent narrative before your scholarship runs out, no need to justify your continued existence ("how long have you been here, again?") There is just a period of time for which your postdoc is funded, and you do as much science as you can during that time. You have more confidence in your own abilities, since you've done vaguely similar things before, and everyone else seems to take you more seriously too.
---
Posted on 19 June 2018 by greenman3610
This is a re-post from the Columbia University Earth Institute
Wallace Broecker from Columbia's Lamont-Doherty Earth Observatory is one of the world's greatest living geoscientists. He discovered the "global conveyor belt" that connects the world's oceans and can cause to abrupt climate change. His pioneering work on the carbon cycle and melting polar ice made him the "grandfather of climate science." But to Anna Keyes, he's just "Grampy."
Growing up, Keyes didn't realize that her grandfather was something of a science celebrity. "When you're a kid, you think everything in your life is the way it is for everyone," she says. "I was like 'I have a scientist grandfather, no big deal.'" She'd seen photos of Broecker with Bill Clinton, and with the Pope, but the reality of her grandfather's importance didn't hit home until middle school, when she and her mother were flown to Rome to see him accept an award from the Italian president.
"I've come to understand him differently over time," Keyes explains. "The older I get, the more I appreciate being his grandchild."
So, when she was in college and there was a contest about sustainability and combating climate change, she decided to interview her grandfather. The resulting video is posted on Keyes' Vimeo page, and you can listen to the audio right here:
"Not only was this a conversation, but it was a collaboration," says Keyes. "Science can be very academic or in a bubble, and there needs to be people to communicate science to an everyday person. It felt special to me to be able to bring my skill set to spread the word about his work."
---
Posted on 18 June 2018 by dana1981
There's recently been a spate of sea level rise denial in the conservative media, but in reality, sea level rise is accelerating and melting ice is playing an increasingly large role. In the first half of the 20th Century, average global sea level rose by about 1.4 millimeters per year (mm/yr). Since 1993, that rate has more than doubled to 3.2 mm/yr. And since 2012, it's jumped to 4.5 mm/yr.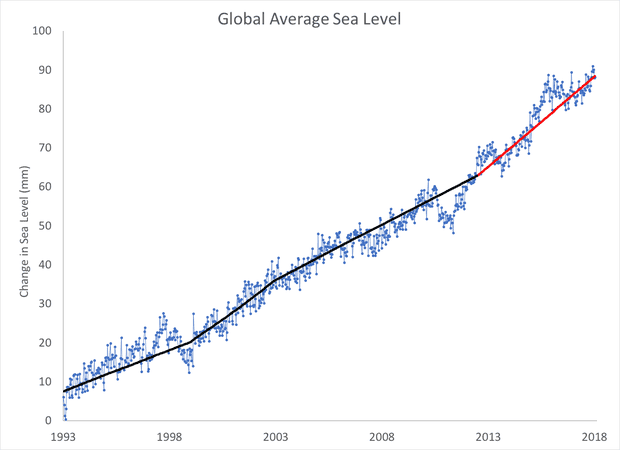 Thermal expansion (ocean water expanding as it warms) continues to play the biggest role in sea level rise, but its contribution of about 1.3 mm/yr is now responsible for a smaller proportion of total sea level rise (30% in recent years) than its contribution since the 1990s (40% of the total). That's because of the acceleration in melting ice.
Glacier melt is accelerating, recently contributing about 0.75 mm/yr to sea level rise, up from 0.65 mm/yr since the 1990s. But the biggest jumps have come from ice in Greenland and Antarctica. Greenland had been responsible for about 0.48 mm/yr sea level rise since 1990, but in recent years is up to 0.78 mm/yr. A recent study in Nature Climate Change found that Greenland contributed about 5% to sea level rise in 1993 and 25% in 2014.
---
Posted on 17 June 2018 by John Hartz
Story of the Week... Editorial of the Week... El Niño/La Niña Update... Toon of the Week... Quote of the Week... Coming Soon on SkS... Climate Feedback Reviews... SkS Week in Review... Poster of the Week...
Story of the Week...
Uncovering the Mental Health Crisis of Climate Change
Source: Pexels
The young man believed he only had five years to live. "Not because he was sick," said Kate Schapira, "not because anything was wrong with him, but because he believed that life on Earth would be impossible for humans."
The sign on Schapira's booth read: CLIMATE ANXIETY COUNSELING 5¢ THE DOCTOR IS IN. Time to earn her pennies.
On that muggy June day, she had set up shop in Kennedy Plaza in downtown Providence, Rhode Island. Schapira is not a trained therapist — a fact she makes clear to visitors — but she is happy to chat with anyone suffering from anxiety about climate change. "A lot of what I do is listen and ask questions," she said.
Over the coming decades, rising temperatures will fuel natural disasters that are more deadly than any seen in human history, destabilizing nations and sending millions to their death. Experts say that we need to prepare for a hotter, less hospitable world by building sea walls, erecting desalination plants and engineering crops that can withstand punishing heat and drought, but few have considered the defenses we need to erect in our minds. Some, like Shapira, have called for more talking, more counseling to process our grief. But will that be enough? Climate change will do untold violence to life on this planet, and we have remarkably few tools to deal with its emotional cost.
Uncovering the Mental Health Crisis of Climate Change by Jeremy Deaton, Nexus Media, June 12, 2018
---
Posted on 16 June 2018 by John Hartz
A chronological listing of news articles posted on the Skeptical Science Facebook Page during the past week.
Editor's Pick
In a Warming World, Deadly Bacteria Are More Resistant to Antibiotics
E. coli bacteria. Source: NIAID
Tom Patterson became ill in 2015 while vacationing in Egypt. He was felled by Acinetobacter baumannii, an often deadly bacterium resistant to every antibiotic his doctors tried. Patterson, a University of California San Diego psychiatry professor, should have died, but didn't. (Experimental infusions of bacteria-killing viruses known as bacteriophages ultimately saved his life.) But his near-death experience from a superbug he picked up in a warm country — an organism that also has afflicted many hospitalized wounded troops in Iraq and Kuwait — raises provocative questions about drug-resistant bacteria and their relationship to our increasingly hotter planet.
"Travelers returning from tropical and other warm areas where multi-drug resistant pathogens have become more widespread will increasingly challenge the antibiotics on our shelves," said Robert T. Schooley, an infectious diseases specialist at UC San Diego, who treated Patterson. "Turning up the temperature of the incubator in which we live will clearly speed the evolutionary clock of bacterial and other pathogens with which we must co-exist."
Experts already know that climate change has become a significant threat to global public health, particularly as rising temperatures have produced greater populations of disease-transmitting insects, such as mosquitoes. But warmth also encourages bacteria to grow, providing them a chance to mutate and elude drugs that once easily killed them. While antibiotic resistance is believed largely due to the indiscriminate prescribing of antibiotics, experts now think that other environmental stresses — climate change among them — also may be at work.
The world is confronting a growing and frightening danger from multi-drug-resistant infections, with many now difficult or impossible to treat. The World Health Organization has described this scenario as "one of the biggest threats to global health, food security, and development today." There are more than 2 million cases and 23,000 deaths from antibiotic-resistant infections annually in the United States, according to the Centers for Disease Control and Prevention.
In a Warming World, Deadly Bacteria Are More Resistant to Antibiotics by Marlene Cimons, Climate Nexus, June 14, 2018
---
Posted on 15 June 2018 by Ari Jokimäki
A selection of new climate related research articles is shown below.
Climate change impacts
Mankind
The Inequality of Climate Change From 1.5 to 2°C of Global Warming (open access)
"The Paris Agreement aims to keep global warming well below 2°C above preindustrial levels with a preferred ambitious 1.5°C target. Developing countries, especially small island nations, pressed for the 1.5°C target to be adopted, but who will suffer the largest changes in climate if we miss this target? Here we show that exceeding the 1.5°C global warming target would lead to the poorest experiencing the greatest local climate changes. Under these circumstances greater support for climate adaptation to prevent poverty growth would be required."
Short-term effect of tropospheric ozone on daily mortality in Spain
Prediction of mortality resulted from NO2 concentration in Tehran by Air Q+ software and artificial neural network
Indicators of climate change in agricultural systems (open access)
Evaluating the effects of climate change on US agricultural systems: sensitivity to regional impact and trade expansion scenarios (open access)
The role of scientific expertise in local adaptation to projected sea level rise (open access)
Managing the risk of extreme climate events in Australian major wheat production systems
Comparing impacts of climate change and mitigation on global agriculture by 2050 (open access)
Understanding the divergences between farmer's perception and meteorological records regarding climate change: a review
Influence of season and climatic variables on testicular cytology, semen quality and melatonin concentrations in crossbred bucks reared under subtropical climate
Strategic adaptation pathway planning to manage sea-level rise and changing coastal flood risk
Predicting shifting sustainability trade‐offs in marine finfish aquaculture under climate change
---
Posted on 14 June 2018 by John Abraham
Tar sands are the dirtiest fossil fuels. These are low-quality heavy tar-like oils that are mined from sand or rock. Much of the mining occurs in Alberta Canada, but it is also mined elsewhere, in lesser quantities.
Tar sands are the worst. Not only are they really hard to get out of the ground, requiring enormous amounts of energy; not only are they difficult to transport and to refine; not only are they more polluting than regular oils; they even have a by-product called "petcoke" that's used in power plants, but is dirtier than regular coal.
This stuff is worse than regular oil, worse than coal, worse than anything. Anyone who is serious about climate change cannot agree to mine and burn tar sands. To maintain climate change below critical thresholds, tar sands need to be left in the ground.
This fact is what motivated me to testify to the Minnesota Public Utilities Commission last November, to inform my state's ruling commission about the impact of tar sands on the climate. Canadian energy company Enbridge has petitioned to put a pipeline through my state to carry this dirty tar to refining sites on the coast.
The proposed pipeline is called "Line 3." The pipeline would carry approximately 760,000 barrels per day – the new pipeline would make it easier and cheaper for the oil companies to transport tar sands and consequently, would boost their bottom line. We already move over two million barrels per day through Minnesota in Enbridge pipelines. This new pipeline would encourage them to extract and sell more tar sands.
---
Posted on 13 June 2018 by Guest Author
Do 97% of climate scientists really agree that humans are the main cause of climate change? Yep! Here's what the 97 percent statistic *really* means. Don't miss our next video!
SUBSCRIBE! ►► http://bit.ly/iotbs_sub
REFERENCES: http://bit.ly/2HJHMOK
---
Posted on 12 June 2018 by dana1981
Those who oppose policies to cut carbon pollution and slow climate change always claim that doing so will be too expensive and cripple the economy. They argue that instead we should maximize economic growth so that we can pay for climate damages and adaptation in the future. It's an argument helped by the fact that models have essentially treated economic growth as an external factor that won't be significantly impacted by climate change.
That assumption has been challenged in recent years, starting with a 2012 paper in theAmerican Economic Journal finding that higher temperatures reduce economic growth rates, particularly in poorer countries. A 2015 paper by Stanford scientists published inNature Climate Change built on this work, similarly finding that global warming will particularly hurt economic growth in poorer countries, and that "Optimal climate policy in this model stabilizes global temperature change below 2 degrees C." This finding is consistent with the target set by the Paris climate accords.
Later in 2015, a team of scientists led by Marshall Burke published a paper inNature finding a relationship between temperature and Gross Domestic Product, or GDP. There's a sweet spot where regions with an average temperature around 13 degrees Celsius (55 degrees Fahrenheit) have the highest economic productivity. When temperatures are much hotter or colder, GDP falls. Countries like the United States, Japan, China, and many European countries happen to have temperatures right near that sweet spot, while many developing countries closer to the equator—in regions like Africa and southeast Asia—are already hotter than optimal. Consistent with the findings of the aforementioned studies, the economies of these poorer tropical countries will be particularly hard hit by global warming, because their climates are already sub-optimally hot.
Just recently, Burke led another team of scientists in research quantifying these economic costs of higher temperatures. Their latest paper, also published in Nature, found that limiting global warming to 1.5 degrees Celsius would likely save the global economy more than $20 trillion by the year 2100 as compared to 2 degrees Celsius warming—at a cost of about $300 billion. That means the benefits of curbing climate change would exceed the costs by about 70-to-1. The study also only accounts for temperature effects on GDP and not other damaging factors like sea level rise, and is thus likely a conservative estimate.
---
Posted on 11 June 2018 by dana1981
The Wall Street Journal (WSJ) Opinion page has long had a conservative skew, and unfortunately that has extended to politicizing climate change with biased and factually inaccurate editorials.
Over the past several weeks, the WSJ's attacks on climate science have gone into overdrive. On May 15th, the Opinion page published a self-contradictory editorial from the lifelong contrarian and fossil fuel-funded Fred Singer that so badly rejected basic physics, it prompted one researcher to remark, "If this were an essay in one of my undergraduate classes, he would fail."
The WSJ did publish a letter to the editor (LTE) from real climate scientistsAndrea Dutton and Michael Mann rebutting Singer's editorial. However, it gave the last word to science deniers in an LTE response rejecting the well-established facts that sea level rise is accelerating and Antarctic is loss is contributing to it.
A few days later, the WSJ opinion page was at it again, publishing an editorialby Stephen F. Hayward, who describes himself as having "spent most of my adult life in conservative think tanks in Washington, D.C.," and it shows. Hayward has a long history as a climate naysayer, spanning over a decadeback to his days with the fossil fuel-funded American Enterprise Institute.
Playing Whack-a-Mole with Hayward's Gish Gallop
Hayward's arguments of course deserve to be judged on their own merits. I devoted my first-ever Tweetstorm to doing just that:
Ok, let's do a Whack-a-Mole Twitter thread debunking all the nonsense in @stevenfhayward's @WSJ editorial (1/n)
---
Posted on 10 June 2018 by John Hartz
Story of the Week... Toon of the Week... SkS Spotlights... Video of the Week... Coming Soon on SkS... Climate Feedback Reviews... SkS Week in Review... Poster of the Week...
Story of the Week...
We are almost certainly underestimating the economic risks of climate change
The models that inform climate policymaking are fatally flawed.
One of the more vexing aspects of climate change politics and policy is the longstanding gap between the models that project the physical effects of global warming and those that project the economic impacts. In a nutshell, even as the former deliver worse and worse news, especially about a temperature rise of 3 degrees Celsius or more, the latter remain placid.
The famous DICE model created by Yale's William Nordhaus shows that a 6-degree rise in global average temperature — which the physical sciences characterize as an unlivable hellscape — would only dent global GDP by 10 percent.
Projections of modest economic impacts from even the most severe climate change affect climate politics in a number of ways. For one thing, they inform policy goals like those President Obama offered in Paris, restraining their ambition. For another, they fuel the arguments of "lukewarmers," those who say that the climate is warming but it's not that big a problem. (Lukewarmism is the public stance of most Trump Cabinet members.)
Climate hawks have long had the strong instinct that it's the economic models, not the physical-science models, that are missing something — that the current expert consensus about climate economic damages is far too sanguine — but they often lack the vocabulary to do any more than insist.
As it happens, that vocabulary exists. At this point, there is a fairly rich literature on the shortcomings of the climate-economic models upon which so much political weight rests. (Here's an old post of mine from 2015 bashing them.)
Two recent papers help simplify and summarize that literature. They are addressed to different audiences (one the US, one the international community), but both stress the importance of improving these lagging models before the next round of policymaking. I'll touch on the US-focused one first, the international one second.
We are almost certainly underestimating the economic risks of climate change by David Roberts, Energy & Environment, Vox, June 9, 2018
---
Posted on 9 June 2018 by John Hartz
A chronological listing of news articles posted on the Skeptical Science Facebook Page during the past week.
Editor's Pick
Artificial Intelligence—A Game Changer for Climate Change and the Environment
As the planet continues to warm, climate change impacts are worsening. In 2016, there were 772 weather and disaster events, triple the number that occurred in 1980. Twenty percent of species currently face extinction, and that number could rise to 50 percent by 2100. And even if all countries keep their Paris climate pledges, by 2100, it's likely that average global temperatures will be 3˚C higher than in pre-industrial times.
But we have a new tool to help us better manage the impacts of climate change and protect the planet: artificial intelligence (AI). AI refers to computer systems that "can sense their environment, think, learn, and act in response to what they sense and their programmed objectives," according to a World Economic Forum report, Harnessing Artificial Intelligence for the Earth.
In India, AI has helped farmers get 30 percent higher groundnut yields per hectare by providing information on preparing the land, applying fertilizer and choosing sowing dates. In Norway, AI helped create a flexible and autonomous electric grid, integrating more renewable energy.
And AI has helped researchers achieve 89 to 99 percent accuracy in identifying tropical cyclones, weather fronts and atmospheric rivers, the latter of which can cause heavy precipitation and are often hard for humans to identify on their own. By improving weather forecasts, these types of programs can help keep people safe.
Artificial Intelligence—A Game Changer for Climate Change and the Environment by Renee Choo, State of the Planet, Earth Institute, June 5, 2018
---
Posted on 8 June 2018 by Ari Jokimäki
A selection of new climate related research articles is shown below.
Climate change
Overcoming early career barriers to interdisciplinary climate change research
Projected climate over the Greater Horn of Africa under 1.5 °C and 2 °C global warming (open access)
Temperature, precipitation, wind
Analysis of past changes in wet bulb temperature in relation to snow making conditions based on long term observations Austria and Germany
"The number of snow making days changes least in October and most in December when averaged over all stations. Very high stations show more change in October and less change in December than the lower stations. Several stations show a significant decrease of snow making days per month, particularly in more recent sub-periods, but trends vary strongly between stations and for different sub-periods. Sub-periods with positive trends are present in earlier phases of the time series at some stations and inter-annual variability is generally 1–2 orders of magnitude greater than detected trends."
On the concordance of 21st century wind-wave climate projections
Spatiotemporal extremes of temperature and precipitation during 1960–2015 in the Yangtze River Basin (China) and impacts on vegetation dynamics
Comparison of two long-term and high-resolution satellite precipitation datasets in Xinjiang, China
The effects of 1.5 and 2 degrees of global warming on Africa in the CORDEX ensemble (open access)
Spatial distribution of unidirectional trends in temperature and temperature extremes in Pakistan
Spatial and temporal stability of temperature in the first-level basins of China during 1951–2013
Quantification of the changes in intensity and frequency of hourly extreme rainfall attributed climate change in Oman
---
Posted on 7 June 2018 by John Abraham
When we think of global warming and climate change, most of us ignore the impacts that animals have on the environment. Climate affects animals, but is the reverse true? Can animals affect the climate?
I don't know how to answer that question definitively, but I was fortunate enough to read a very recent paper from a top fluid dynamics research team from Stanford. The team, led by Dr. John Dabiri, is well known for their work on bio-inspired flow. Part of what they study is the influence of living organisms on fluid flow, especially flow of water in the oceans.
This team's recent work deals with something called aggregate motion of swimmers and it was published in Nature this year. The researchers wanted to know what happens when thousands (or millions) of small creatures swim in a single direction. Can the wakes they create add up to a larger scale motion and can these motions affect the ocean waters that they swim through?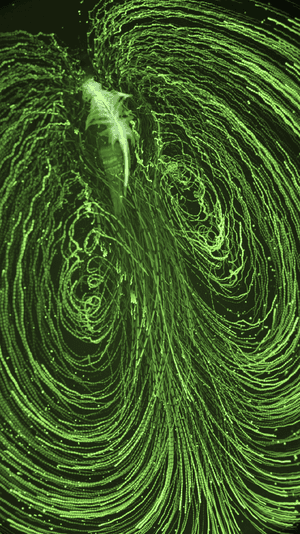 ---
Posted on 6 June 2018 by BaerbelW
After recently publishing an article about Climate Science websites around the world, some suggestions came in via comments or emails to add more sites to the post. But, these were mostly for blogs instead of full-fledged websites so they didn't quite fit the focus of that earlier post. So, here is the companion article introducing non-English blogs focused on climate science around the world.
Dutch - The Netherlands
The Dutch blog "Klimaatverandering" (climate change) was started in 2008 by Bart Verheggen as the Dutch counterpart to his English blog "Our Changing Climate". When confronted with certain myths he started to search the web for information, only to find that misinformation was often crowding out scientifically credible voices. This, combined with the large gap between public and scientific understanding of the issue, led him to start his own blog. His aim is to inject a scientifically grounded voice to the public debate about climate change.
Since 2012 Jos Hagelaars, Hans Custers en Bob Brand have joined his Dutch blog. Together they try to maintain a high quality blog by critiquing each other's writings before publication, as an internal review procedure as it were (similar to what's done at SkS). Some of their pieces have been featured at SkS as well, including e.g. the graph that Jos Hagelaars made about global average temperatures from the Last Glacial Maximum all the way to the projections for 2100. This figure has made its way to many different publications, sometimes in a slightly adapted form.
Bart Verheggen's student Max von Geuns recently published the aptly named article "Blogging as an Allergic Reaction to Climate Bullshit" in which Bart's motivation to blog gets explained in more detail.
---
Posted on 5 June 2018 by greenman3610
This is a re-post from Climate Denial Crock of the Week
Kevin Trenberth has a new paper, measuring the change in ocean heat content in the Gulf of Mexico as Hurricane Harvey passed over. Turns out the heat-loss just matches the energy of precipitation that made Harvey an unprecedented catastrophe.
Dr. Trenberth's co-authors Lijing Cheng of China's Institute of Atmospheric Physics, and Peter Jacobs of George Mason University round out this explainer. Short and powerful demonstration of how scientists more and more understand the link between a warming planet and specific extreme events.
I hope to post more soon from the brilliant interviews I captured for this piece – Lijing Cheng and Peter Jacobs are climate comms stars.
---
Posted on 4 June 2018 by dana1981
Over the past two weeks, media attacks on solar panels and electric vehicles have been followed by Trump administration policies aimed at boosting their fossil fueled rivals.
Efforts to undermine solar power
The first salvo came via a Forbes article written by Michael Shellenberger, who's running a doomed campaign for California governor and really loves nuclear power. Shellenberger's critique focused on the problem of potential waste at the end of a solar panel lifespan when the modules must be disposed or recycled. It's a somewhat ironic concern from a proponent of nuclear power, which has a rather bigger toxic waste problem.
About 80% of a solar panel module can be recycled, but some portions cannot, and create potentially hazardous waste due to the presence of metals like cadmium and lead. The Electric Power Research Institute notes that long-term storage of used panels until recycling technologies become available may be the best option for dealing with this waste stream. Ultimately, it's an issue that will need to be addressed as solar panels become more widespread and reach the end of their 25-plus year lifespan, much like the issue of nuclear waste. But it's an issue that we should be able to resolve with smart policies and technologies.
It's also not a big near-term concern, unlike the urgent need to deploy low-carbon energy, or an immediate pollution problem like for example the environmental crises that result when oil rigs fail or coal barges sink into rivers.
Shellenberger also raised concerns about the possibility "that cadmium can be washed out of solar modules by rainwater." But that's only a problem for broken panels, which are relatively rare except perhaps in the wake a natural disaster like a hurricane or earthquake. In a disaster area, leaching of metals from some broken solar panels is the least of a city's problems.
---
Posted on 3 June 2018 by John Hartz
Story of the Week... Editorial of the Week... Toon of the Week... Quote of the Week... SkS in the News... Scholarly Paper of Note... Coming Soon on SkS... Climate Feedback Reviews... SkS Week in Review... Poster of the Week...
Story of the Week...
Gov. Brown says fallout from Trump quitting Paris accord is 'far more serious than anyone is saying'
California Gov. Jerry Brown addresses the University of California Carbon and Climate Neutrality Summit in San Diego. (Howard Lipin / San Diego Union-Tribune)
His promised coal renaissance sputtered. Rollbacks of environmental protections are tangled in court. Even automakers aren't on board for his push toward heavier-polluting cars.
But even so, a year after President Trump pulled out of the landmark Paris accord on climate change, the struggle to contain global warming has grown considerably more complicated without the prodding and encouragement once provided by the U.S. government.
And though many in the climate movement hope progress toward cutting emissions can continue despite Trump's retreat, there are growing doubts about reaching the Paris agreement's goal of limiting global warming to 2 degrees Celsius, if Washington does not re-engage soon.
In an interview, Gov. Jerry Brown acknowledged the hope felt by many climate activists because of efforts from states like his and by private companies. But he also said the world is only just beginning to feel the environmental harm inflicted by the Trump administration.
Gov. Brown says fallout from Trump quitting Paris accord is 'far more serious than anyone is saying' by Evan Halper, Los Angeles Times, June 1, 2018