Explaining climate change science & rebutting global warming misinformation
Scientific skepticism is healthy. Scientists should always challenge themselves to improve their understanding. Yet this isn't what happens with climate change denial. Skeptics vigorously criticise any evidence that supports man-made global warming and yet embrace any argument, op-ed, blog or study that purports to refute global warming. This website gets skeptical about global warming skepticism. Do their arguments have any scientific basis? What does the peer reviewed scientific literature say?
---
Posted on 10 March 2014 by dana1981
The UK anti-climate policy advocacy group Global Warming Policy Foundation (GWPF) has published a report written by Nic Lewis and Marcel Crok claiming "the IPCC hid the good news" regarding climate sensitivity. Lewis is an amateur researcher and retired financier who has published a few papers estimating climate sensitivity, and Crok is a freelance science writer.
GWPF asked climate scientist Judith Curry to write the Foreword to the report, presumably to lend it more credibility. However, Curry has no publications or expertise in this area, and once said that the global equilibrium climate sensitivity could fall anywhere between 0 and 10°C for doubled CO2. This comment is totally incompatible with the body of climate sensitivity research, and also with the GWPF report.
The report itself is essentially a commentary and includes no new information. It boils down to Lewis and Crok trying to make the case that climate sensitivity is on the lower end of the IPCC estimated range. In the report, they find reasons to dismiss the many studies and varying approaches that arrive at higher climate sensitivity estimates, and fail to discuss the shortcomings of the lower sensitivity studies that they prefer. In short, it's a very selective and biased review of the scientific literature on the subject. Recent papers by Gavin Schmidt and Drew Shindell at NASA GISS, not considered in the GWPF report, entirely contradict its conclusions, for example.
There are a few main methods to estimate the global climate sensitivity; Lewis and Crok focus on three of these and present their case for why each should be considered valid (when yielding low sensitivity results) or disregarded (when yieliding moderate or high sensitivity results). Here we'll look at each, including evidence the GWPF report failed to consider, and show that their conclusions are not supported when the full body of research is considered. As climate scientist Steven Sherwood described it,
---
Posted on 9 March 2014 by John Hartz
SkS Highlights
If you like the Sunday funnies, you'll love, Cartoon: the climate contrarian guide to managing risk, cartoon by John Cook and text by Dana and John Cook. Needless to say, it generated the most comments of the articles posted on SkS during the past week. The Extraordinary UK Winter of 2013-14: a Timeline of Watery Chaos by John Mason drew the second highest number of comments. Coming in third was The Editor-in-Chief of Science Magazine is wrong to endorse Keystone XL by Andy Skuce.
Toon of the Week
h/t to I Heart Climate Scientists
---
Posted on 8 March 2014 by John Hartz
28 US Senators will stay up all night to talk about climate change
20,000 megawatts under the sea: Oceanic steam engines
As temperatures climb, so does malaria
Climate change felt in deep waters of Antarctica
Climate change hampers fight against malaria
Cut the 'weirdo words' and put a human face on climate change
Forging a new climate change narrative
Get ready for next climate phenomenon: El Nino
Keystone review assumes 'global failure to address climate change'
Report warns of 'cascading system failures'
Role of Arctic sea ice melt in mid-latitude cold extremes
Why women are the secret weapon to tackling climate change
28 US Senators will stay up all night to talk about climate change
A group of 28 senators will take over the Senate floor on Monday evening for an all-night talk-a-thon on climate change.
The senators plan to start their climate-fest on Monday, March 10, after the last votes, and continue until around 9 a.m. on Tuesday. The senators are part of the Climate Action Task Force, which was launched in January.
The event, said Sen. Brian Schatz (D-Hawaii), is meant "to show the growing number of senators who are committed to working together to confront climate change."
28 Senators Will Stay Up All Night Monday To Talk About Climate Change by Kate Shepard, The Huffington Post, Mar 7, 2014
---
Posted on 7 March 2014 by John Mason
Introduction
This is the first post on the exceptionally wet and stormy UK winter of 2013-14. So many severe weather events occurred that they almost seemed continuous a lot of the time. So, to begin with, a timeline is necessary in order for readers elsewhere around the world to appreciate its sheer relentlessness. In a follow-up post, we will take a look at the outbreak of politics that accompanied it, and the scientific debate regarding causes and the possible influence of climate change. But first, a little light entertainment in the form of the run-up to the season in the popular press.
Wild headlines, wild weather (but the complete opposite of the headlines!)
Why is it that when the tabloid media outlets make a prediction, what pans out in reality tends to be the exact opposite? In October 2013, the Daily Express (a UK Conservative-leaning tabloid newspaper) had a front page headline, "Record Snow forecast for November". On November 17th, following a series of pleasantly autumnal days, it followed with, "100 DAYS OF HEAVY SNOW: Britain now facing worst winter in SIXTY YEARS warn forecasters".
It's perhaps useful at this point to explain that the Express has a kind of rota of front page themes that include massively rising house prices, miracle cures for various things, wacky theories about Princess Diana and, well, apocalyptic weather forecasts. Unfortunately, non-meteorologists sometimes take the latter at face value. Having been asked whether the headline was true by a number of elderly people who were anxious about skyrocketing fuel-bills, I got our local paper, the Cambrian News, to publish my advice which was basically, "take no notice", in so many words.
In the piece, I explained that long-range forecasting of weather (as opposed to climate), especially in a part of the world where changeability is the outstanding feature, is simply not possible to any degree of accuracy. The Express has a clever trick up its sleeve: it says that "forecasters warn", bases the gist of its stories on the ramblings of various private weather-forecasters (as opposed to mainstream professional meteorologists) and throws in a few carefully-juxtaposed quotes from the UK Met Office. No wonder readers end up wondering who said what, and many times since I have heard the Met Office blamed for these "forecasts" when in fact it had nothing to do with them. This despite their regularly-issued rebuttals, such as this one: it's an unfortunate fact of life, as Winston Churchill once observed, that a lie will go halfway round the world before the truth has got its pants on.
---
Posted on 6 March 2014 by Bob Lacatena
Part 3 describes SQL injection, the text of the hack release, and the hacker's activity leading up to the release.
Dennis Nedry: Haahaaa... I am totally unappreciated in my time. You can run this whole park from this room with minimal staff for up to 3 days. Do you think that type of automation is easy... or cheap? Do you know anyone who can network 8 connection machines and debug 2 million lines of code for what I bid for this job? Because if he can I'd like to see him try.
— Jurassic Park (1993) —

What is Skeptical Science?
November, 2007
To understand the hack, it is important to first understand exactly what Skeptical Science is, in terms of technology. Skeptical Science is not composed of your usual prefab blog software. Most bloggers sign up for an account at blogger.com or wordpress.com or typepad.com. Those sites provide them with everything they need to manage a blog, from software for editing new posts to comment functionality, sidebar widgets, customizable themes and automatic backups of their data, which happen with complete transparency in the background. The blogger never even knows how much is being done for them.
A few intrepid bloggers go so far as to register their own domain name, lease time through a web hosting service, and install and run their own copy of the wordpress software, or some other popular blogging software package. For them, the installed package is still taking care of almost everything, while the web host may take care of the rest (such as those all important backups). The blogger may expand his or her blog's capabilities by installing wordpress plugins or even some basic web hosting tools, but that's it.
Skeptical Science is nothing like that.
---
Posted on 5 March 2014 by John Hartz
Arctic sea ice being lost at a rate of five days per decade
Cause and effect
El Niño may return late this year
European support for climate change action 'not dented by financial crash'
Extreme weather is 'silver lining' for climate action
Geo-engineering could make climate worse
Global warming slows down Antarctica's coldest currents
How money changes climate debate
How to debate climate change deniers (w/o scaring them off)
Keystone XL would have much larger impact
New daily temperature dataset from Berkeley
Sydney Opera House and Statue of Liberty 'will be lost to sea level rise'
Arctic sea ice being lost at a rate of five days per decade
The ice-free season across the Arctic is getting longer by five days per decade, according to new research from a team including Prof Julienne Stroeve (UCL Earth Sciences). New analysis of satellite data shows the Arctic Ocean absorbing ever more of the sun's energy in summer, leading to an ever later appearance of sea ice in the autumn. In some regions, autumn freeze-up is occurring up to 11 days per decade later than it used to.
The research, published in a forthcoming issue of the journal Geophysical Research Letters, has implications for tracking climate change, as well as having practical applications for shipping and the resource industry in the Arctic regions.
New data confirms Arctic ice trends: Sea ice being lost at a rate of five days per decade, Phys.org, Mar 4, 2014
---
Posted on 5 March 2014 by John Cook
One of the features of Skeptical Science that makes our content robust is our internal "SkS-review" system. Before any blog posts and rebuttals are published, they are critiqued and reviewed by the SkS team. This process identifies and filters out scientific inaccuracies as well as works on communicating the science more clearly and simply.
The Skeptical Science team is a diverse group of scientists and laypeople scattered all over the globe. Their expertise covers climate science, social science, environmental science, computer science, physics, chemistry, and biochemistry. If you want to peruse the scholarly papers published by the SkS team, check out the Google Scholar profiles of some of our team members:
The purpose of Skeptical Science is straightforward: we debunk climate misinformation with peer-reviewed science. Primarily, this involves citing the peer-reviewed research of other scientists. However, a growing aspect of SkS output is adding to the body of scientific knowledge by publishing our own peer-reviewed research. Over the last few years, Skeptical Science authors have published a number of scholarly papers in peer-reviewed journals. Two of our papers, which both have made significant impact both in the mainstream media and in the academic community, have been available to everyone by the generous donations of SkS readers. Both papers have been marked with a badge below (click on the badges to see the posts when the papers were crowd-funded).
Climate Science
Cowtan, K., & Way, R. G. (2013). Coverage bias in the HadCRUT4 temperature series and its impact on recent temperature trends. Quarterly Journal of the Royal Meteorological Society.
---
Posted on 4 March 2014 by dana1981, John Cook
Climate change is fundamentally a risk management problem. Whether or not you agree with the 97 percent expert consensus on human-caused global warming, there is an undeniable risk that the consensus is correct and that we're causing dangerously rapid climate change.
Frequently, climate contrarians argue against taking action to mitigate that risk by claiming the uncertainties are too large. One of the most visible figures to make this argument is climate scientist Judith Curry, who said in 2013,
"I can't say myself that [doing nothing] isn't the best solution."
This argument represents a failure to grasp the principles of basic risk management, as illustrated in the following cartoon.
When it comes to managing risk, uncertainty is not our friend. Uncertainty means it's possible the outcome will be better than we expect, but it's also possible it will be much worse than we expect. In fact, continuing with business-as-usual would only be a reasonable option in the absolute best case scenario.
---
Posted on 3 March 2014 by Andy Skuce
An editorial by the Editor-in-Chief of Science Magazine, Marcia McNutt, conditionally endorses the Keystone XL (KXL) pipeline. Her argument is that:
the absence of the pipeline has not stopped oil sands development and the building of the pipeline will not accelerate oil sands development;
President Obama can extract concessions from the Canadians to reduce emissions and upgrade the bitumen in Canada.
Both of these arguments are wrong; let me explain why.
Pipelines promote production
The Mildred Lake oil-sands plant in Alberta. Note the tailings pond behind the huge yellow piles of sulphur, a by-product of bitumen upgrading. The sulphur may come in handy later for use in solar radiation management. Photo Wikipedia
It should be obvious from the intense lobbying and advertising efforts of Canada's Federal Government, the Alberta Provincial Government and the Canadian Association of Petroleum Producers that the KXL pipeline is a very big deal indeed for those with a stake in expanding oil sands production. Federal Natural Resources Minister Joe Oliver accuses his domestic political opponents of putting tens of thousands of Canadian jobs at risk by urging Washington not to approve KXL. At least on this matter, he is right; without new transportation infrastructure, the massive investments that result in growth in oil sands production will be postponed or cancelled. But that's the message provided to a Canadian audience.
---
Posted on 2 March 2014 by John Hartz
SkS Highlights
Dana's The epidemic of climate science false balance in the media garnered the most comments of the articles posted on SkS during the past week. Bob Lacatena's A Hack by Any Other Name — Part 2 drew the second highest number of comments. Global warming continues, but volcanoes are slowing down the warming of the atmosphere by John Abraham attracted the thrid highest.
Toon of the Week
h/t to I Heart Climate Scientists.
---
Posted on 1 March 2014 by Guest Author
This is a re-post from Whitehouse.gov by Presidential Science Advisor John Holdren
Introduction
In the question and answer period following my February 25 testimony on the Administration's Climate Action Plan before the Oversight Subcommittee of the U.S. Senate's Committee on Environment and Public Works, Senator Jeff Sessions (R-AL) suggested that I had misled the American people with comments I made to reporters on February 13, linking recent severe droughts in the American West to global climate change. To support this proposition, Senator Sessions quoted from testimony before the Environment and Public Works Committee the previous July by Dr. Roger Pielke, Jr., a University of Colorado political scientist. Specifically, the Senator read the following passages from Dr. Pielke's written testimony:
It is misleading, and just plain incorrect, to claim that disasters associated with hurricanes, tornadoes, floods or droughts have increased on climate timescales either in the United States or globally.

Drought has "for the most part, become shorter, less, frequent, and cover a smaller portion of the U.S. over the last century". Globally, "there has been little change in drought over the past 60 years."
Footnotes in the testimony attribute the two statements in quotation marks within the second passage to the US Climate Change Science Program's 2008 report on extremes in North America and a 2012 paper by Sheffield et al. in the journal Nature, respectively.
I replied that the indicated comments by Dr. Pielke, and similar ones attributed by Senator Sessions to Dr. Roy Spencer of the University of Alabama, were not representative of mainstream views on this topic in the climate-science community; and I promised to provide for the record a more complete response with relevant scientific references.
---
Posted on 1 March 2014 by John Hartz
Climate change deniers lose their cool
Denying climate science in multiple dimensions
Domestic climate laws on the rise, a boost for pending UN action

Drought-hit Malaysian state rations water

Get a first look at Showtime's Years of Living Dangerously
Global warming action: good or bad for the poor?
How scientists, media and the public see the surface warming 'pause'
Is the BBC becoming the UK version of Fox News on global warming?
'Social cost' of carbon emissions rising but still underestimated
Thanks to climate change, West Nile virus could be your new neighbor
Through the climate portal: humanity's tragic flaw
Where would you like your new glacier?
Climate change deniers lose their cool
What the heck, climate change deniers? I mean seriously, what the actual heck?
For some reason, the past week has seen some climate change deniers totally lose their [expletive deleted]. I keep up with this stuff, so I'm used to seeing forehead-slappy moments, denial so abrupt and profound it's hard to imagine the promulgator lives on the same planet the rest of us do. I mean, c'mon, the bar has already been set by comparing a climate scientist to a child molester and saying more carbon dioxide in the atmosphere is just fine because plants love it.
Climate Change Deniers Lose Their Cool by Phil Plait, Bad Astronomy, Slate, Feb 25, 2014
---
Posted on 28 February 2014 by Bob Lacatena
Part 2 describes the earliest encounters, known and unknown, with the hack.
Matt Farrell (professional hacker): If that guy knew half the shit that I know, his fuzzy little head would explode.
— Live Free or Die Hard (2007) —

SQL Injection Attacks
As has been repeatedly mentioned, Skeptical Science endures frequent SQL injection attacks.
A SQL injection attack works like this. When you enter data into a form on a web site, for instance to log on or to post a comment or to do a search, what you enter into that form will be combined with computer commands to do something in the database. For example, if you search for "climate change" in a web site, the computer programs that run the site might issue the a database command which is the programming equivalent of "find all pages with the words 'climate change' in the text". The SQL statement — the programming version of that command — might look something like this:
SELECT * FROM PAGES WHERE CONTENT LIKE '%climate change%';
Skeptical Science endures SQL injection attacks at least six times a year, if not more.
Clever hackers can use this to trick the system into doing something it never intended to do, by submitting cleverly constructed search criteria. If the data entered into the form can be structured in a way to surreptitiously alter the database commands, to make it do something other than the site's programs intended, then the attacker has a way of manipulating the site or viewing data to which he shouldn't have access. If done correctly, it can be tricked into betraying private information, including user names and their passwords.
For example, suppose you enter the following in the search box, instead of simply 'climate change':
climate change' UNION SELECT * FROM USERS WHERE USERNAME LIKE '
The program might put that together with the normal database command to get this
SELECT * FROM PAGES WHERE CONTENT LIKE '%climate change' UNION SELECT * FROM USERS WHERE USERNAME LIKE '%';
That particular command will return as the search results every post that ends with 'climate change' and also every username in the database.
[This is far from a complete, or even completely accurate, demonstration of SQL injection. This example is merely intended to demonstrate the basic flavor of a SQL injection attack, without introducing details that would only further confuse things.]
That's not the only way to use SQL injection. There are hundreds of ways. That's why most first probes are usually done by bots trying dozens or hundreds of possible combinations. They just want to find out if anything at all worked, and then they report back to the hacker when they detect something that has.
One of these attacks, a mildly successful one, is why the database SQL injection log files were created.
---
Posted on 27 February 2014 by dana1981
False balance in media reporting on climate change is a big problem for one overarching reason: there is a huge gap between the 97 percent expert consensus on human-caused global warming, and the public perception that scientists are evenly divided on the subject.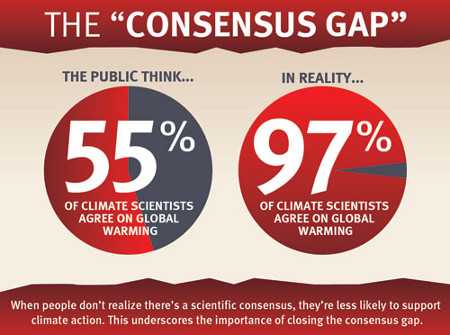 This can undoubtedly be traced in large part to the media giving disproportionate coverage to the opposing fringe climate contrarian views. Research has shown that people who are unaware of the expert consensus are less likely to accept the science and less likely to support taking action to address the problem, so media false balance can be linked directly to our inability to solve the climate problem.
The BBC is one such culprit, having repeatedly given climate contrarians disproportionate air time on its programs. Frequent recent BBC guests include blogger Andrew Montford and politician and founder of the anti-climate policy think tank Global Warming Policy Foundation, Nigel Lawson. The former was recently interviewed on BBC Radio 5 Live's Stephen Nolan show, together with climate scientist Paul Williams from the University of Reading. The latter was invited onto the BBC Radio 4 Today program alongside climate scientist Brian Hoskins from the Imperial College London and Royal Society.
---
Posted on 27 February 2014 by John Hartz
Acidic waters kill 10 million Scallops off Vancouver
Climate change 'very evident,' so let's deal with it
Could Britain manage floods like the Dutch
Debunking Charles Krauthammer's climate lies
Global warming slowdown 'does not invalidate climate change'
Global warming won't cut winter deaths as hoped
No global warming 'hiatus' for extreme heat days
Obama to propose shift in wildfire funding
Study links temperature to a Peruvian glacier's growth and retreat
Sun-dimming volcanoes partly explain global warming hiatus
Unfrozen caveman pundit debates climate change
World begins 2014 with unusual number of extreme weather events
Acidic waters kill 10 million Scallops off Vancouver
A mass die-off of scallops near Qualicum Beach on Vancouver Island is being linked to the increasingly acidic waters that are threatening marine life and aquatic industries along the West Coast.
Rob Saunders, CEO of Island Scallops, estimates his company has lost three years worth of scallops and $10 million dollars — forcing him to lay off approximately one-third of his staff.
"I'm not sure we are going to stay alive and I'm not sure the oyster industry is going to stay alive," Saunders told The Parksville Qualicum Beach NEWS. "It's that dramatic."
Acidic Waters Kill 10 Million Scallops Off Vancouver by Kelly Kroh, Climate Progress, Feb 26, 2014
---
Posted on 26 February 2014 by Bob Lacatena
Part 1 recounts the initial steps of the hacker, and our initial discovery of his intrusion.
Angela: They hack into computers and they cause this chaos.
— The Net (1995) —

March 24, 2012 — 1:06 AM AEDT — The Early Conversation
Meanwhile, the real forum suffered through a torrential storm of activity on the "SkS was hacked" thread.
| | |
| --- | --- |
| 24 Mar 2012, 1:06 AM | SkS was hacked |
| 24 Mar 2012, 1:13 AM | |
| Alex C | It's 1:00 in Australia... |
| 24 Mar 2012, 1:20 AM | |
| 24 Mar 2012, 1:27 AM | |
| 24 Mar 2012, 1:43 AM | |
| 24 Mar 2012, 1:46 AM | |
| 24 Mar 2012, 1:51 AM | |
| 24 Mar 2012, 1:56 AM | |
| 24 Mar 2012, 2:16 AM | |

Comments about the hack flew fast and furious on the real forum. By this time it was 2 AM in Australia. I took a chance and tried to Skype John, not expecting it to work. It did, but only because he was already up and on, starting to look at things. Logicman apparently had his phone number and had just called him to rouse him.
We looked at it together and talked, mirroring each other's tone of surprise, confusion and anxiety. He was surprisingly awake, an effect news like this would probably have on most site administrators. He too noticed that the presentation of the forum wasn't right. He confirmed that no, he hadn't programmed some odd super-admin variation of the pages. He quickly noted that it wasn't even close to right, because the data necessary to display the page like that would require combining multiple database tables, specifically the POST table, where the individual comment was stored, with the USERS table, where each user's registration information is kept.
---
Posted on 25 February 2014 by John Abraham
It is exciting to watch our understanding of climate merge in the scientific literature. Right now, many studies are coming out that investigate the slowdown of global temperatures; of problems accounting for all the energy in the Earth's climate system; and the role of natural and human factors in these questions.
First, let's establish a few facts. Increases or decreases in temperatures, particularly atmospheric temperatures, are not equivalent to increases or decreases in Earth energy – that is, the Earth can continue to warm whether atmospheric temperatures increase. Part of the reason for this is that most of the Earth's extra energy is stored in the oceans which have continued to heat over the past few decades with no cessation or pause.
With respect to the so-called slowdown, we've seen studies that show part of the "slowdown" in global atmospheric temperatures is associated with measurement problems. That is, are we measuring the entire globe, in particular the polar regions. Other studies point to internal movements of energy between various parts of the climate as an explanation for recent slowdown in atmospheric temperatures. In fact, this topic was discussed recently by my colleague Dana Nuccitelli.
---
Posted on 24 February 2014 by Anne-Marie Blackburn
Our Facebook page reached 20,000 likes a couple of days ago, and an additional 150-200 people are liking our page each day. This rate has increased considerably in recent weeks and months, as shown in Figure 1 below.
Figure 1 - Total number of likes on our Facebook page from August 2011 to February 2014
One possible reason is the remarkable work produced in 2013 by Skeptical Science contributors. We published four high-impact papers in the scientific literature, including the Cook et al. consensus paper which was the 11th most talked about academic paper in 2013 and was even mentioned twice by Barack Obama on his Twitter account. The heat widget, developed by Bob Lacatena, also received a lot of attention at the end of 2013, and at the last count has been seen by more than 2 million people and is currently displayed on more than 100 blogs in 22 countries. This, together with the Cowtan and Way paper and articles tackling the persistent and omni-present pause myth, have ensured that Skeptical Science has remained a key player in the climate change debate. This is quite an achievement for a group of volunteers who have been thrown together as a result of their concern about climate change and their desire to do something about it.
---
Posted on 23 February 2014 by John Hartz
SkS Highlights
The most controversial articles posted during the past week were John Cook's 'It's been hot before': faulty logic skews the climate debate and Dana's Nazis, shoddy science, and the climate contrarian credibility gap. The controveries were, however, registered on the comment threads of the original postings of these two articles on The Conversation and The Guardian respectively.
Toon of the Week
---
Posted on 22 February 2014 by dana1981
Because the pool of climate experts who dispute that humans are the primary cause of global warming is so small, representing just 2 to 4 percent of climate scientists, climate contrarians often reference the same few contrarian scientists. Two such examples are Roy Spencer and John Christy of the University of Alabama at Huntsville (UAH), both of whom have testified before US Congress several times, and are often interviewed and quoted in the conservative media.
And because that pool of contrarian climate experts is so small, their credibility often seems indestructible. For example, Richard Lindzen has been wrong on essentially every position he's taken on major climate science issues over the past quarter century, and yet the conservative media continue to treat him as a foremost climate expert. Therefore, it's important to remind ourselves what these few climate scientist contrarians really believe, and whether their arguments have any scientific validity.
Yesterday, Roy Spencer took to his blog, writing a post entitled "Time to push back against the global warming Nazis". The ensuing Godwinian rant was apparently triggered by somebody calling contrarians like Spencer "deniers." Personally I tend to avoid use of the term, simply because it inevitably causes the ensuing discussion to degenerate into an argument about whether "denier" refers to Holocaust denial. Obviously that misinterpretation of the term is exactly what "pushed [Spencer's] button," as he put it.