Volcanoes may be responsible for most of the global surface warming slowdown
Posted on 3 December 2014 by dana1981
A new study has found that when particulates from small volcanic eruptions are properly accounted for, volcanoes may be responsible for much of the slowdown in global surface warming over the past 15 years.
Sulfur aerosol particulates pumped into the atmosphere from volcanic eruptions cause short-term cooling by blocking sunlight. Until recently, climate scientists thought that only large volcanic eruptions had a significant impact on global temperatures. There haven't been any big eruptions since Mount Pinatubo in 1991. However, studies published over the past few years have found that even moderate volcanic eruptions can pump significant amounts of aerosol particulates into the atmosphere.
Virtually all research into the climate influence of volcanic aerosols has used satellite measurements of particulates in the upper atmosphere (the stratosphere). These satellite measurements only monitor the volcanic aerosol at heights of 15 km and above. The new paper by David Ridley and colleagues studied the amount of volcanic aerosols in portions of the stratosphere that lie below 15 km.
To do this, the researchers combined data from satellites, ground-based instruments in the AERONET program, and from instruments on weather balloons. The study was co-authored by 17 climate scientists, including some leading experts in aerosol research.
By combining all of these measurements, the scientists found that there is also a significant amount of volcanic aerosol in portions of the stratosphere below 15 km They concluded that for recent eruptions, between 30 and 70% of the overall amount of volcanic aerosol in the stratosphere has come from below 15 km. Since the year 2000, the study estimates that volcanoes have had a cooling influence on global surface temperatures. The likely range of this volcanic cooling influence lies between 0.05 and 0.12°C.
As the authors of the paper note, this cooling influence is not taken into account in the climate model simulations incorporated into the latest IPCC report,
The climate model simulations evaluated in the IPCC fifth assessment report [Stocker et al., 2013] generally assumed zero stratospheric aerosol after about 2000, and hence neglect any cooling effect of recent volcanoes
Although the global surface temperature data have been within the range of model simulations, they've been towards the lower end of those model runs over the past 10–15 years.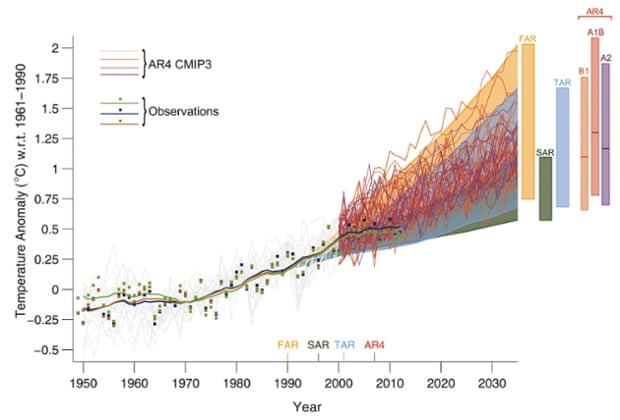 The measured surface warming has been about 0.13°C less than the average of model simulations since 2000. The estimated volcanic cooling from this new paper (0.05–0.12°C), not included in those climate models, could account for most of that discrepancy.
Combine this with the approximately 0.06°C surface cooling due to more heat being stored in the deep oceans, and the slowdown is both fully accounted for and temporary.