2017 SkS Weekly Climate Change & Global Warming Digest #48
Posted on 3 December 2017 by John Hartz
Story of the Week... Toon of the Week... SkS in the News... SkS Spotlights... Video of the Week... Coming Soon on SkS... Poster of the Week... Climate Feedback Reviews... SkS Week in Review... 97 Hours of Consensus...
Story of the Week...
In Alaska's Thawing Permafrost, Humanity's 'Library Is on Fire'
Rising Arctic temperatures are destroying ancient artifacts once preserved in the frozen ground and taking a toll on native traditions that depend on the sea ice.
As the permafrost thawed, the well-preserved body of a young girl who lived in the area hundreds of years ago was discovered in an eroding bluff. Credit: Sabrina Shankman
The Internet connection is bad. As Herman Ahsoak speaks into his iPhone, the video chat freezes periodically, his face fixed in strange contortions on the screen.
Ahsoak is in Utqiagvik, Alaska, formerly known as Barrow, the northernmost community in the United States; he is speaking to a class of high school students in Kaktovik, the only community within the Arctic National Wildlife Refuge, more than 300 miles east. A member of the Inupiaq, whose people have lived on the North Slope for thousands of years, Ahsoak is demonstrating how to make an ulu—a knife used to skin and clean animals.
"My father, when I was coming of age, he would make these in our living room," he says, his hands expertly attaching a caribou antler handle to the curved blade. "I just happened to pay attention."
Ahsoak is a whaling captain and subsistence hunter, and he has ulus for all occasions: for walrus, for belugas, and for the bowhead whales that he and other members of his community hunt each fall and spring.
But in Kaktovik, which is also an Inupiat community where people live off the food they hunt, the making of ulus has become nearly a lost art; most of the people who knew the craft have died or left. As the video feed stutters, the students take notes diligently while Ahsoak's voice carries through the line.
In Alaska's Thawing Permafrost, Humanity's 'Library Is on Fire' by Sabrina Shankman, The Weather Channel/InsideClimate News, Dec 1, 2017
---
Toon of the Week...
---
SkS in the News...
In his SYFYWire article, Science is in the air, Phil Plait wrote:
There are those who will tell you the models don't work. Those people are wrong. There are people who will tell you the science isn't understood. Those people are wrong. There are people who say human activity isn't causing this. Those people are wrong. There are people who will tell you we don't understand enough about this to take any action. Those people aren't just wrong, they're dead wrong. We can take action. We must take action.
The links embedded in the above are to four SkS Rebuttal articles:
---
SkS Spotlights...
GlacierHub seeks to expand and deepen the understanding of glaciers. It provides information about current scientific research, it tells stories of people who live near glaciers or who visit them, and it offers accounts of the efforts of communities and organizations to address the challenges brought by glacier retreat. It serves as well as a nexus to link people who are concerned about glaciers, so that they can communicate with each other and develop responses to the changes in glaciers. GlacierHub invites contributions—whether text, images, or sound files—from people who live near glaciers and from people who visit them, whether for research or for adventure or for the chance to see the beauty and majesty of glaciers from close up.
We humans have much to learn from glaciers, and the world we live in can benefit from our learning about them. They are found on every continent, in some of the world's richest countries and some of the poorest. For residents of many high-elevation regions, glaciers give mountain homelands their distinctive character. For people who live further downslope, glaciers supply valuable water and can be sources of floods and landslides, reminding us of our dependence on the natural world. For both groups, and for those who live further away as well, glaciers are precious as well for their transcendent beauty.
And glaciers are endangered. In all areas of our warming world, they are shrinking, as winter snows are no longer sufficient to replenish their melting. So glaciers can become a theme for people who are trying to make sense of our changing world. As people search for ways to comprehend and address climate change, glaciers often come forward as potent elements in thought and action.
GlacierHub is managed by Ben Orlove, an anthropologist at the Earth Institute and CRED at Columbia University, with editing support by Ashley E. Chappo.
GlacierHub is funded by the Center for Research on Environmental Decisions under the National Science Foundation Program Decision Making Under Uncertainty (DMUU), with additional support from the MA Program in Climate and Society at Columbia University. Major funding is provided under the cooperative agreement NSF SES-0951516.
---
Video of the Week...
Avoiding the Unmanageable, Managing the Unavoidable: A Slogan Revisited
Hans Joachim Schellnhuber from the Potsdam Institute for Climate Impact Research in Germany speaks at the Impacts World 2017 conference.
Watch the full Opening plenary with other speakers https://www.youtube.com/watch?v=TlFSI..
Schellnhuber: Unavoidable, Many have to Migrate (~1.4 Billion affected by rising Sea 2060), Climate State/YouTube, Nov 21, 2017
---
Coming Soon on SkS...
The Republican Party is morally and intellectually bankrupt (Dana)
COP23 video: Three need-to-knows from the UN climate talks in Bonn (Rosamund Pearce & Jocelyn Timperley)
Guest post (John Abraham)
Impact of climate change on health is 'the major threat of 21st century' (Daisy Dunne)
New research this week (Ari)
2017 SkS Weekly Climate Change & Global Warming News Roundup #49 (John Hartz)
2017 SkS Weekly Climate Change & Global Waming Digest #49 (John Hartz)
---
Poster of the Week...
---
Climate Feedback Reviews...
Climate Feedback asked its network of scientists to review the article, Ice Apocalypse by Eric Holthaus, Grist, Nov 21, 2017
Six scientists analyzed the article and estimate its overall scientific credibility to be 'high'.
A majority of reviewers tagged the article as: Accurate, Alarmist, Insightful, Sound reasoning.
Review Summary
This article at Grist by Eric Holthaus examines the risk of greater sea level rise caused by a more rapid loss of glacial ice. It focuses on a process recently added to one ice sheet model (ice cliff instability), which greatly accelerated the simulated loss of Antarctic ice in a warming climate, suggesting that we could see more sea level rise by 2100 than previously projected.
Scientists who reviewed the article found that while it accurately described recent research on these processes, it should have provided more accurate context on the timescale of these sea level rise scenarios and the scientific uncertainty about how likely these scenarios are to come to pass.
See all the scientists' annotations in context
Grist article on an "Ice Apocalypse" mostly accurate, but doesn't make the likelihood of that apocalypse clear enough to readers, Climate Feedback, Nov 28, 2017
---
SkS Week in Review...
---
97 Hours of Consensus...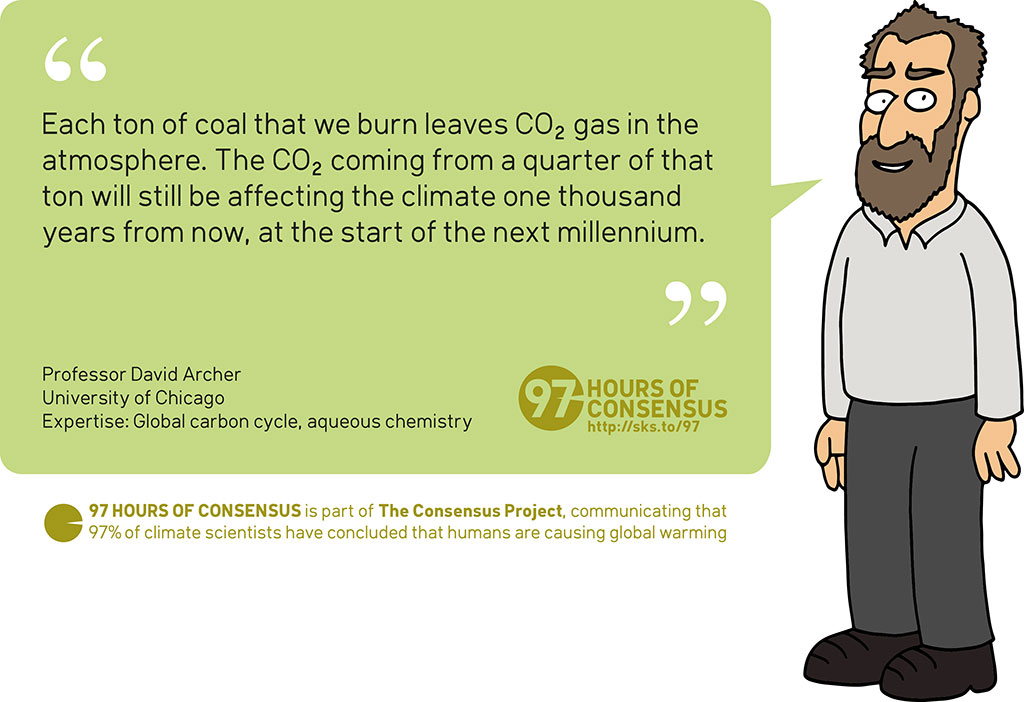 Quote derived from:
"Global warming could be one of humankind's longest lasting legacies. The climatic impacts of releasing fossil fuel CO2 to the atmosphere will last longer than Stonehenge. Longer than time capsules, longer than nuclear waste, far longer than the age of human civilization so far. Each ton of coal that we burn leaves CO2 gas in the atmosphere. The CO2 coming from a quarter of that ton will still be affecting the climate one thousand years from now, at the start of the next millennium. And that is only the beginning."