Ali se je stanje morskega arktičnega ledu normaliziralo?
Kaj pravi znanost...
Količina debelega arktičnega ledu se hitro zmanjšuje.
V razpravah o količini Arktičnega ledu se pogosto zamenjujeta dva različna podatka o tem, koliko ledu je res tam. Prvi je površina ledenega pokrova, ki nam pove obseg oceana, kjer je površina vsaj 15 % prekrita z ledom. To je dvodimenzionalna količina, ki nam nič ne pove o debelini ledu. Druga količina vsebuje vse tri razsežnosti in je prostornina. Ta nam dejansko pove, koliko ledu je v resnici tam.
Morski led sestavljajo tanjši led, ki nastane v tekočem letu, in debelejši, ki se je nabiral več let. Večletni led je zelo pomemben, saj sestavlja večino prostornine ledu na severnem polu. Prostornina ledu je pomembna pri podnebnih spremembah, saj je pomembnejša od površin, ki so prekrite s tanko, enoletno ledeno ploščo.
Morski led zelo hitro reagira na hitre spremembe vremenskih okoliščin. Na led vplivajo zlasti spremembe površinske temperature, torej nastajanje in taljenje glede na letne čase, ter vetrovni pogoji, količina oblačnosti in oceanski tokovi. Leta 2010, na primer, se je obseg arktičnega ledu marca precej povečal, a se je do maja tudi hitro stalil.
Morski led je občutljiv na močne, kratkotrajne spremembe pogojev, zato iz nekajletnih podatkov ne moremo postavljati ugotovitev, kakšno je stanje. Trendi postanejo natančneje določljivi šele po desetletju ali več in ti kažejo na 5 % povprečno znižanje arktičnega ledenega pokrova na desetletje.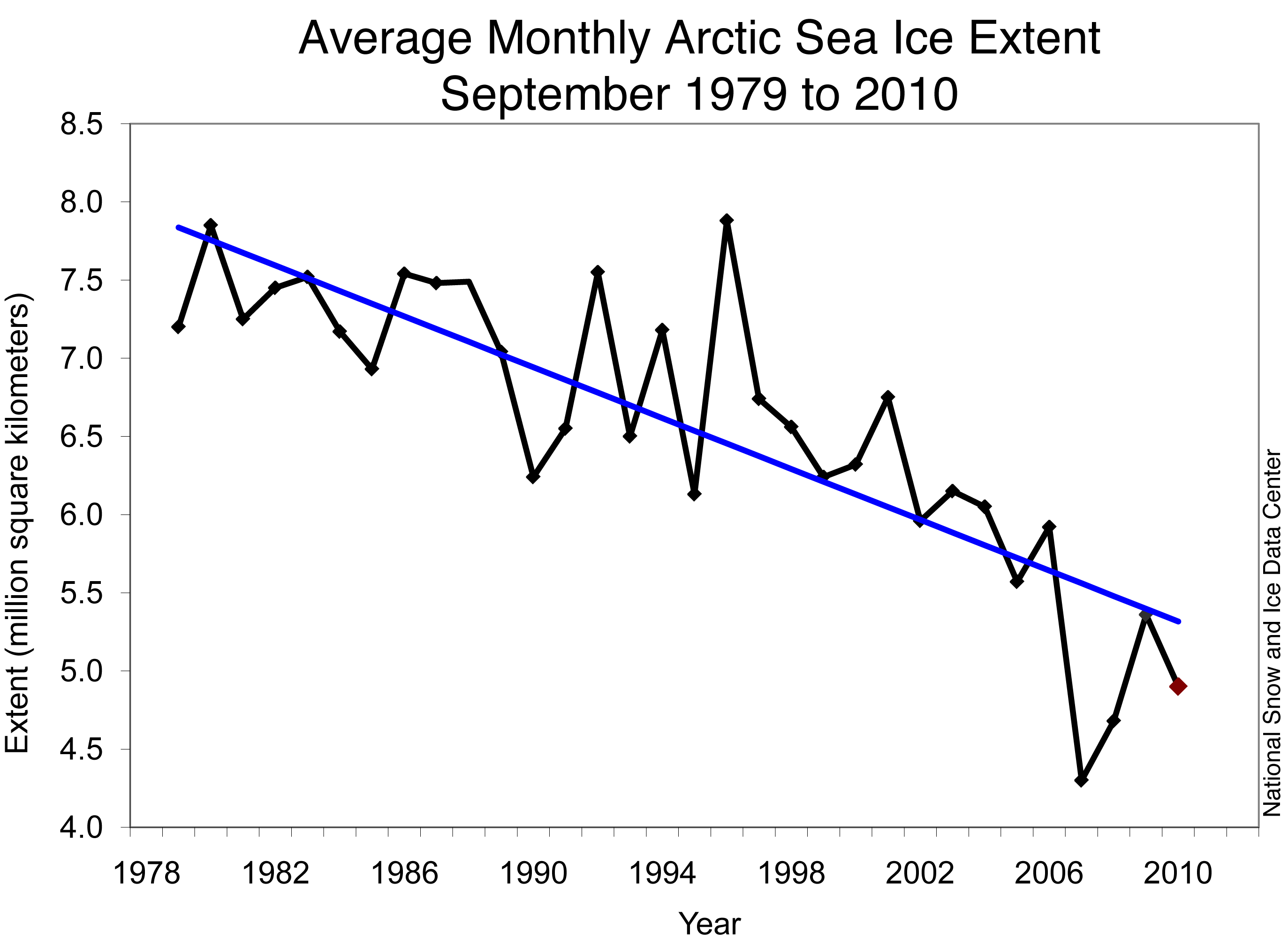 Slika 1: Septembrski obseg morskega ledu na Arktiki je v obdobju 1979-2010 upadal s približno 11,5 % na desetletje. Vir: Ameriško državno središče za podatke o snegu in ledu (NSIDC)

Ko preučujemo različne meritve debelega (trajnega) morskega ledu, ugotovimo, da strmo upada. Lahko si predstavljate, da debeli morski led potrebuje precej več toplote, da se stali, kot vsakoletni tanki led. To dejstvo je res zaskrbljujoče!   
Slika 2: modelska ocena odklona skupne prostornine morskega ledu na Arktiki glede na referenčno vrednost. Trend je izrazito negativen. Vir: Središče za znanost o polarnih območjih Univerze Washington (Polar Science Centre, University of Washington)

Satelitske in tudi talne meritve kažejo, da se zmanjšujeta tako površina zaledenelega morja kot tudi skupna prostornina vsega, tudi debelega ledu na Antarktiki. Območje zaledenelega morja se je nekoliko povečalo v zimah 2008 in 2009, a celostno sliko o zmanjšanju ali povečanju zaledenelih površin dobimo šele septembra, ob koncu arktičnega poletja. Prostornina vsega ledu se sploh ni povečala, ampak strmo upada še naprej.

*Opomba: Čeprav nam tanka ledena plast ne pove dosti o splošnem stanju ledenega arktičnega pokrova oz. o tem, kako hitro le-ta izginja, pa nam pove veliko o albedu, o lastnosti ledu, da odbija sončne žarke nazaj v vesolje. Ko se led stali, oceani vpijejo več toplote. Toplejša voda nato tali debeli led in pospeši tudi taljenje tanjše ledene plasti, kar spet omogoča hitrejše in večje vpijanje toplote v oceanih. To je primer pozitivne povratne zanke.

Translation by Slovenian Meteorological Society, . View original English version.