2017 SkS Weekly Climate Change & Global Warming Digest #27
Posted on 9 July 2017 by John Hartz
Story of the Week... Toon of the Week... SkS Spotlights... Coming Soon on SkS... Poster of the Week... Climate Feedback Reviews... SkS Week in Review... 97 Hours of Consensus...
Story of the Week...
The World Is on the Brink of an Electric Car Revolution
The internal combustion engine had a good run. It has helped propel cars — and thus humanity — forward for more than 100 years.
But a sea change is afoot that is forecast to kick gas-powered vehicles to the curb, replacing them with cars that run on batteries. A flurry of news this week underscores just how rapidly that change could happen.
Robots at the Tesla factory in Fremont, Calif. put together electric cars. Credit: Tesla Motors
A quick recap: On Monday, Tesla announced that the Model 3, its mass-market electric car, would start rolling off production lines this week with the first handful delivered to customers later this month. Then on Wednesday, Volvo announced that every car it produces will have a battery in it by 2019, putting it at the forefront of major car manufacturers. Then came France's announcement on Thursday that it would ban the sale of gas-powered cars by 2040.
All this news dropped just in time for Bloomberg New Energy Finance's latest electric car report, which lays out why electric cars are the way of the future and when they're projected to take over the market. The authors said although electric vehicles are currently a tiny fraction of the car market, that market could reach an inflection point sometime between 2025-2030. After that, electric car sales are slated to increase rapidly.
Driven by the falling cost of batteries and the growing number of automakers producing a wider variety of electric cars, Bloomberg NEF expects that electric cars will account for 54 percent of all car sales globally by 2040. That's a huge uptick from its forecast last year of electric vehicles accounting for 35 percent of all sales.
The shift to electric vehicles will disrupt the fossil fuel industry. The 530 million total electric cars forecast to be on the road by 2040 will require 8 million fewer barrels of oil a day to run.
A new forecast for electric cars shows explosive growth in new sales, particularly in China.
Credit: Bloomberg NEF
One of the big pitches for electric cars is their positive benefit for the climate because they reduce the use of oil. But they will require a lot more power from the electric grid. Energy use from electric vehicles is expected to rise 300 times above current demand, putting more strain on power generation.
How that energy is produced will go a long ways toward determining how climate-friendly electric cars actually are. A recent Climate Central analysis looked at all 50 states and found that the energy mix was clean enough in 37 of them to ensure electric cars are more climate friendly than their most fuel-efficient combustion engine counterparts.
That's a sharp uptick from a 2013 analysis, which found that there were just 13 states where electric cars were cleaner than gas-powered ones, and it's driven in large part by a precipitous drop in coal use.
While the U.S. is projected to be one of the biggest drivers of the electric vehicle revolution, China and the European Union will also be major players. By 2025, Bloomberg NEF's projections show that China will be the biggest buyer of electric vehicles in the world, a trend that continues through 2040.
That means how China's energy mix develops will be one of the most important factors to determining how climate friendly all the new electric vehicles on the road will be.
The World Is on the Brink of an Electric Car Revolution by Brian Kahn, Climate Central, July 6, 2017
---
Toon of the Week...
---
SkS Spotlights...
ReliefWeb is the leading humanitarian information source on global crises and disasters. It is a specialized digital service of the UN Office for the Coordination of Humanitarian Affairs (OCHA).
We provide reliable and timely information, enabling humanitarian workers to make informed decisions and to plan effective response. We collect and deliver key information, including the latest reports, maps and infographics and videos from trusted sources.
ReliefWeb is also a valuable resource for job listings and training programs, helping humanitarians build new skills and discover exciting new career opportunities.
---
Coming Soon on SkS...
2017 SkS Weekly Climate Change & Global Waming Digest #27 (John Hartz)
Conservatives are again denying the existence of global warming (Dana)
Those 80 graphs that only show evidence of climate myths (Ari Jokimaki)
Explainer: Dealing with the 'loss and damage' caused by climate change (Carbon Brief)
Republicans want to use taxpayer dollars to fund climate science losers (John Abraham)
ClimateChats: Climate Pictures (Adam Levy)
2017 SkS Weekly Climate Change & Global Warming News Roundup #28 (John Hartz)
---
Poster of the Week...
---
Climate Feedback Reviews...
Climate Feedback asked its network of scientists to review The American South Will Bear the Worst of Climate Change's Costs by Robinson Meyer, The Atlantic, June 29, 2017
Three scientists analyzed the article and estimated its overall scientific credibility to be 'high'. A majority of reviewers tagged the article as: Accurate
Click here to acess the entire review.
---
SkS Week in Review...
---
97 Hours of Consensus...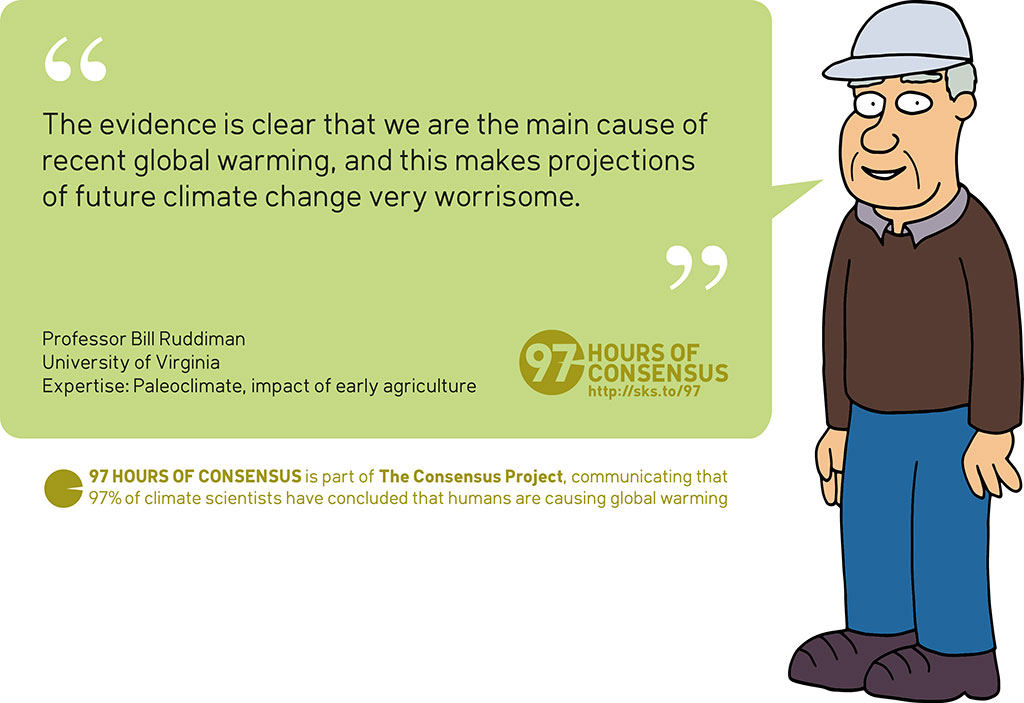 Bill Ruddiman's bio page and quote source