2017 SkS Weekly Climate Change & Global Warming Digest #49
Posted on 10 December 2017 by John Hartz
Story of the Week... Toon of the Week... Quote of the Week... SkS Spotlights... Video of the Week... Reports of Note... Coming Soon on SkS... Poster of the Week... Climate Feedback Reviews... SkS Week in Review... 97 Hours of Consensus...
Story of the Week...
A Spectacle At The Coliseum — US To Hold Public Climate Change Debate As Soon As January, EPA Head Says
Much of modern politics amounts to nothing more than spectacle and entertainment at this point. Getting people to actually think about anything, rather than to stare blankly while taking part in whatever scapegoating or lynching frenzy is in effect at the moment, is essentially a lost cause. It's so much easier, after all, to just assume that one knows everything, that one's peers speak the unvarnished truth, and that everything that goes wrong is someone else's doing/fault than it is to live in the highly nuanced and unpredictable world that everything actually resides in. And anyway, someone has to be wrong, and it's not you, right?
With that background haze firmly in mind, the new head of the US Environmental Protection Agency (EPA), Scott Pruitt, has announced that the EPA may launch a "public climate debate" as soon as January. In other words, rather than dealing with the issue in any real way, the idea is that some monkeys can get together on TV and yell past one another — and that can substitute for an actual discussion of the civilization-wrecking issues now facing the world.
A return to the coliseum, in other words. Though, observing the nonsensical but gore-filled visual noise that passes for entertainment nowadays, it appears that the coliseum has been with us for quite a while now. To the credit of the Romans, though, at least the violence of the coliseum was real in its way and made some kind of sense (even if it was essentially intended as tribute to the foreign Carthaginian god Ammon, established as part of the evocatio preceding the Punic Wars). The depictions of violence seen in popular culture nowadays have about as much to do with reality as a child's make believe does.
A Spectacle At The Coliseum — US To Hold Public Climate Change Debate As Soon As January, EPA Head Says by James Ayre, Clean Technica, Dec 8, 2017
Also see: Scott Pruitt's terrible plan to "objectively" assess climate science by David Roberts, Energy & Environment, Vox, Dec 7, 2017
---
Toon of the Week...
---
Quote of the Week...
Top US firms including Walmart and Ford oppose Trump on climate change
Several of the country's corporate giants, including Walmart, General Motors, Ford and Mars, appeared this week at the second annual Companies v Climate Change conference in Miami to showcase their progress and reinforce their belief that sustainability and other green targets can be achieved irrespective of the policies and purpose of the White House.
"We were disappointed [the] US pulled out of Paris, but what's so great is what companies can do to make a difference," said Zach Freeze, senior director for strategic initiatives in sustainability at Walmart, the first retailer to announce science-based targets for emissions reductions and a key signatory to the We Are Still In declaration that followed Trump's Paris withdrawal.
"We all have a lot we can do and should do, it's becoming more and more of an imperative. We've been working on this for a long time, prior to this administration [and] we're thinking about 10 years from now where we're going to be. Regardless of what's happening, this is something we believe in. If we do it the right way we will see progress."
Top US firms including Walmart and Ford oppose Trump on climate change by Richard Luscombe, Guardian, Dec 1, 2017
---
SkS Spotlights...
Faith and science are two of the most influential forces in global society. The United Planet Faith & Science Initiative (UPFSI) unites prominent religious figures and leading scientists to speak out together and mobilize action for ecological sustainability.
The UPFSI is a project that holds low-impact, web-based meetings of eminent scientists and faith leaders from across the globe. These meetings are edited into short, powerful videos and disseminated through social media and news outlets to promote public awareness, political will, policy, and action. The UPFSI also holds public events featuring presentations by these leaders. Nobel Laureate Archbishop Desmond Tutu and prominent climatologist Dr. James Hansen are among the founding members of this Initiative. (Click here for a full list of founding members.)
The UPFSI also reaches out to the world's youth as they are at greatest risk from the ecological crisis. The Initiative uses social media to help replace the unsustainable paradigm that has created many of our environmental problems with new inspiration, intention, and action.
UPFSI aims to shift the consciousness of humanity and the momentum of global society in a more sustainable direction in such critical areas as climate change, environmental protection, and biodiversity. The Initiative is an outgrowth of the Interfaith Declaration on Climate Change (IDCC), which was seminal in coalescing the interfaith 'constituency' within the UN FCCC process in 2009.
---
Coming Soon on SkS...
From the eMail Bag: Carbon Isotopes - Part 1 - The Basics (David Kirtley)
Guest Post (John Abraham)
Analysis: How developing nations are driving record growth in solar power (Zeke)
New research this week (Ari)
2017 SkS Weekly Climate Change & Global Warming News Roundup #50 (John Hartz)
2017 SkS Weekly Climate Change & Global Waming Digest #50 (John Hartz)
---
Poster of the Week...
---
Climate Feedback Reviews...
Climate Feedback asked its network of scientists to review the article, "STUDY: Satellites Show No Acceleration In Global Warming For 23 Years" by Michael Bastasch, The Daily Caller, Nov 29, 2017.

Five scientists analyzed the article and estimate its overall scientific credibility to be 'low'.
A majority of reviewers tagged the article as: Cherry-picking, Misleading.
Review Summary
This article in The Daily Caller describes a recent study published on the University of Alabama at Huntsville satellite temperature dataset. The study claims that, after removing the cooling influence of two large volcanic eruptions in 1982 and 1991, the rate of warming is slower than simulated by climate models.
While The Daily Caller story accurately describes the study, it fails to include comments from other scientists in the field or to provide necessary context for readers, as the scientists who reviewed the story explained. For example, the study fails to account for more recent volcanic activity, and does not support its conclusion that climate models are overly sensitive to CO2.
In addition, the story's headline emphasizes that the study shows "no acceleration in global warming for 23 years" and this is presented as a challenge to model simulations. This is misleading, as no acceleration of the warming rate is expected to be seen in such a short timeframe.
See all the scientists' annotations in context
Daily Caller uncritically reports poorly supported conclusion of satellite temperature study, Climate Feedback, Dec 4, 2017
---
SkS Week in Review...
---
97 Hours of Consensus...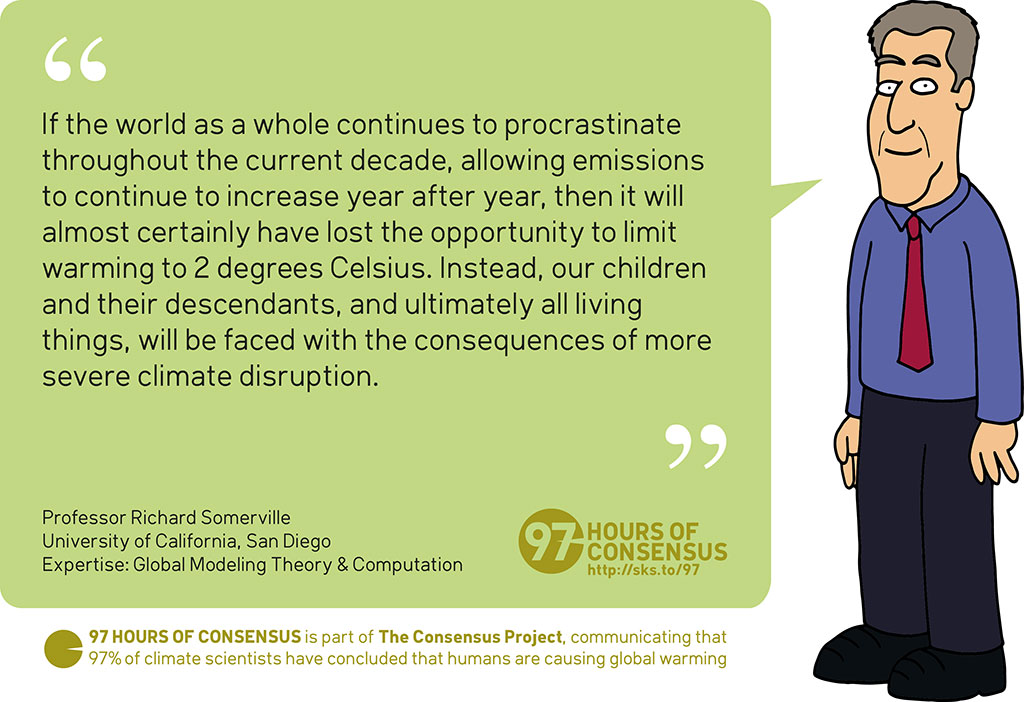 Richard Somerville's bio page and Quote source