2018 SkS Weekly Climate Change & Global Warming Digest #14
Posted on 8 April 2018 by John Hartz
Opinion of the Week... Opinion of the Week... Toon of the Week... SkS Spotlights... Coming Soon on SkS... Poster of the Week... Climate Feedback Reviews... SkS Week in Review... 97 Hours of Consensus...
Story of the Week...
Solar geoengineering 'too uncertain to go ahead yet'
The world must urgently agree controls on solar geoengineering to weigh up its possible risks and benefits before deciding to go ahead, one expert says.
Brightening marine clouds is one suggested solar geoengineering approach.
Image: By Ron Reeves, US Navy, via Wikimedia Commons
Progress to deploy solar engineering, experimental technology designed to protect the world against the impact of the changing climate, must pause, a former United Nations climate expert says, arguing that governments need to create "effective guardrails" against any unforeseen risks.
Janos Pasztor, who served as a UN assistant secretary-general on climate change, is using a speech to Arizona State University, broadast via Facebook Live by ASU LightWorks, 6:30-8pm Arizona time (9:30pm EDT – US Eastern Daylight Time) today, to warn the world that governments are largely ignoring the fundamental question of who should control geoengineering, and how.
There are widespread misgivings, both among scientists and more widely, about geoengineering, with many regarding it as at best a strategy of last resort to help to avoid calamitous climate change.
Mr Pasztor's warning comes as researchers prepare for what is thought to be the world's first outdoor experiment on stratospheric aerosol injection (SAI), one type of solar geoengineering. The test is due to take place later this year over Arizona.
Pasztor heads the Carnegie Climate Geoengineering Governance Initiative(C2G2), an initiative of the New York-based Carnegie Council for Ethics in International Affairs. The Initiative wants solar geoengineering deployment to be delayed until the risks and potential benefits are better known and governance frameworks are agreed.
Solar geoengineering 'too uncertain to go ahead yet' by Alex Kirby, Climate News Network, Apr 6, 2018
---
Opinion of the Week...
A new Gallup survey shows that independent voters are less concerned about climate change than they were a year ago. In the last year, independents have become less likely to accept that global warming is happening and that humans are the cause, and less likely to perceive that there's a scientific consensus about global warming.
In 2017, 71 percent of independent voters were aware that most scientists believe global warming is occurring; this year it's 65 percent. There has long been a significant gap between public perception of global warming and the scientific consensus: Between 90 percent and 100 percent of climate scientists agree humans are causing global warming, with studies converging on 97-percent consensus. But surveys since 2010 offered hope that the "consensus gap" had been shrinking over the last eight years. Gallup's new data indicates this trend has reversed. The consensus gap widened over the last year.
Independents aren't the only ones on the move. The American public has become more polarized on climate change in the last year: Climate concern and acceptance has dropped among Republicans, and Democrats have become more accepting of climate change.
There are a few ways to account for these shifts in public opinion. One is the cues we've heard from our political leaders, which are a leading driver of people's concerns and perceptions about climate change.
Trump's Climate Change Denial Is Already Reshaping Public Opinion. Opinion by John Cook, HuffPost, Apr 3, 2018
---
SkS Highlights...
Carnegie Climate Geoengineering Governance Initiative
C2G2 seeks to catalyze the creation of effective governance for climate geoengineering technologies by shifting the conversation from the scientific and research community to the global policy-making arena, and by encouraging a broader, society-wide discussion about the risks, potential benefits, ethical and governance challenges raised by climate geoengineering.
The C2G2 initiative is not for or against the research, testing or potential use of climate geoengineering technologies. That is a choice for society to make.
C2G2 is an initiative of the Carniege Council for Ethics in International Affairs
---
Toon of the Week...
---
Quote of the Week...
Critics say the National Park Service's editing of the report reflects unprecedented political interference in government science at the Interior Department, which oversees the park service.
Jonathan Overpeck, a climate scientist and dean of the University of Michigan's School for Environment and Sustainability, said the deletions are "shocking from a scientific point of view, but also from a policy point of view."
"To remove a very critical part of the scientific understanding is nothing short of political censorship and has no place in science," he said. "Censorship of this kind is something you'd see in Russia or some totalitarian regime. It has no place in America."
Wipeout: Human role in climate change removed from science report by Elizabeth Shogren, Reveal, Apr 2, 2018
---
SkS Spotlights...
The Climate Atlas of Canada is an interactive tool for citizens, researchers, businesses, and community and political leaders to learn about climate change in Canada. It combines climate science, mapping and storytelling to bring the global issue of climate change closer to home, and is designed to inspire local, regional, and national action and solutions.
The Atlas explains what climate change is, how it affects Canada and what these changes mean in our communities. Various aspects of climate change can be explored using maps, graphs and climate data for provinces, local regions and cities across the country. Plain-language description and analysis make climate science understandable and meaningful.
Documentary videos, collaboratively developed with local and Indigenous knowledge holders as well as other experts, help make local sense of the global issue of climate change. These voices of lived experience provide personal perspectives that complement the climate data and help explain the reality and the meaning of climate change in Canada.
The Atlas is one of the only tools in the world that integrates interactive web design with climatology, cinema, and cartography to connect scientific data with personal experience in compelling and easy-to-use ways.
---
Coming Soon on SkS...
New resource: The Fact-Myth-Fallacy slide-deck (Baerbel, JG)
EPA's war with California over fuel efficiency proves America needs a carbon tax (Dana)
Climate denial explained Part 1 (qwertle)
Scientists are marching Saturday to make politicians listen to evidence (Dana)

New research this week

(Ari)
2018 SkS Weekly Climate Change & Global Warming News Roundup #15 (John Hartz)
2018 SkS Weekly Climate Change & Global Warming Digest #15 (John Hartz)
---
Poster of the Week...
---
Climate Feedback Reviews...
Rush Limbaugh falsely claims there is no evidence of human-caused global warming
Claim
"There isn't yet any empirical evidence for their claim that greenhouse gases even cause temperatures to increase."
Verdict
Source
Rush Limbaugh, The Rush Limbaugh Show, April 2, 2018
Details
Factually Inaccurate: It is an unequivocal fact that Earth's climate has warmed over the past century. Also, the conclusion that the human-caused increase of greenhouse gases is causing warming is supported by a wide range of empirical data.
Key Take Away
Human-caused global warming is not a theoretical, future prediction—it has already occurred. Warming of the atmosphere and oceans is extensively documented, and the role of increased greenhouse gases in this warming has been determined from multiple lines of evidence.
Rush Limbaugh falsely claims there is no evidence of human-caused global warming by Scott Johnson, Climate Feedback, Apr 4, 2018
---
SkS Week in Review...
---
97 Hours of Consensus...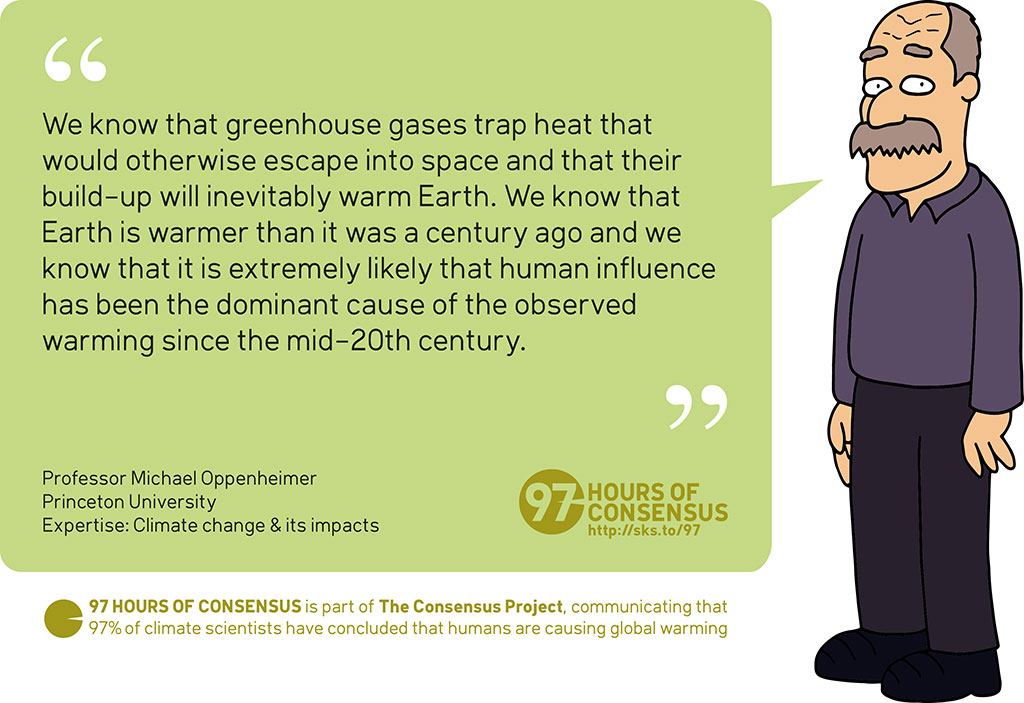 Michael Oppenheimer's bio page
Quote provided by email