Adapting to air pollution with clean air stands in China
Posted on 24 August 2015 by John Abraham
To adapt or to mitigate? That is the question that faces governments and industries across the globe as the impacts of climate change and pollution become ever clearer. It turns out, we will need to do both. The longer we allow pollution to be freely emitted, the fewer and more expensive will be the choices remaining to us.
Pollution adaptation can take many forms, but it generally means dealing with a pollutant after it has been emitted, or it can mean changing infrastructure to make it more resilient to heavy rains, floods, or more intense storms.
One great example of adaptation is being developed in Hong Kong and elsewhere in Asia by a major engineering company (Arup Engineering) and the CSR arm of a Hong Kong property developer (Sino Green). Arup and Sino Green are dealing with the environmental problem of localized airborne pollution.
In many parts of the world, airborne pollution levels are very high and can be elevated for long periods of time. These high levels of pollution can pose health problems to people and animals, particularly people with other health problems or those who are young or the elderly. In some cases, the airborne pollution levels can be at high levels for 8,000 hours (90%+) in a single year.
There are many sources of pollution; for Arup Engineering, whose East Asia headquarters is in Hong Kong, much of the pollution is from nearby heavy industries across the border in mainland China and from vehicle emissions. At other locations, high levels of airborne pollution may be caused by burning of wood or dung for fire, slash-and-burn agricultural practices (particularly for countries near Indonesia), or from other causes. But, regardless of the cause, companies such as Arup are trying to find ways to reduce human exposure even when the airborne pollution levels are high.
Arup is embarking on an effort to provide filtered air zones for people who are street side, perhaps waiting for public transportation. Much like a bus stop, the proposed structure (called City Air Purification System) provides clean air flow to create a cocoon around bystanders, shown in the following photograph.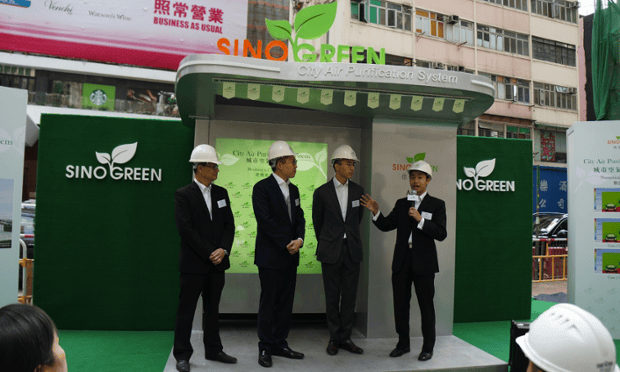 The stand is able to accommodate approximately 20 people and washes them with filtered air, protecting them from particulates from passing traffic. The company has shown by both experiment and by numerical simulation (similar to a climate model), that the occupants breathe significantly healthier air.
Not only is the Arup/Sino Green structure very energy efficient, but by providing clean air to residents, it is possible to counteract the deleterious health effects on the human body, particularly the respiratory and cardiovascular system.
I asked the lead inventor, Dr. Jimmy Tong (with whom I worked in the past) about this project. He told me,