Latest Posts
97 Hours of Consensus: Gerald Meehl
Quote shortened from:
" "Even if you stabilize the concentration of greenhouse gases, you are still committed to a certain amount of climate change no matter what you do because of the lag in the ocean," said Gerald Meehl, a climate scientist with the National Center for Atmospheric Research in Boulder, Colorado.

Greenhouse gases such as carbon dioxide collect in the atmosphere and are believed to act as a blanket, trapping heat and causing the Earth to warm. To stop this warming, many scientists say humans must reduce the amount of greenhouse gases they emit.

Human activities that make the largest contributions to greenhouse gases include exhaust fumes from automobiles and commercial jets and emissions from power stations and factories.

"The longer you wait to do something, the more climate change you are committed to in the future," Meehl said. "
Printable Version | Back to Graphics by Skeptical Science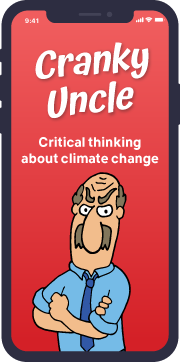 The Consensus Project Website
THE ESCALATOR


(free to republish)