2016 SkS Weekly Climate Change & Global Warming Digest #50
Posted on 11 December 2016 by John Hartz
Story of the Week... Toon of the Week... Quote of the Week... Graphic of the Week... SkS in the News... SkS Spotlights... Video of the Week... Coming Soon on SkS... Poster of the Week... SkS Week in Review... 97 Hours of Consensus...
Story of the Week...
Record low volume highlights exceptional year for Arctic sea ice
With the latest sea ice data for November just in, 2016 continues to be a dramatic year in the Arctic. Following an unusually warm start to the year and record low ice in several months, a markedly sluggish freeze-up season in the back end of the year is also seeing records tumble.
Earlier this week, scientists confirmed the area of Arctic Ocean covered by sea ice – known as sea ice extent – reached a record low in November. Now, figures from the Piomas (Pan-Arctic Ice Ocean Modeling and Assimilation System) confirm the volume of sea ice also hit record lows.
At close to 8,000 cubic kilometres (cubic km), total sea ice volume in November stood at just 48% of the long-term average and the smallest of any November in the satellite record stretching back to 1979.
Taken together, these findings show little sign of recovery after an exceptionally poor start to the winter freeze-up season. This doesn't bode well for survival of the ice through next year's summer melting season, say scientists.
Daily Arctic sea ice volume (relative to the 1979-2015 average) for the satellite record. The blue line shows the trend during the record of a decline of 3,000km3 per decade. Credit: Piomas.
Record low volume highlights exceptional year for Arctic sea ice, Carbon Brief, Dec 7, 2016
Toon of the Week...
Quote of the Week...
The Union of Concerned Scientists, for its part, is preparing for a world in which government scientists might face serious workplace restrictions. It is girding for battle, ready to receive information "securely" and "anonymously" should scientists encounter censorship from political appointees.
"We've been to this rodeo before, although the bull this time is a bit tougher," wrote Michael Halpern, the union's deputy director of the Center for Science and Democracy, in an email. "Science advocacy used to be primarily about securing funding for research. Now many more scientists care just as much about how the science they create is used or misused to create policy. . . . We've heard all kinds of reactions to the election, but we haven't heard indifference."
Scientists and environmentalists are bracing for a clash with Trump by Juliet Elperin & Chris Mooney, Energy & Environment, Washington Post, Dec 4, 2016
Graphic of the Week
Chart showing daily Arctic sea ice data in 2016 compared to the previous record for each day. Where the line is blue, 2016 was not a record low extent, and where the line is red, it was. Credit: Zack Labe
Record low volume highlights exceptional year for Arctic sea ice, Carbon Brief, Dec 7, 2016
SkS in the News...
In their WunderBlog (Weather Underground) article, Climate Change Won't Stop in 2016, Despite Misleading Report, Bob Henson & Jeff Masters prominently discuss and display the following SkS graphic:
Figure 2. Global surface temperature trends for the period 1966 - 2015 analyzed for El Niño years (red boxes), La Niña years (blue boxes), and neutral years (black boxes), along with volcanic years (gold triangles). The three trend lines show that global temperature has been rising at a fairly consistent rate of about 0.15 - 0.17°C (0.27 - 0.31°F) per decade once La Niña and El Niño departures are factored out. Image credit: skepticalscience.com; data from Berkeley Earth.
The above graphic is also prominently included in The Weather Channel article, Note to Breitbart: Earth Is Not Cooling, Climate Change Is Real and Please Stop Using Our Video to Mislead Americans.
SkS Spotlights
Moms Clean Air Force is a community of 950,000 moms and dads united against air pollution – including the urgent crisis of our changing climate – to protect our children's health. We arm members with reliable information and solutions through online resources, articles, action tools, and on-the-ground events. We work across the US on national and local policy issues, through a vibrant network of 18 state-based field teams. Our moms meet with lawmakers at every level of government to build support for commonsense solutions to pollution. Moms have passion and power – an unbeatable combination. We are harnessing the strength of mother love to fight back against polluters.
Video of the Week...
Extreme Weather & Climate Change - What's our Response?
Climate change brings dangerous challenges as extreme weather events like heat waves, floods, and wildfires impact Colorado and the U.S. But will public awareness now support the necessary transition of the U.S. energy system to one capable of mitigating climate change? Can denialism be overcome? What are the prospects for national action?
Phil Nelson chairs the Golden Chapter of Citizens' Climate Lobby, a volunteer nonpartisan group that promotes putting a price on carbon to counter climate change. CCL's plan will reduce greenhouse gases while actually boosting the economy. Dr. Nelson is an MIT trained retired geophysicist.
Organized by the Colorado Renewable Energy Society monthly speaker series, Jeffco chapter. Filmed and edited by Martin Voelker, CRES. Published on Nov 20, 2016
Coming Soon on SkS...
On climate change, angels and demons are battling over Trump's soul (Dana)
CSLDF at AGU and how you can help (Lauren Kurtz)
Oceanographers offer clues to Malaysian airlines crash (John Abraham)
The Perfect Tide: Sea Level and the Future of South Florida (Peter Sinclair)
No Prime Minister, Coal is Not Our Future (Agnostic)
2016 SkS Weekly Climate Change & Global Warming News Roundup #51 (John Hartz)
2016 SkS Weekly Climate Change & Global Waming Digest #51 (John Hartz)
Poster of the Week...
SkS Week in Review...
97 Hours of Consensus...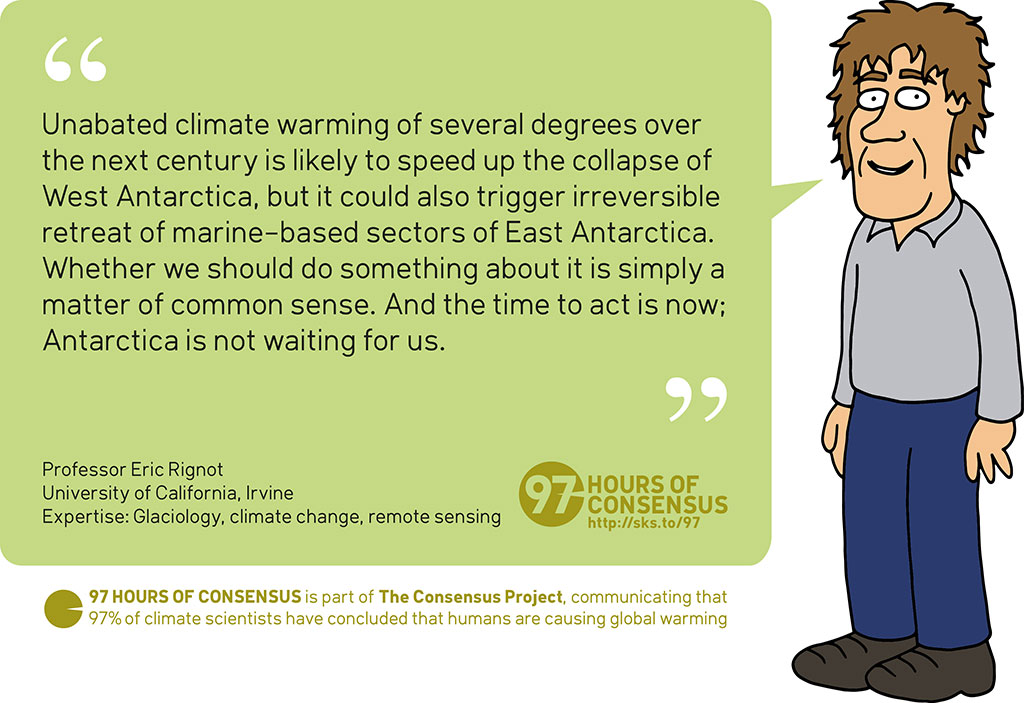 Eric Rignot's bio page and Quote source