Latest Posts
Fallacy icon - Apples vs. pears
In German and Dutch, the comparison is between "Apples vs. pears" instead of "Apples vs. oranges", requiring a separate icon.
| | | |
| --- | --- | --- |
| Name/techniek | Beschreibung/definitie | Beispiel/voorbeeld |
| Äpfel und Birnen vergleichen | Oberflächlich betrachtete Gemeinsamkeiten werden ausgenutzt, um eine falsche Entsprechung herzustellen. | "Eine globale Erwärmung um ein paar Grad ist kein Problem - wir erleben eine solche Erwärmung ja fast jeden Morgen." |
| Appels en peren | Oppervlakkige gelijkenissen uitbuiten om zo een niet kloppende overeenkomst te creëren. | "Een opwarming van een paar graden is geen probleem - we hebben immers bijna elke ochtend met zo'n opwarming te maken." |
Learn more about the fallacies in this graphics category in the blog post A history of FLICC: the 5 techniques of science denial. For the German version click here.
Other languages
German definition (Äpfel mit Birnen vergleichen)
Dutch definition (Appels en peren)
---
Printable Version | Back to Graphics by Skeptical Science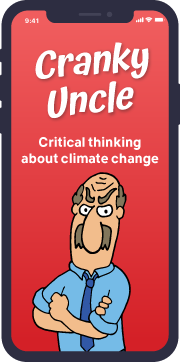 The Consensus Project Website
THE ESCALATOR


(free to republish)