The Debunking Handbook - Redirect page
You followed a link and expected to see The Debunking Handbook as a PDF-file to read and/or download but instead ended up on this page. Here is why:
The handbook's 2011 version you were looking for no longer reflects current knowledge about debunking misinformation. Which is why the two authors of the original handbook - Stephan Lewandowsky and John Cook - got in touch with other researchers who look into how best to counter misinformation and 20 of them signed up as co-authors. The result of their work can now be downloaded as The Debunking Handbook 2020. More information about the handbook - including (upcoming) translations - is available here.
Download the latest version - published on Oct 14, 2020 - of the handbook here: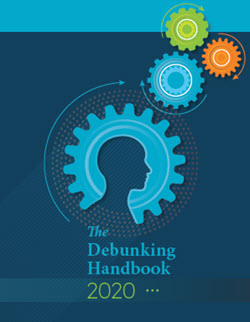 If you are interested to see the initial version of the handbook, you can download it from here.