It isn't that there is no evidence of the crash. In July of last year, a portion of a wing was found near Madagascar and Reunion Island in the Indian Ocean. Since then, other debris has been found in the Western Indian Ocean.
Using the location of where the wing debris were found, oceanographers from University of Santiago de Compostela (Spain), the United States National Oceanographic and Atmospheric Administration (NOAA), the University of Miami, University of Hawaii, and the Commonwealth Science Industrial and Research Organization (CSIRO) in Australia have a lead. Their hypothesis is published in the Journal of Operational Oceanography and can be found here.
The authors used two sets of data to help track the possible paths of the debris. First, they took advantage of observations from NOAA's Global Drifter Array. These drifters have a surface float and an anchor or drogue that extend to 15m deep, and a suite of sensors that communicate via satellite their location and parameters like ocean currents, surface ocean temperature, pressure, wind, and salinity. In the Indian Ocean alone, there are approximately 400 of these drifters at any time, providing continuous ocean measurement information. At some point the drifters loose their drogue and these are the ones used in this study as they better simulate debris dynamics.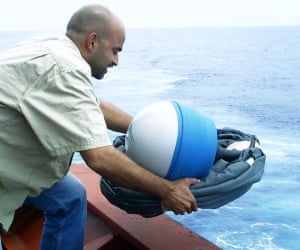 Deployment of a drifter. Photograph: NOAA
The authors tracked drifters that were released or that traveled near the search area in the southeastern Indian Ocean. Several of these drifters traveled across the Indian Ocean to the final destination near Reunion Island, very near where the wing debris was found, and the duration it took the drifters to make their trek was similar to that of the debris.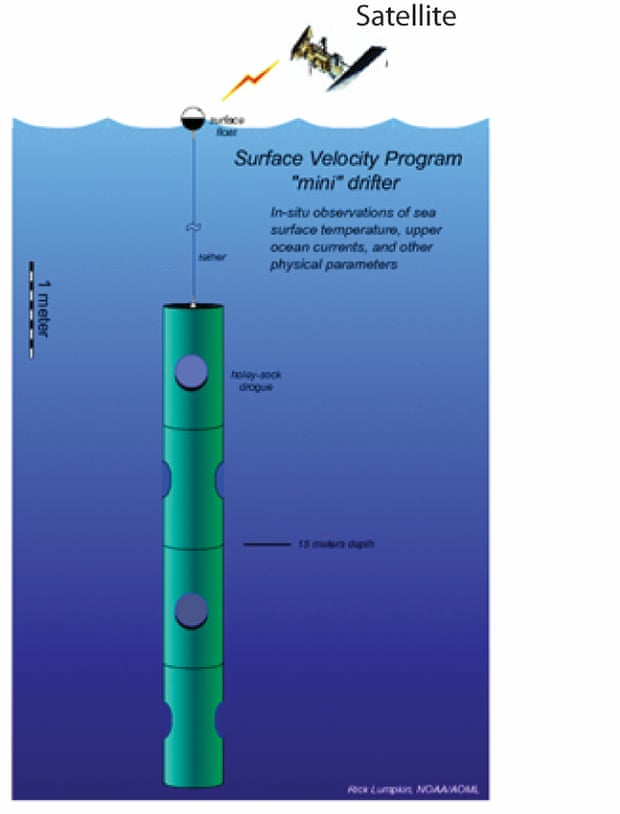 Diagram of a drifter. Illustration: NOAA
---
Posted on 8 December 2016 by John Abraham &
Climate scientists have done a great job winning the scientific arguments about climate change. To be clear about what I mean, we have done a very good job investigating whether or not the Earth's climate is changing (it is), what is causing the change (humans), how much will it change in the future, and what will be the impacts.
There are no longer any reputable scientists who disagree with the principle view of that human emissions will cause climate change that will lead to societal and human losses (they already are). So, I use the term "win" here not to indicate it was a battle of "us" versus "them". Rather, I mean "win" in that we have faithfully followed the scientific method, explored alternative hypotheses, checked and rechecked our work, and have come to a truth that is unassailable. We've done our job.
In the past, that is where our job ended. I mean maybe we would help with a press release on a breaking study, do an interview. But only rarely.
Now, particularly with an issue like climate change, that has such an impact on peoples' lives, scientists are being asked to go further. We are being asked to effectively communicate to the public why this matters, what will happen if we take action or not, and what some trade-offs are. This means we can be put in an uncomfortable position where we're forced to advocate. Some of my colleagues are understandably skittish about advocacy and avoid it religiously. Others, like myself, will advocate on occasion but be very clear about when the scientist hat comes off and the advocate hat is put on.
---
Posted on 2 December 2016 by John Abraham &
With my new hope that deniers of climate change will take ownership of the consequences, I am sad to report that this week, terrible wildfires have swept through Tennessee, a southeastern state in the USA. This state is beset by a tremendous drought, as seen by a recent US Drought Monitor map. There currently are severe, extreme, and exceptional drought conditions covering a wide swath of southern states. The causes of drought are combinations of lowered precipitation and higher temperatures.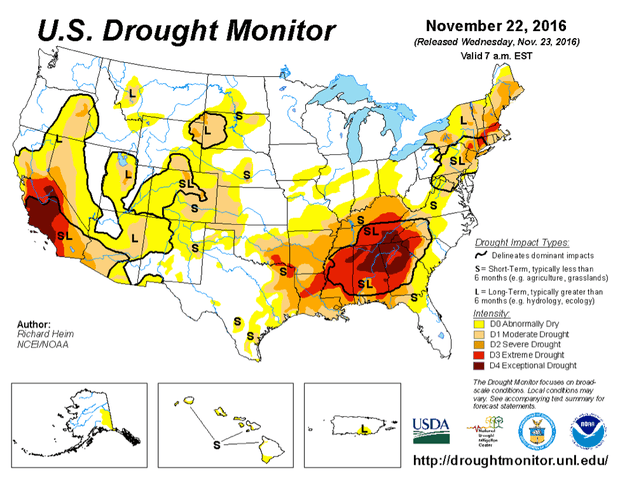 The patterns of drought are the result of many weeks of weather (warm and dry) that have led to the current conditions. The recent high-temperature map from NOAA below provides just one example.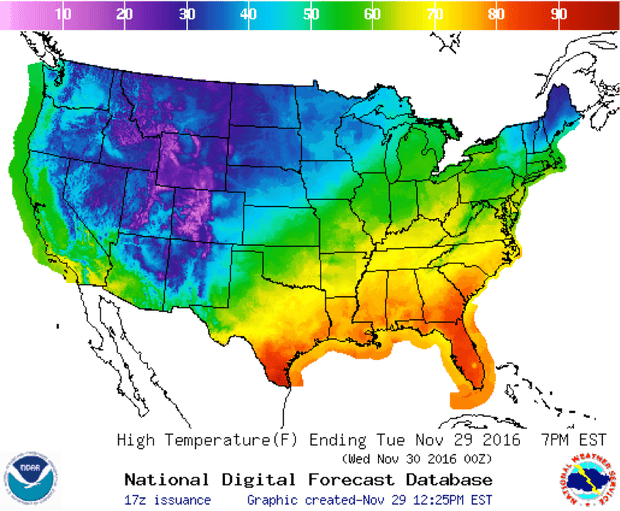 ---
Posted on 23 November 2016 by John Abraham &
Earth is warming due to the release of heat-trapping greenhouse gases. Scientists are working hard to measure how fast the planet is warming, how much warming has occurred over the past few decades, and how this is affecting coastal areas, ecosystems, and fisheries. By understanding these factors, scientists can better project future climate impacts.
A large component of Earth's warming involves the oceans, which absorb excess heat. The difficulty of gathering measurements in the oceans is that they are vast, deep, and often hard to reach. It's also costly. Think about it: if you wanted to take the ocean's temperature, how would you do it?
Centuries ago, ocean measurements were made with buckets dropped from the sides of ships. Over time, measurements have become more numerous and more accurate, partly thanks to technology advances. Today, a global array of floats that take continuous profiles of the upper ocean monitors ocean temperatures at more than 3000 locations to depths of 2000 meters.
However, this array was put in place in 2005. Prior to that, the backbone of ocean measurements was a device or probe called the expendable bathythermograph (XBT for short). These small, torpedo-like probes, deployed from ships, gather temperature data to depths of 300 to 2000 meters as they descend through the water.
XBTs were designed as a simple, inexpensive way to obtain temperature measurements from virtually any ship. These XBTs were originally used by navies to determine the depth of the sound channel, where sound waves can travel thousands of miles. They were first introduced in 1967 and immediately adopted by scientists worldwide. Since their debut, several million have been deployed, with some 20,000 launched annually in all ocean basins.
A very important and critical component of their success has been the excellent relationship established by the scientific community with commercial shipping companies. Commercial vessels aid scientists by voluntarily deploying XBTs along routes that are continuously repeated, often in remote regions not sampled by other types of oceanographic equipment.
With XBT use dating back to the 1960s, these measurements offer a unique historical perspective on temperature change in the oceans, which is often associated with global warming or even varying location and the intensity of ocean currents. XBT records, together with those of other observational tools later put in place, are crucial for determining how fast the ocean is warming - an essential factor for quantifying our effect on climate. XBT data are also used to measure how ocean currents change and how heat is transported across ocean basins, both of which are linked to extreme weather events worldwide.
---
Posted on 17 November 2016 by John Abraham &
Come on, you can admit it. I admit it. I admit that after Trump's election victory, I secretly hoped and even though that his rhetoric was worse than its bite. He only said those crazy things during the campaign to get elected. He wouldn't really follow through on his plans to completely gut the US commitment to keeping the Earth habitable. Oh how naive we were. Trump's plan to fill positions in his administration shows things are worse than we could have ever feared.
According to recent reports, Trump has picked long-time climate denier and spokesperson for the fossil fuel industry Myron Ebell to head the Environmental Protection Agency transition. This basically means the EPA will either cease to function or cease to exist. It also appears that the US will pull out of any agreements to limit greenhouse emissions.
It means we have missed our last off-ramp on the road to catastrophic climate change. That may sound hyperbolic, but I study the rate that climate change is happening – the amount of heat accumulating in the Earth's system. We didn't have any time to waste in implementing Obama's aggressive plans, and Trump will result in a decade of time lost.
So who is Myron Ebell? He is a director at the Competitive Enterprise Institute and chair of the Cooler Heads Coalition. Where did he get his PhD in science? Nowhere. In fact, he isn't a scientist at all, but he does have a degree in economics. Yeah!
---
Posted on 10 November 2016 by John Abraham &
Many of us in the United States are in deep shock and despair. The election of Donald Trump speaks of a country and a world that represents so many things that go against our deepest grains. However, as I told my children this morning, the Earth will still turn, the sun will still rise. In fact, a Trump presidency will not have the dire consequences that many of us fear – especially for people like me who will be insulated from his policies. Surely it will change the economics and courts in the US, among other things. But really, all of these are transient.
The one thing that isn't transient is the impact this will have on climate change. It is now virtually certain the world will not meet any of its climate targets. If Trump (and the Republican-controlled Congress) stand by their pledges, we will see a major rollback of the tremendous progress that has been made on reducing emissions. A Trump presidency will likely set us back at least a decade, perhaps longer. And that is a decade we can't afford.
The world will blow past the 2C (3.6F) target set in Paris. This means it will be difficult to avoid the worst consequences of climate change.
The election also affects how we should talk about climate change. In the US, and in many other countries, opposing steps to cut carbon pollution has become a litmus test for conservative politicians. So, in this sense, conservatives now own climate change. I can just imagine the slogans, "Climate change, brought to you by your neighborhood conservatives."
George W Bush was the worst president ever on climate change. Back then, with the reality of climate change not as widely known, it is conceivable to give voters a pass. But not now. Anyone who voted for Trump shares the responsibility for what is now inevitable.
It's really too bad because many conservatives certainly don't want to destroy the Earth's climate. Furthermore, there are some conservatives who do take climate change seriously. However, when a central belief to conservatism results in decades of inaction, it makes it impossible to avoid staring facts in the face.
Conservatives own climate change.
Conservatives own the consequences of climate change.
They own the increased droughts, more severe storms, sea level rise, and floods.
They own the heat waves, the loss of habitat and the shifting climate zones.
They own the climate refugees, the resulting political strive, and climate conflicts.
They own it all.
---
Posted on 2 November 2016 by John Abraham &
My how far we've come in less than eight years. We have seen happen what those of us in the climate and energy fields knew could happen. The US has become a world leader on climate change, dramatically increased our production of clean and renewable fuels, reduced our emissions of greenhouse gases, signed major international agreements to continue progress into the future, and have done so without cost increases or power disruptions that the denial community proclaimed would occur.
As we in the United States get ready to elect a new president, it is helpful to think about the impact a president can have. Particularly since we transitioned from the worst climate president ever (Bush) to the best (Obama). I am going to detail what I think are Obama's signature accomplishments.
In my mind, the most important part of President Obama's legacy on climate is that he changed the conversation. He showed that not only should the US play a role in reducing emissions, but we can do just that. He showed that this problem isn't too big to solve. In fact, most of the solutions are subtle enough that we don't even notice them. He showed that we can change our future for the better.
With respect to specific actions, the Clean Power Plan is one of his biggest accomplishments. By working with the EPA, he created the first ever carbon pollution standards for the largest source of pollution – power plants. He did this in the midst of a do-nothing congress that fought him every step of the way.
---
Posted on 21 October 2016 by John Abraham &
We know the world is warming – no factor can explain it aside from human emissions of greenhouse gases. Despite this, people who deny the basic facts of climate change have tried to argue that the Earth is either not warming or is only slowly heating. Well that just isn't true anymore. The last three years are the nail in the coffin of the deniers of climate change. We have enough data this year to call 2016 as the hottest year ever record – and we have three more months left to go.
So, just how hot is 2016? Well my early predictions are shown in the graph below. I have taken temperature data from NASA and superimposed my predictions for 2016 – it isn't even close. And by the way, it doesn't matter whose data you use (NASA, NOAA, JMA, Hadley Centre) the results are the same. 2016 is going to blow 2015 out of the water.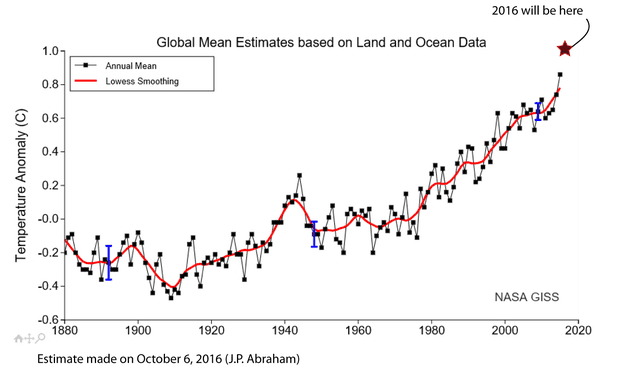 A few things to note. First, these temperatures are surface temperatures that are taken across the globe. But, you can measure temperatures elsewhere and see the same result. Most importantly, measurements in the oceans, where 93% of the extra heat is stored are the best proof of global warming. I recently coauthored an open-access paper on this very topic which interested readers can get here.
---
Posted on 14 October 2016 by John Abraham &
A new study has just appeared in the Journal of Climate which deals with an issue commonly raised by those who deny that human-caused climate change is a serious risk. As I have written many times, we know humans are causing the Earth's climate to change. We know this for many reasons.
First, we know that certain gases trap heat; this fact is indisputable. Second, we know that humans have significantly increased the amount of heat-trapping gases in the atmosphere. Again, this is indisputable. Third, we know the Earth is warming (again indisputable). We know the Earth warms because we are actually measuring the warming rate in multiple different ways. Those measurements are in good agreement with each other.
Of course there is other evidence too. For instance, ice loss across the globe is widespread: in the Arctic, the Antarctic ice shelves, Greenland, and from land glaciers. Sea levels are rising as warm water expands in volume and as melt waters flow into the ocean. We are also seeing changes of weather patterns and climatic zones shift. The point is, there is a whole body of evidence that proves the climate is changing and the change is caused largely by human emissions of greenhouse gases.
Over the years, contrarians have looked for evidence that the climate either isn't changing or the change is not as fast as predicted. Their findings have often been used in the media to suggest that human-caused climate change was not something to worry about. But we've seen, over and over and over again, that these contrarian arguments don't hold up.
Repeatedly, mainstream scientists have taken these claims seriously and discovered they were just plain wrong. In some cases, the contrarians have made simple arithmetic errors (like mixing up a negative and positive sign in their equations), while in others, they have made more fundamental errors. But regardless, they have been wrong time after time. But whenever they are found to be wrong, they just go and find some new piece of evidence that once again calls into doubt our understanding of the human-climate link.
---
Posted on 10 October 2016 by John Abraham &
From within this movement, there are huge voices, widely respected by both the scientific and faith communities. Perhaps the best known is Dr. Katharine Hayhoe, a top climate scientist who is also an evangelist Christian. There are other persons and organizations who work similarly to connect these two world viewpoints in a powerful yet common-sense way.
Recently a book has been published by a faith-science duo. That duo is Paul Douglas, respected meteorologist, entrepreneur, Republican, and Christian, and his writing partner Mitch Hescox who leads the Evangelical Environmental Network (the largest evangelical group devoted to creation care). Their book, entitled Caring for Creation, provides a masterful balance of science, faith, and personal journey.
The style of the book is one I have not seen before. It is a side-by-side presentation of first science, then faith, then science, and back to faith. Interspersed within the main text are enlightening anecdotes mainly from weather forecasters across the country which show an informed lived experience of experts watching the climate change before their very eyes. Importantly the authors provide a list of concrete things that we all can do, starting right now to make a meaningful impact in reducing global warming.
Within this book there is real science. Not just about what is happening now, but the history of climate science, how we've known since the 1800s that human emissions of greenhouse gases like carbon dioxide can warm the atmosphere. We also hear from Douglas about observed changes to the weather we all experience. This isn't a problem for far-off times or far-away places. This is an issue that is being manifested now.
Hescox articulates a message grounded in the proposition that the creation is a gift from God and there is a real responsibility to care for it. Not only for others distant in time and space that may suffer, but for our own good. In fact, he argues persuasively that caring for this creation can help strengthen one's faith.
Hescox also argues from a pro-life position. Caring for creation is the ultimate pro-life stance. Squandering resources and gifts will not only cause real harm to people and our economy, but it will endanger the lives of many of the most vulnerable.
Douglas provided a great summary:
I am a scientist but I believe in absolutes – I believe in more than I can observe, measure and test. The book of Genesis tells us that God made us in his self image. He gave us big, beautiful brains and the ability to think, reason, solve problems, make smart decisions, and improve our lives. He also gave us the good sense not to foul our nest.
Both of these intertwined stories of faith and science are woven together in a way that is easily accessible for non-scientists and people who are not of faith. We don't need to be climate scientists or religious experts to get a lot out of the authors' perspective.
There are a few quotes from the book that do a great job of encapsulating the central themes which I will share.
---
Posted on 26 September 2016 by John Abraham &
A new book by Michael Mann and Tom Toles takes a fresh look on the effects humans are having on our climate and the additional impacts on our politics. While there have been countless books about climate change over the past two decades, this one – entitled The Madhouse Effect - distinguishes itself by its clear and straightforward science mixed with clever and sometimes comedic presentation.
In approximately 150 pages, this books deals with the basic science and the denial industry, which has lost the battle in the scientific arena and is working feverishly to confuse the public. The authors also cover potential solutions to halt or slow our changing climate. Perhaps most importantly, this book gives individual guidance – what can we do, as individuals, to help the Earth heal from the real and present harm of climate change?
To start the book, the authors discuss how the scientific method works, the importance of the precautionary principle, and how delaying actions have caused us to lose precious time in this global race to halt climate change. And all of this done in only 13 pages!
Next, the book dives briefly into the basic science of the greenhouse effect. Readers of this column know that the science of global warming is very well established with decades of research. But some people don't realize that this research originated in the early 1800s with scientists such as Joseph Fourier. The book takes us on a short tour of history. Moving beyond these early works that focused exclusively on global temperatures, the authors come to expected impacts. They explain that a warming world, for instance, can be both drier and wetter!
---
Posted on 21 September 2016 by John Abraham &
Yesterday, 375 of the world's top scientists, including 30 Nobel Prize winners, published an open letter regarding climate change. In the letter, the scientists report that the evidence is clear: humans are causing climate change. We are now observing climate change and its affect across the globe. The seas are rising, the oceans are warming, the lower atmosphere is warming, the land is warming, ice is melting, rainfall patterns are changing and the ocean is becoming more acidic.
These facts are incontrovertible. No reputable scientist disputes them. It is the truth.
Despite these facts, the letter reports that the US presidential campaign has seen claims that the earth isn't warming, or it is only a natural warming, or that climate change is a hoax. These claims are false. The claims are made by politicians or real estate developers with no scientific experience. These people who deny the reality of climate change are not scientists.
These claims aren't new. We see them every election cycle. In fact, for the Republican Party, they are a virtual litmus test for electability. It is terribly sad that the party of Lincoln (the president who initiated the National Academy of Sciences) has been rebuked by the National Academy today. It is sad that the party of Teddy Roosevelt, who created the National Park System, is acting in a way antithetical to his legacy. It is also sad that the party of Nixon, who created the Environmental Protection Agency, now is trying to eliminate that very organization.
What is perhaps most sad is that the party of "fiscal conservatism" is leading us on a path that will result in higher economic and social costs for all of us.
What we don't know is what the future will bring. Will the warming be gradual or sudden? Will ocean rise increase at a faster rate or not? Will we continue to see major ice shelf collapse? Increased droughts and heat waves? Will we be able to adapt?
---
Posted on 8 September 2016 by John Abraham &
One of the reasons climate change is such an important topic is that it will affect (and already is affecting) the natural biological systems. Both plants and animals will have to respond to the changing climate. In some cases, this means adapting to higher temperatures. In other cases, the changes may be alterations in the precipitation, length of growing season, availability or resources, or other influences.
While some animals can adapt, others will have to migrate. Obviously migration can be apparent in mobile animals that will move to maintain a more or less similar climate to that to which they are accustomed.
But animal and plant movement does not occur in just a changing climate. It also has to navigate changes to the landscape that humans create. For instance, increased land allocation to agriculture or urbanization can create barriers for free migration. So, what scientists really want to know is how these two factors (climate change and land use change) will collectively affect the patterns of animal and plant movement.
A study that actually was published a few years ago but is only now getting press looked at this issue. The publication was authored by Julian Olden and his colleagues from the University of Washington and the Nature Conservancy. What they researchers found was very interesting. The study was published in the journal Ecology Letters and is titled Projected Climate-Driven Faunal Movement Routes.
First, they projected changes in the distribution of climatically suitable zones for projected future climates. They considered nearly 3,000 vertebrate species. Using a computer model, the projected how and when the species would migrate and they tracked the migration routes. The study incorporated a resistance to movement based on the amount of human alteration to the landscape. The analysis was similar to how the flow of electrons through a wire circuit is calculated. In fact, electronic circuit theory formed a basis for the calculations.
From their analysis, the authors identified several locations in North and South America that will be crucial for species movement in a changing climate. Large movements are expected in the southeastern US, the Amazon region, and parts of Brazil. Some of the areas where migration is expected have intact biological regions. Others, in particular the southeastern US and Brazil, have pathways that are heavily impacted by human activities, which may create a barrier to the migration routes.
In the study, the team of scientists first identified what they term "climatically suitable" conditions for each of the species under a changing climate scenario. They plotted routes for the species from areas that were projected to be unsuitable to these suitable areas. The routes were plotted so that they avoided the most heavily human-impacted regions. They then plotted the paths on a map for easy of visualization.
Some concrete and specific examples were provided. For instance, in the southeastern US, species are projected to move northward into the southern Appalachian Mountains. In South America, species are expected to migrate from central Argentina in the Pampas, Sierras de Cordoba, and Andes. The authors identified 14 biological regions and calculated the average direction of movement across each biome. Great visualizations are shown of paths of migrations, for instance, in the southeastern US.
---
Posted on 25 August 2016 by John Abraham &
A new study measures the loss of ice from one of world's largest ice sheets. They find an ice loss that has accelerated in the past few years, and their measurements confirm prior estimates.
As humans emit heat-trapping gases, we expect to see changes to the Earth. One obvious change to be on the lookout for is melting ice. This includes ice atop mountains, ice floating in cold ocean waters, and the ice within large ice sheets or glaciers. It is this last type of ice loss that most affects ocean levels because as the water runs into the oceans, it raises sea levels. This is in contrast to melting sea ice – since it is already floating in ocean waters, its potential to raise ocean levels is very small.
So measuring ice sheet melting is important, not only as a signal of global warming but also because of the sea level impacts. But how is this melting measured? The ice sheets on Greenland and Antarctica are huge and scientists need enough measurements in space and time to really understand what's going on. That is, we need high-resolution and long duration measurements to fully understand trends.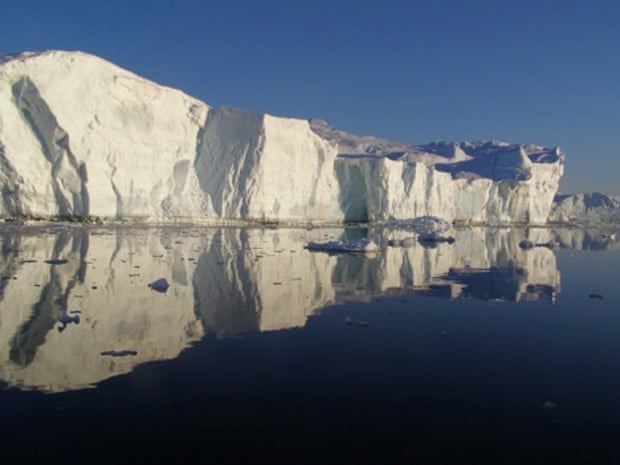 In a very recent publication in the journal Geophysical Research Letters, an international team reported on a new high-resolution measurement of Greenland. The lead author, Malcolm McMillan from the Centre for Polar Observation and Modeling, and his colleagues mapped Greenland with incredibly high resolution (5 km distances).
---
Posted on 10 August 2016 by John Abraham &
One of the great things about science is that it allows you to make predictions. Three top climate scientists just made a very bold prediction regarding sea level rise; we should know in a few years if they are correct.
As humans emit greenhouse gases, it's causing the Earth to warm. That's indisputable and proven. We can actually measure the amount of extra heat. Since most of it ends up in the oceans, we can also measure other changes in the oceans.
For instance, the oceans are rising. We know that's indisputable. Measurements taken from physical gauges and from satellites confirm sea level rise. The cause of the rise is more complex.
Part of the rise is from ocean warming – warm water is less dense so the sea level rises as temperatures increase. Another part of the rise is from melting ice, especially ice that is currently on land (like glaciers and ice sheets). As this ice melts and flows into the oceans, the water levels rise. A third reason for sea level changes is from alterations of where water is stored on the planet. For instance, changing rainfall patterns and storage of water underground, in lakes, or in the atmosphere can affect sea levels.
The three ways we know sea levels are rising are from physical tide gauges, from satellites that measure the water height, and from satellites that measure where ice is stored across the globe. While tide gauge measurements go back many years, they only measure water levels at their location. Many tide gauges have to be in place to get an accurate sense of what is happening globally.
Satellites, on the other hand, are much more capable of taking global measurements. The problem with satellites is they have only been taking measurements since approximately 1993 (not nearly as long as tide gauges). So scientists try to combine these two measurements to get a long-term and global picture of what is really happening.
---
Posted on 27 July 2016 by John Abraham &
For those of us who are concerned about global warming, two of the most critical questions we ask are, "how fast is the Earth warming?" and "how much will it warm in the future?".
The first question can be answered in a number of ways. For instance, we can actually measure the rate of energy increase in the Earth's system (primarily through measuring changing ocean temperatures). Alternatively, we can measure changes in the net inflow of heat at the top of the atmosphere using satellites. We can also measure the rate of sea-level rise to get an estimate of the warming rate.
Since much of sea-level rise is caused by thermal expansion of water, knowledge of the water-level rise allows us to deduce the warming rate. We can also use climate models (which are sophisticated computer calculations of the Earth's climate) or our knowledge from Earth's past (paleoclimatology).
Many studies use combinations of these study methods to attain estimates and typically the estimates are that the planet is warming at a rate of perhaps 0.5 to 1 Watt per square meter of Earth's surface area. However, there is some discrepancy among the actual numbers.
So assuming we know how much heat is being accumulated by the Earth, how can we predict what the future climate will be? The main tool for this is climate models (although there are other independent ways we can study the future). With climate models, we can play "what-if scenarios" and input either current conditions or hypothetical conditions and watch the Earth's climate evolve within the simulation.
Two incorrect but nevertheless consistent denial arguments are that the Earth isn't warming and that climate models are inaccurate. A new study, published by Kevin Trenberth, Lijing Cheng, and others (I was also an author) answers these questions.
The study was just published in the journal Ocean Sciences; a draft of it is available here. In this study, we did a few new things. First, we presented a new estimate of ocean heating throughout its full depth (most studies only consider the top portion of the ocean). Second, we used a new technique to learn about ocean temperature changes in areas where there are very few measurements. Finally, we used a large group of computer models to predict warming rates, and we found excellent agreement between the predictions and the measurements.
According to the measurements, the Earth has gained 0.46 Watts per square meter between 1970 and 2005. Since, 1992 the rate is higher (0.75 Watts per square meter) and therefore shows an acceleration of the warming. To put this in perspective, this is the equivalent of 5,400,000,000,000 (or 5,400 billion) 60-watt light bulbs running continuously day and night. In my view, these numbers are the most accurate measurements of the rate at which the Earth is warming.
---
Posted on 21 July 2016 by John Abraham &
As we hit high-heat season in the Northern Hemisphere, it is useful to clarify tactics that can be used to help maintain healthy body temperatures. These tips are not commonly known and can be adopted by anyone, anywhere. While I am a climate scientist, my funded work is in the area of heat transfer, particularly in the human body. I work with medical companies to maintain healthy body temperatures during surgeries or other situations. I also deal with scald burns and I often serve in burn injury litigation.
Here are some key tips. First, avoid hyperthermia in the first place – drink plenty of fluids, avoiding direct sunlight, trying to get a respite from heat each day, avoiding physical exertion during the hottest parts of the day are all great suggestions. But, if you need to lower a body temperature, Dr. Robert Huggins, VP of Research and Athlete Performance at the Korey Stringer Institute suggests:
The general rule is to cool as much of the body's surface as possible …. the larger the area you cool and the colder the device you use to cool it the faster the cooling rate. An appropriate goal is to use a method that cools at a rate of 0.15°C per minute. This can typically be achieved by immersion techniques using a tub or other basin filled with ice cold water or via rotating cold ice towels over the body.
During exercise if there is limited access to the entire body (e.g. football or fire-fighters), cooling the hands, face and feet will help, and if possible, use a fan to increase evaporation from these surfaces. However, when heat stroke is suspected, these strategies are not nearly as effective as whole body methods; opt for immersion cooling.
So how do you know if someone is suffering from hyperthermia or heat stroke? A great resource is the Korey Stringer Institute, which lists many symptoms for heat stress such as fatigue, weakness, pale appearance, headache, nausea, vomiting, fainting, dizziness, and others. The heat stroke treatment they recommend, while geared toward athletes, is still useful for the rest of us.
---
Posted on 15 July 2016 by John Abraham &
The Earth's climate is changing – in fact, it always changes. But in the current context of human influence, scientists try to decipher how much of the change is natural compared to human-induced.
One clear way humans influence the Earth is through the biosystem. For instance, farming changes the biosystem. By removing natural growth and planting annual crops that are harvested, we change the system in a way that could in turn affect other parts of the Earth system. In addition, the use of nitrogen based fertilizers can increase growth rate and lead to a greening of areas that are subject to fertilization.
Another more indirect potential for humans to alter plant growth is through fertilization involving carbon dioxide. We know that humans have increased the amount of carbon dioxide in the atmosphere by approximately 40%. We also know that airborne carbon dioxide is a fertilizer for plants. So the obvious question is, "do our carbon emissions affect plant growth?".
A new study, just out in Nature Climate Change, helps answer that question. This study focused on land areas in the northern hemisphere that were outside the tropical region. They obtained information from satellites to measure the greening of these lands areas to determine whether there was any significant change. The find that yes, in fact there is. Over approximately 30-year durations, this area has indeed gotten greener.
So, the next question is, what is causing the greening? To answer this question, the authors used computer simulations and ran them with and without human influences. When we say "human influences" we can mean many things, such as increase or decrease of farming, use of fertilizers, and airborne increase of carbon dioxide, just to name a few. The authors found that the only way the simulations matched the observations is when these human influences were included. That is, solely natural variations cannot be the cause. Not only that, but the match worked best when airborne carbon dioxide had a major role.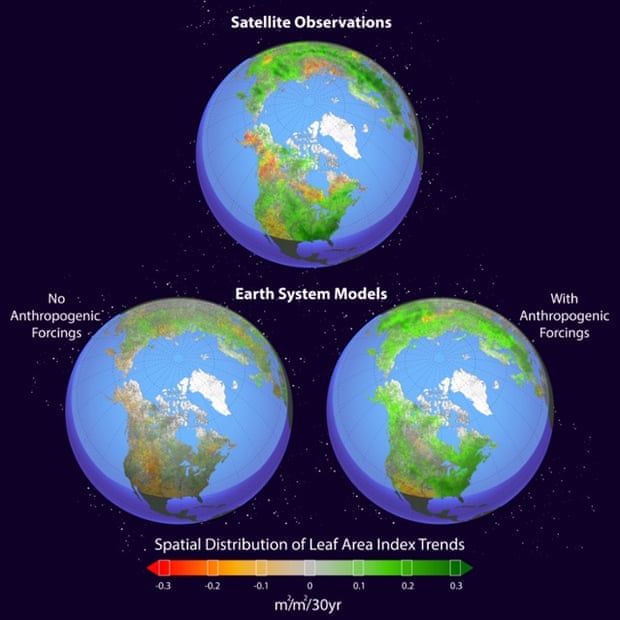 ---
Posted on 1 July 2016 by John Abraham &
Every so often a book comes along that changes the way you view the world. The War on Science: Who's Waging It, Why It Matters, What We Can Do About It by Shawn Otto is one of those rare books. If you care about attacks on climate science and the rise of authoritarianism, if you care about biased media coverage or shake-your-head political tomfoolery, this book is for you.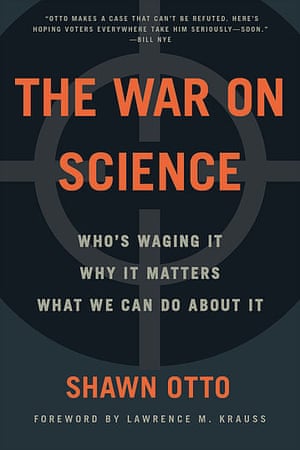 Otto, an organizer of the US Presidential Science Debates and a global speaker on science and democracy, started on the journey that led to this book in late 2007, when he noticed that the candidates weren't talking about any of the big science, technology, health and environmental issues.
Furthermore, the news media weren't asking questions about these subjects even though they were impacting voters at least as much as economics and foreign policy. In fact, the top five TV news anchors asked the candidates 2,975 questions in 171 interviews, and just six mentioned the words "global warming" or "climate change," the single largest environmental and economic question to face the planet. To put that in perspective, three mentioned UFOs.
Flash forward eight years. In the week following the Paris climate accord, both the Democrats and the Republicans held presidential primary debates. Yet just days after 195 countries reached an historic agreement to begin rebuilding the world's economy around clean energy, no journalist in either debate asked a single question about it.
This is par for the course for journalists and politicians who mostly went into the humanities after high school, says Otto. But it's a problem when science is impacting every aspect of life on the planet, and having more and more concrete things to say about public policy.
Thomas Jefferson would be appalled. Otto traces how Jefferson appealed to scientific thinking when drafting the Declaration of Independence, narrowly circumscribing his argument around the idea that if anyone can establish the truth of something using the tools of reason and science, no pope or monarch had any greater authority to rule than we do ourselves. Science was the great equalizer. "Wherever the people are well-informed," Jefferson later wrote, "they can be trusted with their own government." To secure this, he championed a free press and public education.
But according to Otto, this places an ever-increasing burden on the voter, and in an age when science has grown mind-bogglingly complex, public education and the press are unduly influenced by corporations focused on financial outcomes, religious extremists intent on forcing biblical literalist policies, and postmodernist academics who've laid the foundation for all this by teaching that science is but one of many equally valid "ways of knowing" and that all truth is relative.